Dean and Flora and a unicorn of a musical
Wesley students taking the performing arts world by storm is not uncommon, with many OW's forging successful careers and current students just beginning their creative journeys. Earlier this year, the hugely popular Melbourne Theatre Company production of Fun Home combined the two, with Dean Bryant (OW1993) directing the hit musical and current Year 6 student, Flora Feldman, starring in a lead role. Paul Munn reports.
---
Dean Bryant describes the multi-Tony Award-winning Fun Home as 'a unicorn of a musical,' perhaps the most satisfying one he's worked on. That's a big call, given he's had a 20-year career writing and directing musicals, building an impressive list of credits along the way.
What makes this show so special?
'It's probably the only musical I've worked on where it felt so efficiently and intelligently written that there wasn't a second where you didn't exactly know what the writer's intent was and how to play it,' he says. 'It's also really theatrical because it's delving into memory. It's a theatricality that you don't always find in live theatre. But of course, it's what theatre is meant to be.'
An adaptation of Alison Bechdel's autobiographical graphic novel, Fun Home is about 'growing up and coming out'. Its success is significant in the history of the musical because it's the first big-time hit show with an all-female creative team and a lesbian protagonist. Queer audience members have been deeply moved by this show.
'So often, lesbian women are represented in popular culture as the butt of the joke, like they're dowdy or they're sexualised,' says Dean. 'To see themselves on stage realistically, authentically… it's validating for them to see. But it's also welcoming for everyone, because it's primarily about the relationship between parents and children and how difficult that relationship is.'
The show has three actors playing the central role – there's nine-year-old Alison, 19-year-old Alison and adult Alison. Flora stars as the nine-year-old version, 'Small Alison.' Flora enjoyed playing Small Alison, despite all the hard work – doing three to four shows a week, including matinees and evening sessions. 'I like that the character of Small Alison was similar to me; we're both tomboys and creative and have big and bold personalities,' she says. 'We believe in what we think is right. But I'm definitely not as bossy as her!'
Photos by Jeff Busby
She started performing when she was eight, but this show was special for her as it was her first musical. 'I'd never done one before, so I had to sing, act and dance. But singing is my favourite!' she says. At Wesley, Flora performs in the Year 5 and 6 Choir, plays viola with Tuesday Strings, and hopes to be in the Year 5 and 6 musical this year, COVID permitting.
Dean's first big experience in musicals came with the lead role of Che Guevara in the Adamson Theatre Company production of Evita in 1993, when he came from regional Victoria to join Wesley at the St Kilda Road Campus for Year 12. 'Doing Evita opened my mind immediately to the scale of things you could do. The school was essentially replicating the Broadway production in Adamson Hall, and I was like, Oh God, you can do this bigger!'
Dawson Hann, who co-directed the production with the late Tony Scanlon, remembers his outstanding work in the role. 'To my knowledge, no other school has ever tackled this supremely difficult work. But we pulled it off thanks to the skill, self-belief and fortitude of students like Dean,' he says. 'He made an impact way beyond his time with us. Two productions... and then the world.'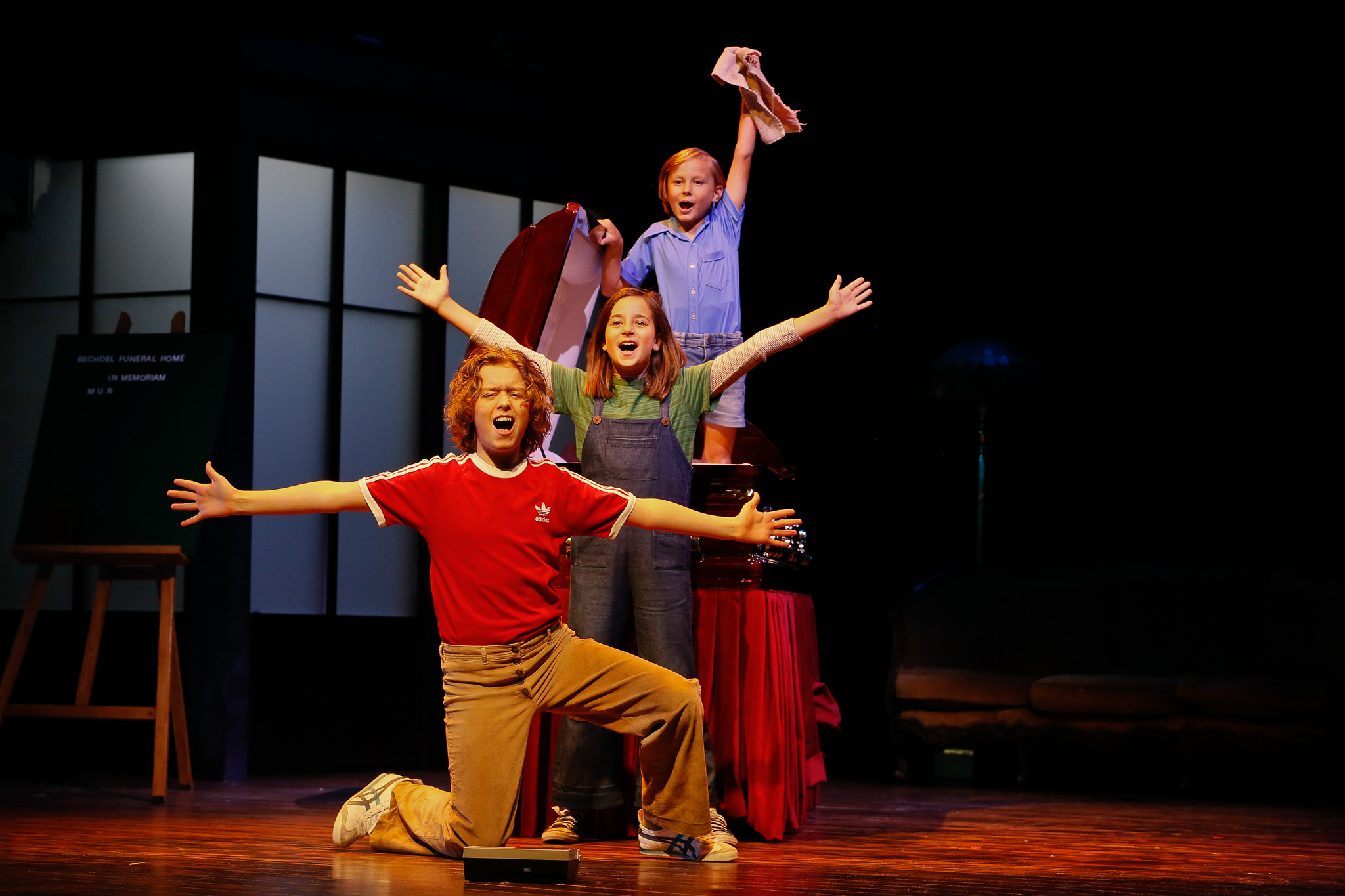 His work with Adamson Theatre Company on the senior play and the musical clearly had a big impact on Dean as well, especially the influence Dawson and Tony provided, 'just through the sheer ambition that they had for the work that could be made at Wesley. That expanded the minds of everyone who was working on it,' he says.
He also counts his fellow students in the performing arts programs as having a powerful effect on him. 'It's not just what Wesley offered, but who Wesley attracted. It's the teaching you're getting, the activities you're participating in and the people you're working with. Ultimately, any career is built out of who you're associating with on a friendship level.'
'I think Wesley encourages ambition, passion and opens pathways.
Many of our students who are passionately engaged in the performing arts and looking for those pathways agonise over whether they should chase a career in that field or do a degree first.
Dean's advice? Do both. He pursued a Law degree for three years before fully committing and going to drama school. He says doing a degree is 'a good way to get the proper university experience, knowing that you can do the things you're really passionate about right from the start as an extracurricular. There's so much at any university, performance-based or musicbased or whatever you're interested in. It's easier to step into both worlds. Then just focus on one.
'You also meet interesting people doing other things first, rather than just specifically the thing you think you might be interested in. And if you're really passionate and you know what you want to do, no one's ever going to steer you away from that. It's just what happens.'