When three out of ten is a great result…
Since forming back in 1995, Australian singing group The Ten Tenors have become quite the international pop opera sensation, with their signature brand of music featuring ten-part harmonies enjoyed by millions. It's an amazing story, and amazingly, three of our OWs have been part of it. Paul Munn reports.
---
Performing arias and pop songs with an operatic flourish to rapt audiences around the world must be many an aspiring singer's dream. The Ten Tenors have headlined more than 2,000 shows, sold more than 3.5 million concert tickets, and sold over 1.2 million albums. Winning a place in this magic 'top ten' line up is, therefore, a huge achievement. Remarkably, we have three OWs who have done so: Josh Piterman (OW2003), Graham Foote (OW2003) and Michael Edwards (OW2010).
A love of singing has always been part of life for Michael. He started with children's choirs from age eight, threw himself into leading roles in musicals such as Rent and Sweeney Todd at Glen Waverley, went on to study at the Melbourne Conservatorium of Music, then moved into opera, performing in many productions with the Victorian Opera. Michael joined 'TTT' in 2014, initially serving as 'basically the understudy, in case someone wasn't able to perform' before becoming a part of the main group about six months later. He's the ensemble's touring musical director, a role he describes as 'just trying to keep the boys in line.' 'It's really just a matter of keeping the show tight while we're on the road,' he says.
Josh and Graham were hired at the same time, in 2007. The pattern had already been set, because they'd performed together with Adamson Theatre Company at St Kilda Road (Fame - The Musical in 2002 and Jesus Christ Superstar in 2003), studied performing arts degrees together at Ballarat College from 2004 to 2006, then lived together after that. Some things are clearly meant to be…
Says Graham: 'During our last year at Ballarat, Josh and I were on a lunch break, and for some reason, wandered into a music store where they were promoting the new DVD and album of TTT. We jokingly said how much fun it would be to do that together, and almost exactly 18 months later, we were standing on stage together at a vineyard outside of Brisbane, in front of 3,500 people, doing exactly that.'
The experiences have been unique. 'One of the core memories that stays with me,' says Graham, 'was singing for 25,000 people in Lima, Peru, with the then President of Peru sitting three metres to my right in the wings of the stage with a giant entourage of security guards. That was an absolutely amazing night - the crowd's reaction was remarkable.'
South America looms large for Michael as well. He can't forget the first time they performed in Buenos Aires. 'Having had a horrific 24-hour travel from Miami, we performed to 5,000 screaming Argentinians who had filled the stadium,' he laughs. 'But on top of some incredible gigs and performances, the bond with the guys is pretty special. We sing together, hang out together, sleep in a tour bus together - it's unlike anything else.'
Josh found the whole TTT experience great fun. 'It's the closest thing to being part of a footy team for a classical singer,' he says. 'Apart from honing my skills as a classical singer, I really had the time of my life travelling around the world for 16 of those 18 months. He remembers the 2008 Melbourne Cup fondly, not just because they performed for a crowd of 107,000, but because The Ten Tenors each put a 'tenner' on horse number ten which was at 10/1 odds for the Cup and it won!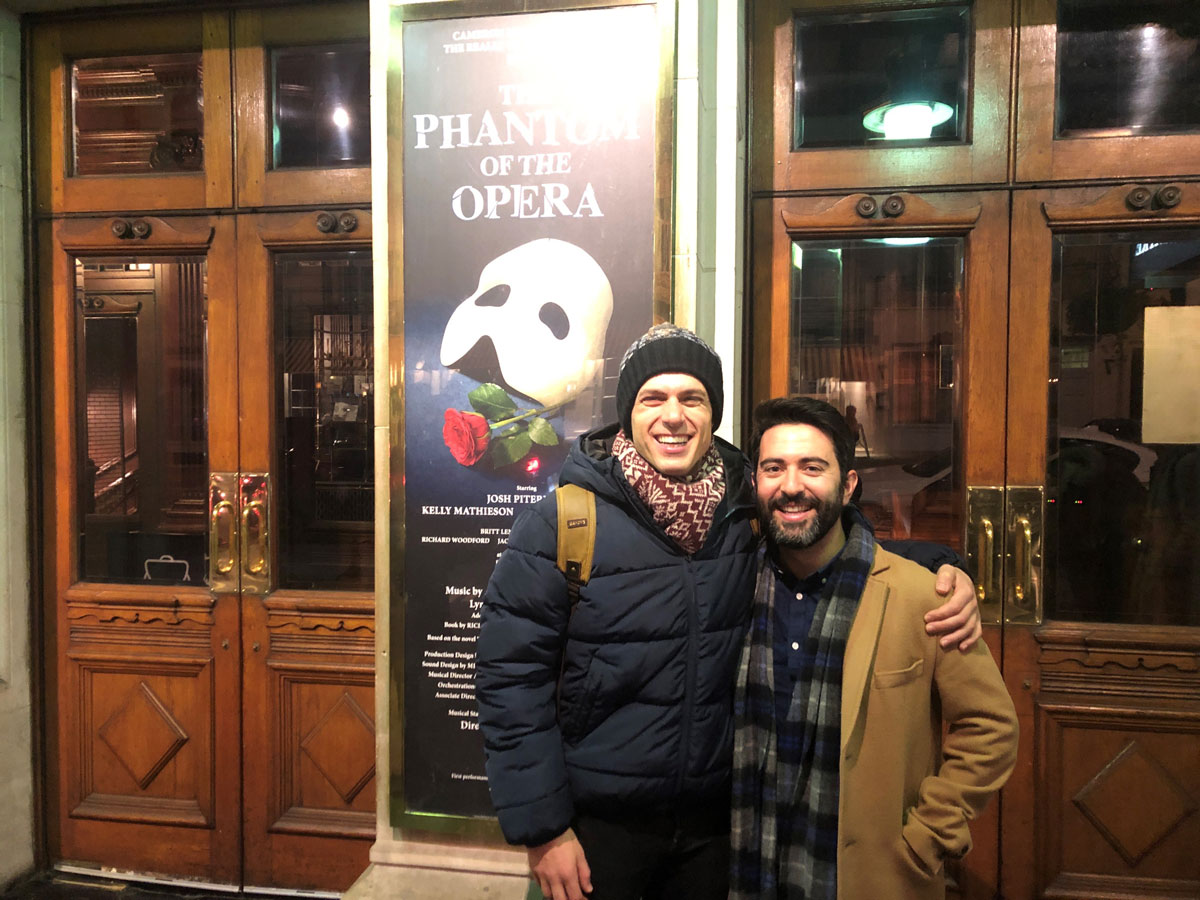 Graham stayed with the group until 2011. He found the heavy touring schedule immensely challenging, being away from loved ones for so long, but counts it as a terrific experience, immensely valuable both personally and professionally. 'It was on tour that I met my now wife, made brilliant lifelong friends, and made the personal and professional connections that have led to my current job working in film music.' This current job is quite an impressive one – living in London and working as an arranger and orchestrator, Graham is part of the core music production team for James Cameron's Avatar movie sequels.
Likewise, since TTT, Josh's star has continued to rise and rise. After a series of big roles in a variety of top-line musicals, he landed the starring role as the Phantom in the London production of Phantom of the Opera in 2019, has just finished a triumphant run in the same role in Sydney and Melbourne, and is now back in London playing the lead role of Jean Valjean in the new West End production of Les Miserables.
A career in musical theatre just doesn't get any bigger than that, and he enthusiastically credits his time at Wesley for helping him get there. 'If not for Wesley and the relationships I formed with Tony Scanlon and Dawson Hann, I almost certainly wouldn't have chosen this career path,' he says. 'Those experiences were the embryo to everything that's evolved in my career since, and I'm forever grateful and indebted to Wesley and those two wonderful men.'
Michael feels the same way. 'I played in big band, sang in choirs and performed in the school musicals. I was also super lucky to go on the drama and music tours - something which isn't all that different to what I've been doing with TTT,' he says. 'I definitely credit the wide range of performance experiences I got to have at Wesley for me deciding to continue on after high school.'
Graham is similarly enthused about his Wesley experience. 'Wesley gave an extraordinary level of support to not only me, but a large number of my peers, in pursuing an interest in the Arts. I never felt like the extracurricular opportunities were short-changed in favour of a narrower academic focus - we were encouraged to engage, not only in the Arts, but sports as well, and were given the opportunity and facilities to grow as much as we wanted to.'
The Ten Tenors are touring nationally in June and July. They perform at Hamer Hall in Melbourne on July 21.
Paul Munn is the Editor of Lion and a features writer.