Through Wesley's extensive outdoor education programs, students explore, connect with and learn to respect the natural world.
From Year 3 to Year 10, students participate in a series of learning experiences across our three unique outdoor camps located across Victoria.
Each camp experience is supported by homeroom teachers and specialist outdoor education staff. Immersed in rich and diverse landscapes, students develop confidence and resourcefulness, while learning about environmental sustainability, wildlife and our impact on the world.
Outdoor education camps strengthen the community as students forge new friendships and memories that stay with them for life.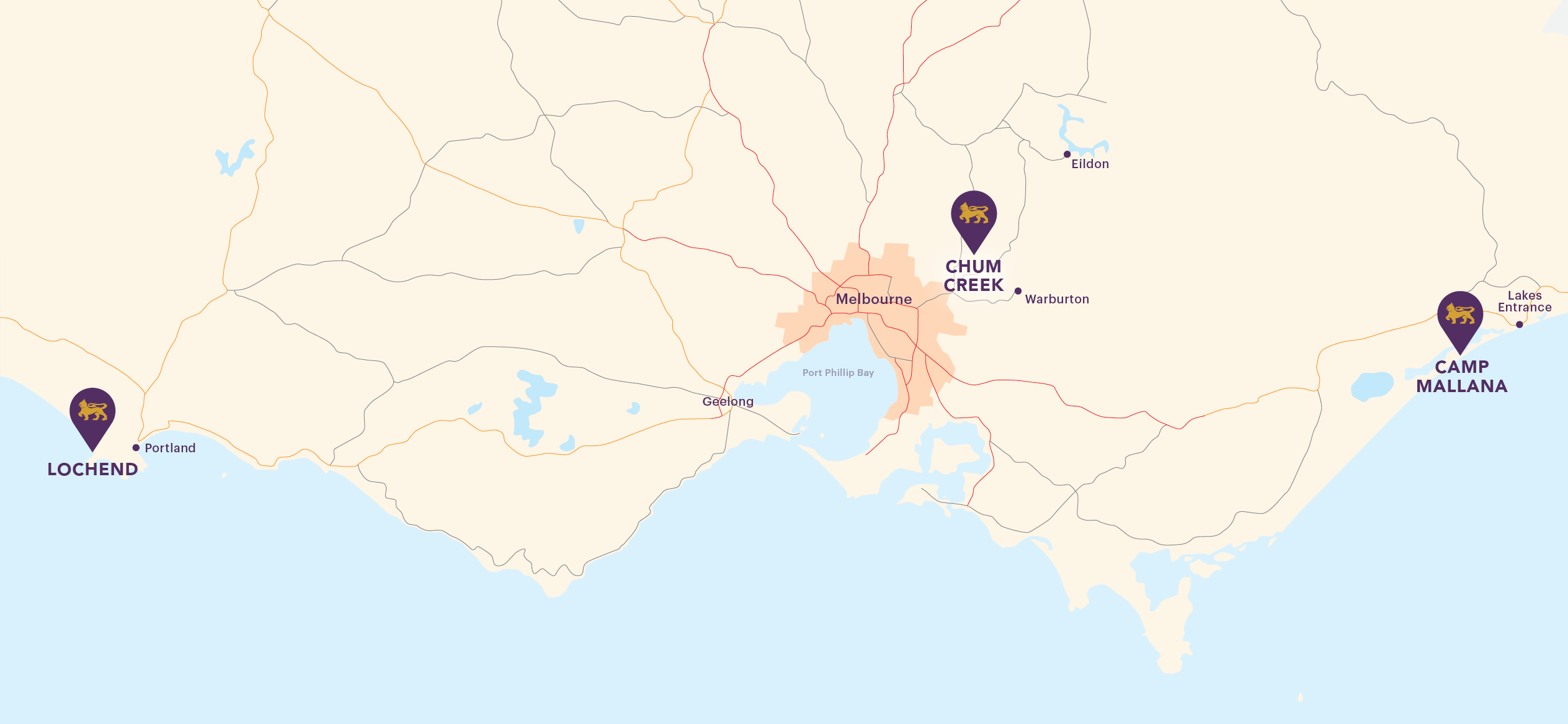 Above: Wesley College's outdoor education sites in Victoria
Chum Creek
Chum Creek is a bush property located 80 kilometres north-east of Melbourne in the forests, foothills and waterways of the Central Highlands, close to Healesville on Wurundjeri Country.
Attended separately by students in Years 3, 4, 5 and 7, Chum Creek experiences are designed to ensure students feel comfortable and safe as they explore the great outdoors through age-appropriate activities.
Students learn about environmental sustainability and responsibility, and the significance of the region as an important source of Melbourne's timber and water.
Camp Mallana
Located on Gunai Kurnai Country on the Banksia Peninsula south of Bairnsdale, Camp Mallana offers amazing diversity, both on land and on the pristine waters of the Gippsland Lakes.
Camp Mallana is attended separately by students in Years 6 and 10. Through land-based activities, Year 6 students focus on animal, plant and human adaptations to lakeside living. Year 10 students navigate the waterways using catamarans and sea kayaks while building personal resilience and a deeper understanding of the landscape's character, potential and challenges.
Lochend
This coastal property at Cape Bridgewater near Portland on Gunditjamara Country is the perfect location for a wide range of water-based activities and hikes.
Lochend is visited by Year 8 students who take part in hands-on activities including a three-day hike, surfing, caving, canoeing, hiking and an ongoing revegetation project.
Each experience helps students understand the vulnerabilities of our coastal environment and their responsibility to maintain Australia's much-loved coastlines.
---
Related links