In these formative years, the Wesley Junior School (Early Learning to Year 4) offers students small class sizes and specialist primary-years teachers.
Student-centred learning focuses on fostering the knowledge, skills and attitudes children need to become lifelong learners.
Students explore concepts about themselves and the world around them through a combination of classroom learning, incursions, excursions, cocurricular activities and outdoor education camps.
The IB Primary Years Program (Early Learning - Year 6)
The IB is an internationally recognised, inquiry-based learning approach. Wesley College delivers the Australian curriculum through the framework of the IB, which promotes a strong academic foundation in numeracy, literacy and cognitive ability, while also preparing students to become curious, self-motivated and inquiring learners.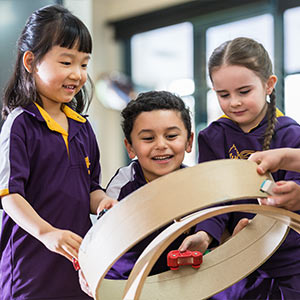 Students from early years to Year 6 learn within the framework of the International Baccalaureate Primary Years Program (IB PYP).
Through the IB's transdisciplinary themes, students explore local, national and international perspectives and create meaningful links between classroom learning and the wider world. They develop skills in thinking, communication, research, self-management and social skills.
The PYP promotes a strong foundation in numeracy, literacy and cognitive abilities while preparing young students to become curious, self-motivated and inquiring learners.
Students learn through exploring transdisciplinary themes, investigating ideas, questions and concepts that span multiple disciplines, including the arts, languages, mathematics, physical and health education, science, social studies and technology.
The PYP's six transdisciplinary themes address:
who we are
where we are in place and time
how we express ourselves
how the world works
how we organise ourselves
sharing the planet
Inquiry-based investigations into these themes take place across a number of learning areas simultaneously.
Learning areas include:
the arts
languages
mathematics
physical and health education
science
social studies
technology
The IB PYP is a program of structured inquiry that prepares students for the next stage of their learning, culminating in an exhibition of their learning in Year 6.
Find out more about Years 5 and 6 in Wesley College's Middle School.
My daughters have thrived in the Junior School at Wesley. They have excellent homeroom and specialist teachers who genuinely want the children to succeed to the best of their abilities. My girls have excelled with their learning and music, taken on leadership roles, and made very strong friendships with their classmates.
Andrea Bruning - Parent
As a parent of three girls, co-education was always important to us when choosing a school. We love how our children are exposed to a wide range of experiences and given every opportunity to explore their own interests. They have developed a 'have a go' attitude and have absolutely thrived in the supportive Junior School community.
Kara Loo - Parent
Related links