The Clunes program combines the College's timeless principles of learning – learning to know, learning to do, learning to live with and learning to be – in a one-of-a-kind residential context.
The learning program at Clunes follows the International Baccalaureate Middle Years Program (MYP), providing an important connection to students' learning program in Melbourne. The curriculum blends experiential learning, social and emotional learning, community engagement, the arts, sustainability and interdisciplinary learning.
Learning is strongly connected with the local community, history and landscape. Students explore local indigenous culture, early settlement, the Gold Rush, agriculture and modern Clunes to develop awareness and insight into their surroundings.
Where learning takes place
At Clunes there are no traditional classrooms. The campus has been developed around existing facilities including historic buildings which are utilised as learning and teaching spaces. Learning also takes place in the student houses, the township and the diverse natural landscape of the surrounding district.
Learning for life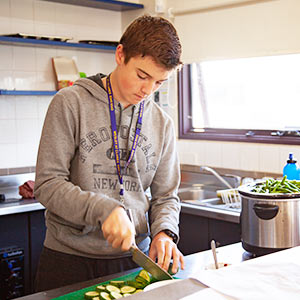 Students develop important and practical life skills at Clunes including household budgeting and decision-making, food planning, preparation and reflection, and cleaning.
Cooking classes are held three times per week with support from a cooking instructor on nutrition, menus, food handling and safe use of kitchen equipment.
Throughout the term students plan their weekly meals, learn about food choices, prepare shopping lists and budget their weekly spend. They also learn to monitor and manage their weekly energy and water consumption. These experiences help students understand and appreciate negotiation, collaboration and tolerance.
Exploring self and identity
The Clunes experience facilitates an exploration of self, at a key period in adolescent development. The curriculum provides distinct programs for girls and boys to focus on personal growth, self-awareness, and an understanding of the various dimensions that make an individual.
One of the highlights of the program are our men's and women's gatherings, in which parents or significant role models share their knowledge and wisdom to answer student questions about life, identity and personal journeys.
Service as action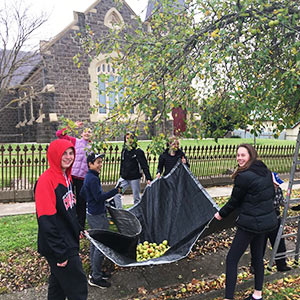 Engaging the Clunes community is a key component of the learning experience. Students visit and volunteer their time with local organisations and businesses, such as the Clunes Primary and Pre-schools, Senior Citizens' Centre, the local animal farm, the Clunes Community Health Centre, the butcher, bakery, newsagent and old-time sweet shop. Students understand the value of living in a rural community and the links between organisations and the people within the community.
Interdisciplinary learning
Students direct their learning by undertaking an Individual Project, with support from teaching staff. After identifying an area of inquiry with local relevance, students plan and undertake research into their chosen topic drawing on primary resources. Students produce a creative response to their research question and present this at the parent exhibition held at the end of the program.
Students find the Individual project immensely rewarding and a valuable lesson in time management and self-discipline. Previous project topics have included; the impact of introduced species in the local area, values and ethics of farming practices, and light pollution and the effects on the night sky.
Electives
Students at Clunes select from a range of MYP electives, including:
music
trail running, cycling and cross-fit training
bushwalking
woodwork and leatherwork
community activities
art-based activities.
Related links