Archives
The story on our 20 dollar note
Whilst we enjoy rapid access to the latest and best of medical procedures and information, it's easy to forget that hasn't always been the case - especially so for people in rural and remote Australia. The fledgling aviation industry of the 1920s changed that, and one of our own was part of the story, writes Margot Vaughan.
In 1917, in the remote Kimberly region of our far North West, stockman Jim Darcy was very badly injured. He was brought 80kms over very rough land to Hall's Creek, where the postmaster was required to do emergency surgery using a pen knife, with instructions given to him via Morse code from a doctor in Perth. Sadly, Jim the stockman died.
It was suggested to Reverend John Flynn that the new aviation industry could change these terrible outcomes. He was a man with a mission, and it took him just over 10 years of hard work raising funds and support before the very first medical flight took off from Cloncurry to Julia Creek, piloted by Arthur Herbert Affleck (OW1918). This was the beginning of the Royal Flying Doctor Service.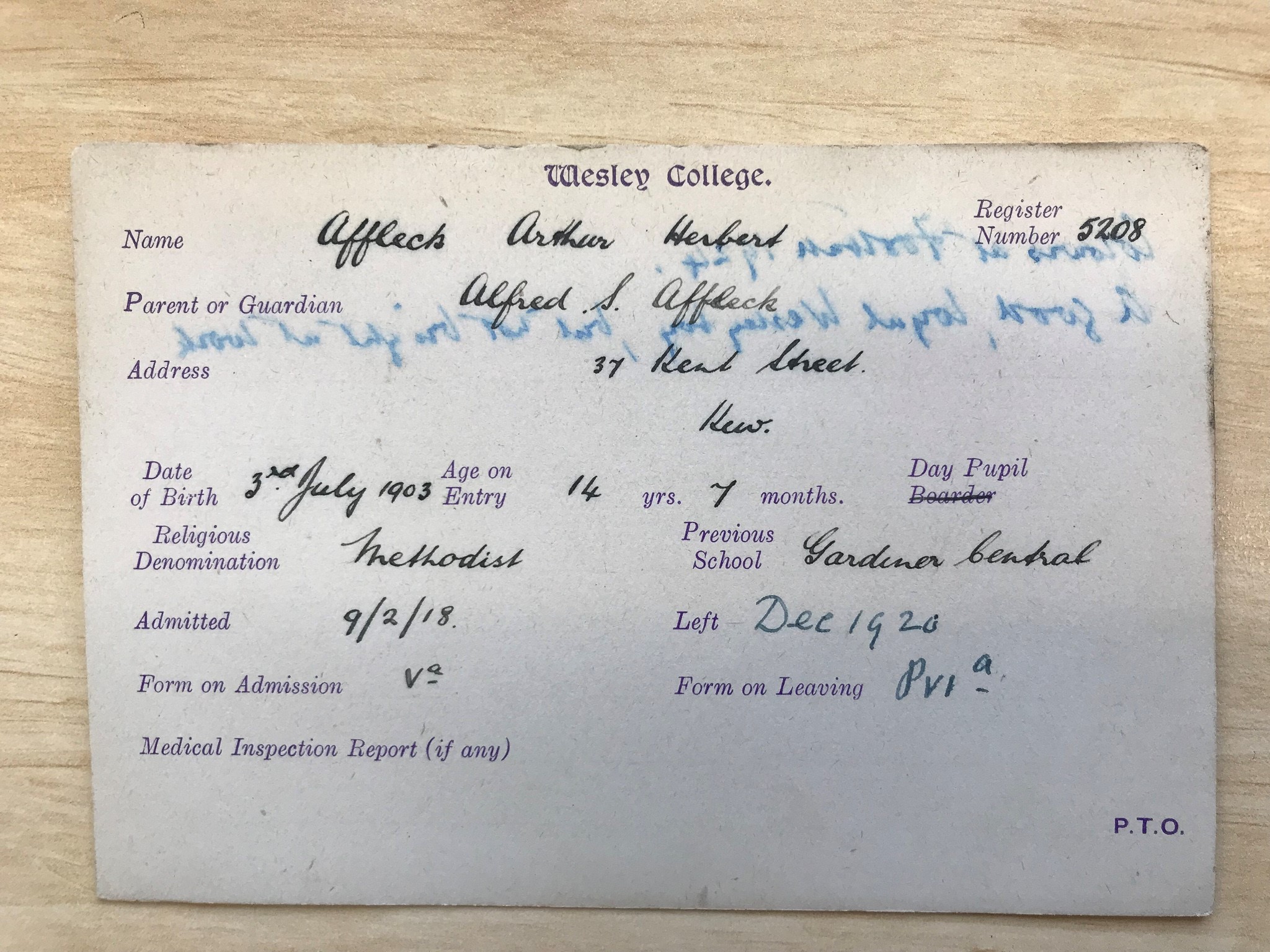 Arthur had won a government scholarship to come to Wesley in 1918, aged 14 years and seven months. He started in Form Five A and left in December 1920 from Form Pass Six A (In those days, students were allotted into academic streams rather than simple year levels). His index card states he tried for the Naval Pay Clerkship but failed, instead going into the National Bank. It continues, Later Civil Air Force; in June 1928 had flown 100,000 miles.
Left: Arthur Affleck's index card from the Wesley College Archives
He wrote about his experiences in a 1964 book titled The Wandering Years. He records his dissatisfaction with working in the bank, 'cooped up in an office', and his desire for another more appealing profession. He decided being a commercial pilot in the 'small and struggling aviation industry' would give him a future.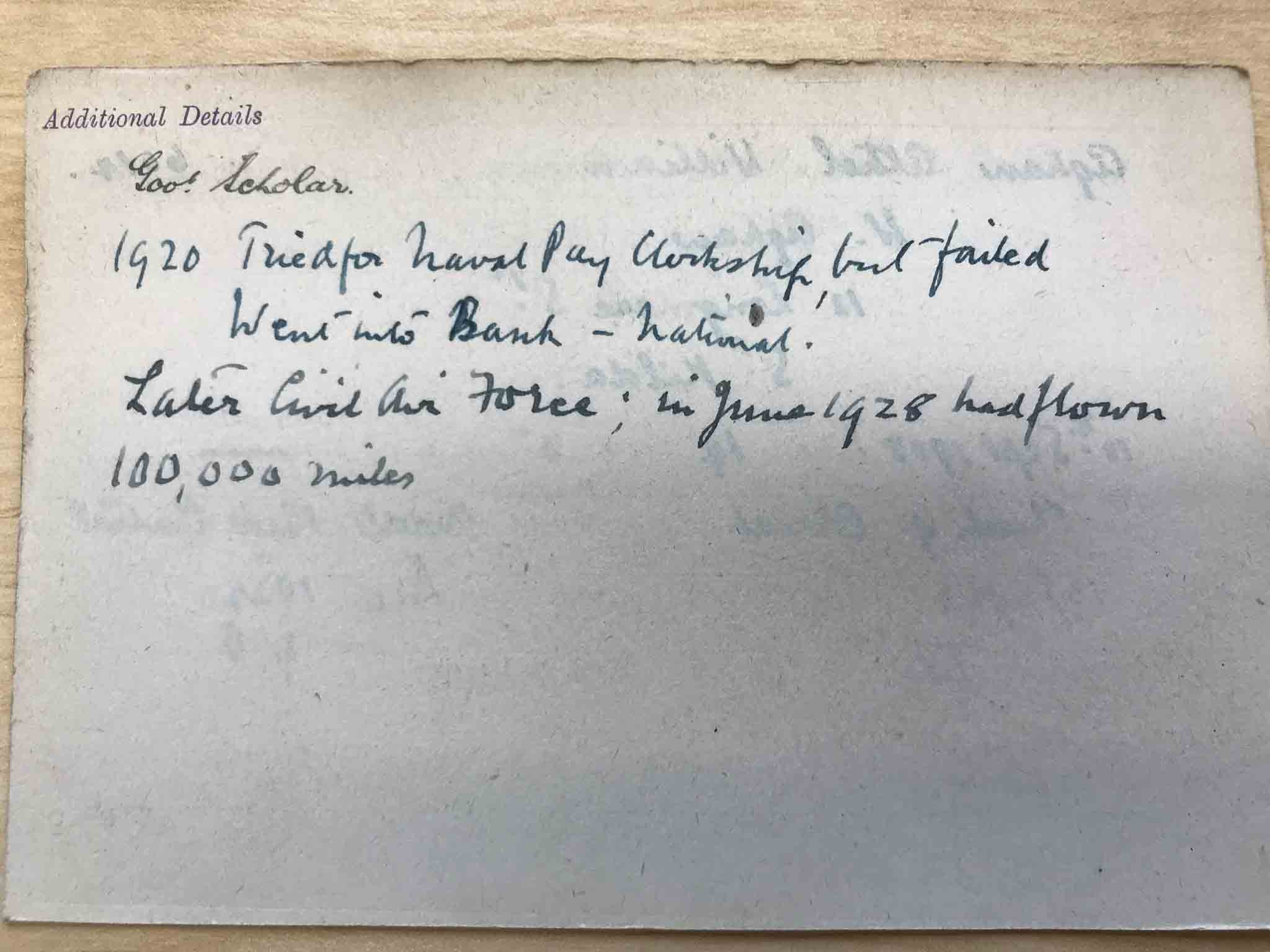 Right: Arthur's index card shows he flew 100,000 miles in planes
In the early 1920s, aviation was still a young industry. Qantas had just started, and the Royal Australian Airforce was the only place offering flying instruction. Arthur joined up in 1923. Much had been learned from the experience of pilots during WWI and even more was learned from aerial games he and other trainee pilots played.
A job interview required him to fly from Melbourne to Adelaide and back via Hay and Mildura. He returned on the right day at the appointed time. Both his punctuality and the returning earned amazement, as not all returned on time, and some not at all.
He was granted his licence – No. 96 – and started work on the flight route from Melbourne to Hay. By his first scheduled trip, he had clocked up 87 flying hours.
After a disagreement over safety issues with Australian Air Services, he joined Qantas and was the first pilot in a one-year trial of medical flights to the Queensland Outback. Safety was important to Arthur and he later became an inspector in the civil branch of the Defence Department in 1936.
Life wasn't all about flying off into the sunset for him, though. He stopped flying for a time, trying his hand at farming tobacco, but this failed and he returned to the air, often flying into what is now Papua New Guinea. He tried farming again, and again failed, and then moved to Perth where he took to the air once again as a commercial pilot and on medical flights. During WWII he flew transport aircraft for the RAAF. Arthur lost his wife, with whom he had two sons, in 1945. After the war he was promoted to Regional Superintendent of Air Navigation, Sydney, but had to give up flying for good in 1948 when he developed heart disease.
Shortly before his retirement in 1963, he was Regional Director operating out of Port Moresby. He knew the area well, having inspected and advised the government on airfield locations and how to restart civil aviation to that region. Arthur's advice on establishing rules and regulations within industry has made Australian civil aviation one of the safest in the world. His retirement was short lived; in 1966, while on a cruising holiday in Canada with his second wife, he died of a pulmonary embolus.
And the 20 dollar note? Reverend John Flynn is front and centre with the fabric biplane, a De Havilland DH50A named the Victory to the left of him - the very plane flown by Arthur Affleck (OW1918).
Margot Vaughan is the Curator of Collections at Wesley College
Medals provide a fuller picture of the Sutton and Coates families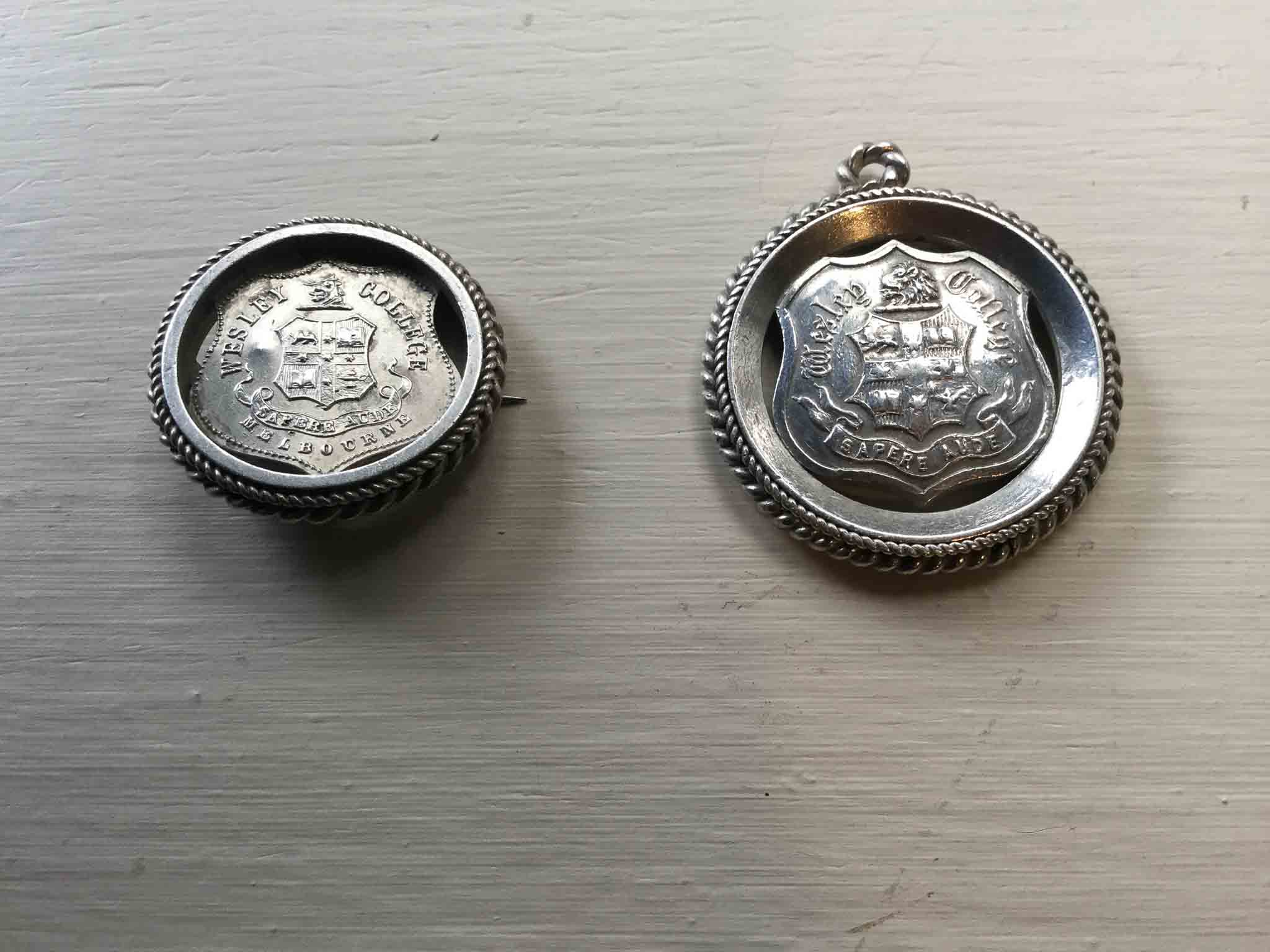 Medals belonging to Alfred Sutton, Stanley Sutton's older brother
Following last edition's story on the Sutton Cup, we were contacted by David Coates (OW1973). David's family has a long tradition with the College – his great uncle was Dr Thomas Coates, Headmaster from 1957-1971. David's brothers also attended Wesley. The Coates and the Sutton family were related and in 1977 David was given some medals belonging to Alfred Leslie Sutton, Stanley's older brother, for winning the High Jump in 1905 and 1906. This was symbolic as David had won the High Jump in 1972 and 1973. He has very kindly offered them to the College and they will sit with other objects relating to Dr Coates and the Sutton Cup. As David said, 'It's a lovely family connection'.