Where are they now?
Reflecting on 30 Years of the IB at Wesley, we thought we'd track down a selection of past Captains and Senior Prefects to see what they have been up to for the past 10, 20 and 30 years. One theme came through in all of the conversations – gratitude: for a school and a community that celebrated them as individuals, encouraged them to challenge and forge their own path, taught them the value of continual growth and learning, inspired them to effect positive change in the world and most importantly of all... dared them to be wise.
---
10 years on...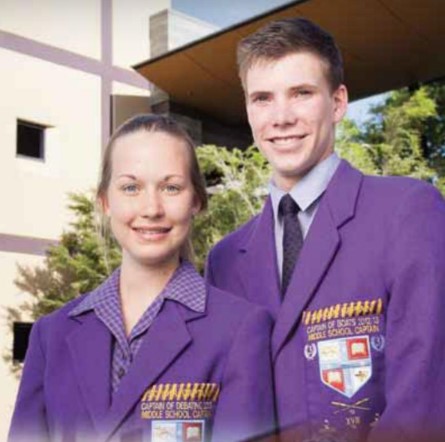 Annie Williamson and Matt Singleton, 2013 Senior Prefects
Annie Williamson (OW2013)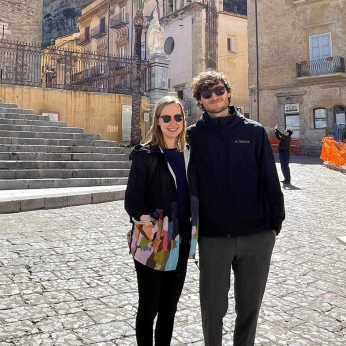 Annie Williamson (OW2013) completed the IB DP then went on to study Politics, Philosophy and Economics at Oxford, after which she worked as a health economist in Mexico before going to medical school at Barts and the London Hospital in the UK. 'There have been lots of great highlights along the way, from marching in the Oxford Pride parade as part of the NHS LGBTQ community to spending time back at the Royal Melbourne Hospital for my medical school elective.'
Annie (pictured with brother Nick (OW2015) who was also a School Captain, on a recent trip to Italy) has certainly packed a lot in over the past 10 years. She is now an incoming doctor focused on infectious disease at St Thomas' Hospital, one of the largest public hospitals in the UK. She also works for a thinktank on health inequality.
'I'm still in touch with a great group of Wesley mates, who I see every time I'm back in Melbourne, and when many come to the UK!' she says. 'I think Wesley really prepared me for a varied career and life so far, jumping at opportunities as they arise and taking joy in a wide range of experiences, rather than narrowing my focus too early.'
Matt Singleton (OW2013)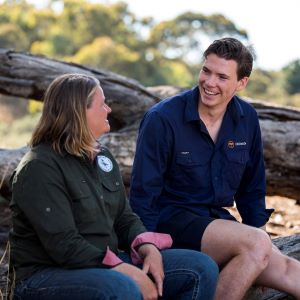 Matt Singleton (OW2013) has always been a 'nature nerd,' fostered during his youth by many family trips around the Otways. After leaving school, he completed an undergraduate degree in International Business followed by a Masters of Urban and Environmental Management. These days, he works in environmental conservation and environmental investment as Strategy Director with the Odonata Foundation. He's pictured here with a sanctuary partner in Murrumbateman, NSW. (Photo: Annette Ruzicka.)
'I work with organisations and landowners, designing conservation programs to reverse threatened species loss, as well as establishing investment models to support these programs. I started this pathway by volunteering at Mount Rothwell, a nature reserve designed to breed populations of threatened species, by keeping foxes and cats out with fences.'
Matt works with people all over Australia, including private landholders and First Nations groups. He has always been passionate about sport and the environment and is still pulling the boots on down at the Collegians Football Club.
Matt met his wife, Saacha Sharp (OW2011) at Wesley, though not until after they had both finished school – he was coaching basketball and Saacha was completing a teaching round. Matt has two younger sisters, Hannah (OW2014) and Nikita (OW2017), and uses the diversity of their post-school paths to demonstrate one of the things he loved most about the school.
'Wesley was a school that fostered everybody's individuality,' he said. Hannah now works at the Western Bulldogs Community Foundation, managing its youth programs and Nikita is studying to be a psychologist.
20 years on...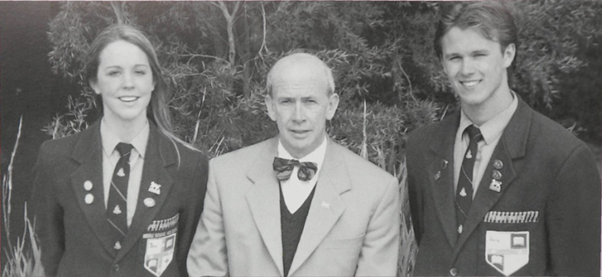 Senior Prefects Amy McAlister and Daniel Lister with Head of Glen Waverley Campus, Chris Poulton
Daniel Lister (OW2003)
Daniel Lister (OW2003) always wanted to join the Navy, which he did straight out of school. For many years, he specialised in mine warfare – finding and disposing of underwater mines. He is currently based in Sydney and is an Operations Officer for the Sea Training Group in the Australian Navy, auditing ships and conducting operational assessments. Daniel feels that he has taken a different path from most of his peers at school as he has not come across many OWs in the Navy! As he is at sea a lot of the time, it makes it hard to get to any events, but Daniel is still connected to his OW mates and fondly recalls his time at Wesley.
Amy McAlister (OW2003)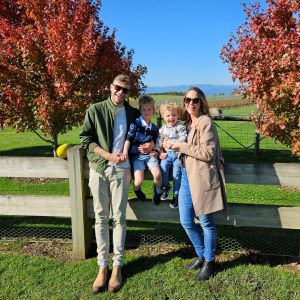 Amy McAlister (OW2003) was involved in all facets of life at school - music, sports, theatre and immersed herself in every opportunity on offer. After school, Amy went to Melbourne University to study a Bachelor of Arts in Media and Communications, after which she took six months off to travel the USA (with family), Europe (with school mates) and Asia (solo), spending a month in Kuala Lumpur working as a volunteer, teaching women to speak English. After an internship at university, Amy spent 10 years working in public relations and communications, focusing on corporate communications and government relations. 'I felt I wanted to do something more meaningful, so I went back and did a Masters of Secondary Teaching, which I completed around having my two boys,' she says.
Amy is now teaching secondary school English and English Language at Mentone Grammar and remains very connected to Wesley as the Secretary of the OWCA Executive. 'I was drawn back to teaching because of my experience at Wesley. It instilled in me a strong sense of gratitude for education and the values that were prevalent throughout my time at school – it was always so much more than academia. It was about making a difference and having an impact. Teachers focused on the whole student and our interests and it inspired the teacher I wanted to be.'
Amy maintains that Wesley set her up to have a really well-rounded life, and offered something for everyone with so many amazing opportunities. 'I love that it was a truly community-minded education, encouraging us all to have empathy for others and to always show compassion. Wesley doesn't have that elitist mentality – we appreciated we were privileged and fortunate but that lead to gratitude, and it was never taken for granted.'
30 years on...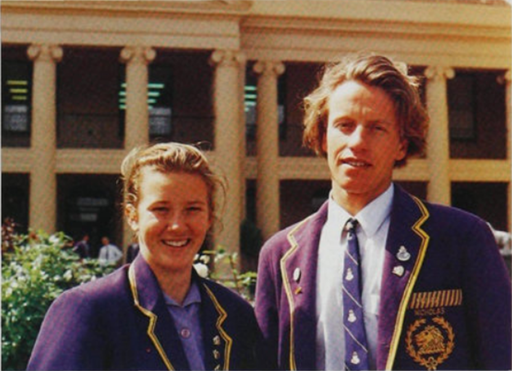 1993 College Captains, Sarah Purdey and Andrew Quayle
Andrew Quayle (OW1992)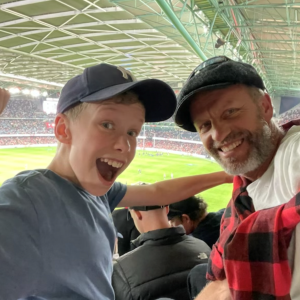 Andrew Quayle (OW1992) was one of our first College Captains in 1993, a role he shared with Sarah Purdey (OW1992). Though it was a role that would last less than a decade, Andrew had no reservations about returning to school for another year after finishing Year 12. 'Glen McArthur approached me one afternoon and asked me what I would do if I were to come back for another year of school,' he says. 'I wasn't sure what I wanted to do after school and so I saw it as an opportunity to undertake some extra study while developing leadership skills as well as getting involved in rowing – a sport I had never been involved in.'
Andrew's role as College Captain saw him spend time at all three campuses. He enjoyed time in the classroom with Junior School students at Elsternwick, studied at Glen Waverley and spent a lot of time at St Kilda Road and the rowing sheds, where he relished being in a crew with students from the Victorian College of the Deaf. 'I wasn't overly academic, but I just loved school. It was a safe place for me. I had no fear about my marks – my parents were very supportive, if I was happy, they were happy. This taught me a lot about how to support my kids in their education. I also love that Wesley was very multi-cultural which prepared us for life – Greeks, Italians, Jewish, deaf, blind – anyone and everyone was accepted. There was always a genuine culture of acceptance.'
Andrew stayed connected to the school after leaving, playing for the Collegians Football Club. He completed a carpentry apprenticeship, after which he spent a few years travelling around Australia, Europe and Canada. Settling down on the Surf Coast with wife Anna, they started their building company Bolder Constructions, specialising in the construction of architectural homes which keeps him very busy, along with three active boys. He keeps in touch with a core group from school and enjoys connecting with OWs based in and around Geelong.
Sarah Purdey (OW1992)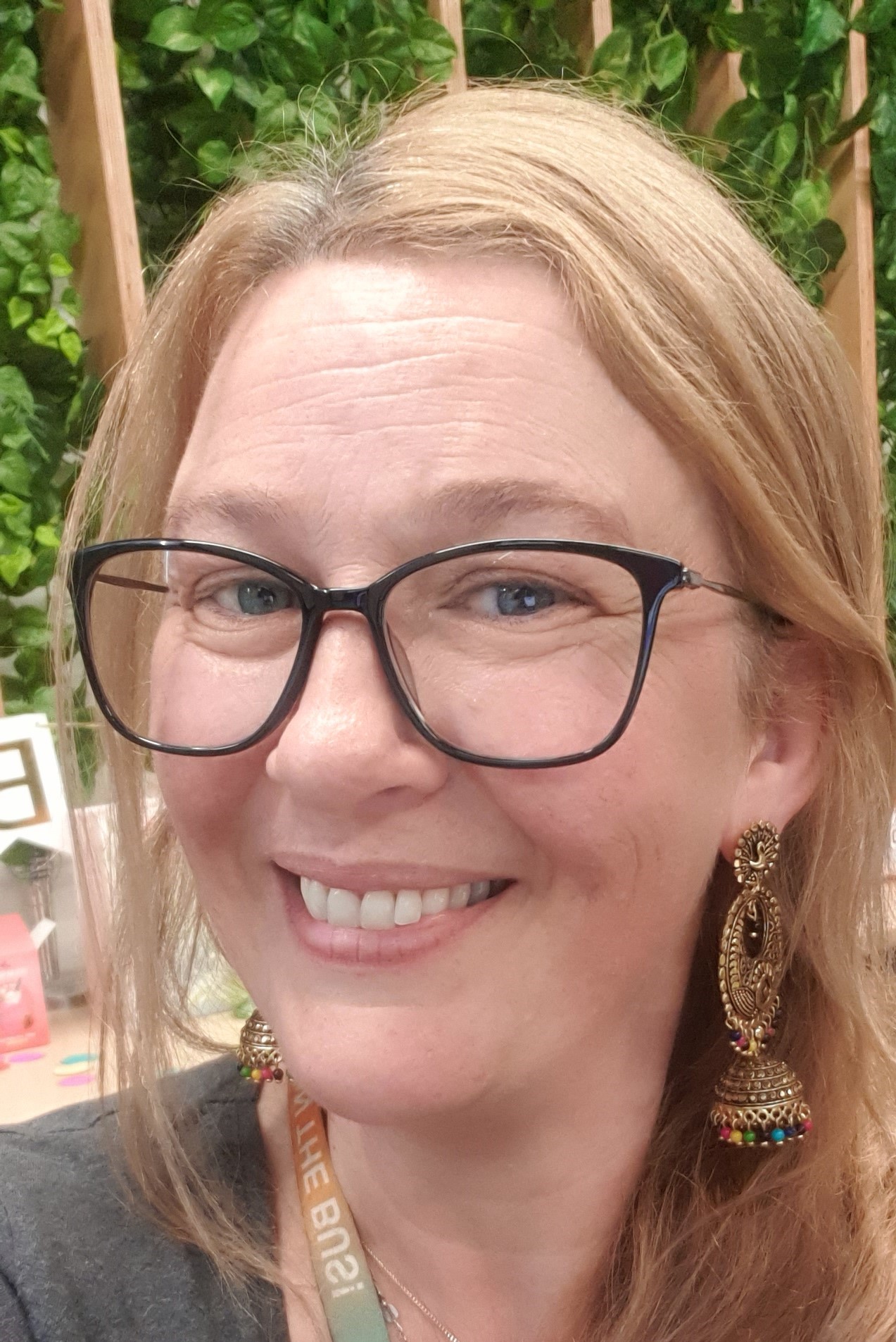 Sarah Purdey (OW1992) has just come back into radio after 16 years raising kids. Some of you will remember her many performances on stage with the Adamson Theatre Company in productions such as Anything Goes and Evita, and at the Glen Waverley Campus in Larrikins, Oliver and Desperado. She was also fortunate to join school drama tours to the UK and NZ during her time at Wesley.
After school, Sarah worked at radio 3AK with John Blackman which was a real highlight. 'I read the traffic on air with John which was lots of fun. One day he had a dig at Wesley and I was forced to defend my old school!' she laughs. Realising that she wanted to work with audio, Sarah completed an Advanced Certificate in Sound Production and worked with Joe Camilleri in his Balaclava-based company, Woodstock Studios. 'After that, I moved to central Victoria with my partner and life became about raising kids. Many mums will relate; your life becomes so much about them for a long time.'
These days though, Sarah feels like she's exactly where she's meant to be. Having relocated to the Surf Coast, you can now catch her dulcet tones doing voiceovers for ads at K-Rock and Bay 93.9 in Geelong. She is also busy learning how to panel for K-Rock's football broadcasts. Sarah recalls fondly, 'I had the most amazing time at Wesley. I am so grateful for my experience there and I am striving my hardest to give my kids an experience that is even remotely comparable – it is a really hard thing to match. I always talk to my kids about making the most of all opportunities. Sapere Aude indeed – GO GET 'EM!'

Lucas Docking and Amy Cohn at the APS Athletics in 1993
Lucas Docking (OW1993)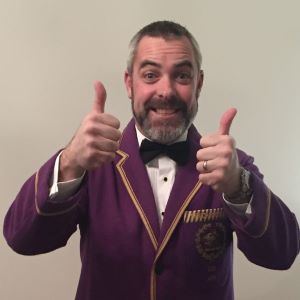 Lucas Docking (OW1993) was always interested in motorsports. He studied Mechanical Engineering straight out of school and was fortunate to undertake industrial based training in Silverstone, England where he had an uncle with a successful Formula 3 team. Once his visa ran out, Lucas returned to Australia and was offered a job with the Holden Racing Team – the top team in Australia at the time, working with drivers such as Peter Brock, Craig Lowndes, Mark Skaife and Jason Bright. After ten years with the HRT, Lucas joined Mark Skaife for five years, looking after various motorsport operations and enjoyed running the Australian Motorsport Foundation, a program where public donations and government grants helped young Australians make it overseas in international programs.
After this, he changed tack, going into business with school friend Jo Ressom (Rodgers-Wilson) (OW1993) in a Sales/ Marketing and Production role with Custom Cargo. This was a far more creative field than Lucas was used to, and he enjoyed providing pop-up shipping container installations for Mount Buller, the Spring Racing Carnival and the Australian Open, to name a few. After a nine-year stint in the event industry, Lucas has more recently moved to a Business Development Manager role at Taskforce Australia, a company that provides safety compliance inspections for rental properties.
He remains very connected to his OW mates, and after having played four years in the First XI Soccer team at school, he gave AFL a go, playing for the U19s Collegians Football Club, adding, 'It was the best year of sport I'd ever had due to the football camaraderie.'
Reflecting on the opportunities that Wesley gave him, he notes, 'My old man worked really hard to send Jon (OW1988) and I to Wesley, ensuring that we would be well connected to a diverse network on leaving school. He risked a lot to send us there, and I really respect him for that.' He also said, 'School was the best time of my life – I'd go back in a heartbeat. Amazing culture, great teachers and great mates. We have all gone on to do such different things and the school fosters that.' Lucas is married to Kathryn and has two boys, Jimmy and Jasper - the real best time of his life!
Amy Cohn (OW1993)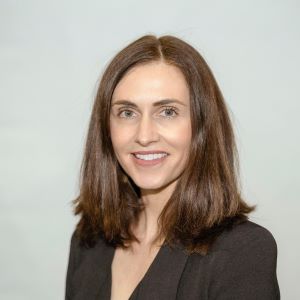 Amy Cohn (OW1993) completed her medical degree at University of Melbourne followed by a Masters in Genetics before going on to specialise in Ophthalmology, becoming an eye surgeon and mother of three (and a Wesley parent!) 'I am an absolute believer in coeducation and my experience of going to school with boys has helped me navigate a career in a traditionally male dominated world.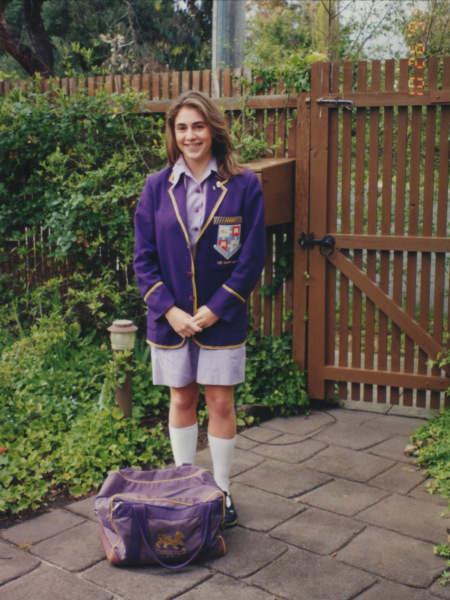 For various reasons, surgical specialities have typically attracted predominantly men and I feel privileged that the environment I was educated in allowed me to believe that I too could pursue this as a career.'
Amy maintains that the extra-curricular opportunities provided at Wesley were second to none. 'I made the most of it - I was in the APS swimming, water polo and netball teams through to Year 12.' The cross campus and multi-level nature of these sports was another factor that unified students and fostered amazing friendships. 'I met one of my closest friends through sport at school. I was a couple of years younger than her, but we connected through swimming and remain very close to this day. In fact, we still swim every weekend together! The opportunity to create these relationships is something I have never taken for granted.' Amy is also still friends with a huge group of OWs and they are all looking forward to their 30 year reunion in October this year.