The Senior School (Years 10 to 12) equips students with the knowledge, experience and confidence to pursue their ambitions beyond our gates.
All students learn through the International Baccalaureate (IB) curriculum framework until Year 10.
In Years 11 and 12, students select from two distinct pathways – the Victorian Certificate of Education (VCE) or the IB Diploma Program (IB DP). Teachers, Heads of Learning and career counsellors guide each student in their pathway and subject selection to ensure they make the best decision based on their strengths, interests and career aspirations. Close to half of the Senior School cohort elects to choose the IB DP pathway and half undertake the VCE.
VCE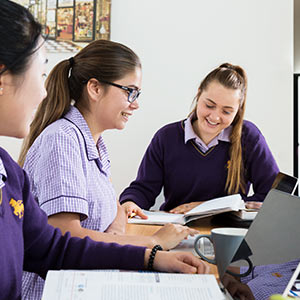 Characterised by its educational flexibility and breadth of choice, the VCE is a challenging course that allows students to tailor their studies to suit their passions and abilities.
Wesley students complete the VCE in Years 11 and 12, choosing a minimum of six subjects in Year 11 and five subjects in Year 12, one of which must be English.
VCE students select from a wide range of VCE subjects or a combination of VCE and Vocational Educational Training (VET) subjects. Students taking the VCE pathway have the option to specialise in their area of interest or keep their subject selection broad.
The VCE is recognised within the Australian Qualifications Framework and is a highly-regarded pathway to university, TAFE, college or direct entry into the workforce.
IB DP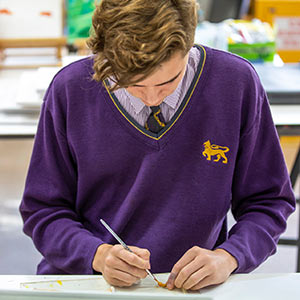 The IB DP is a rigorous program, which fosters interdisciplinary learning, community engagement and international-mindedness. The IB DP is globally recognised by universities and other tertiary education providers.
The IB emphasises the development of knowledge and skills across a broad range of disciplines, readying students to take on the diverse challenges of today's world.
The IB DP is a two-year program completed in Years 11 and 12. Students are required to study six compulsory subjects selected from each of the following subject areas: English, mathematics, science, humanities, languages and arts.
In addition to the six core subjects, students are also required to undertake:
Theory of Knowledge – students explore the nature and meaning of knowledge. Students develop critical thinking to logically challenge both personal and ideological assumptions and appreciate the diversity and richness of cultural perspectives.
Extended Essay – is a substantial independent, self-directed study on a topic of the students' choice with the support of a research advisor. The research methodology required in the extended essay is preparation for university projects, dissertations and assignments.
Creativity, Action and Service enables students to enhance their personal and interpersonal development by learning through experience in a variety of activities. It complements the academic program and provides students opportunities for collaboration, self-determination, accomplishment and enjoyment.
Related links