Archives
Stanley's Cup
A recent request for information about a mystery name has taken Margot Vaughan through some amazing twists and turns involving a farm, a flood and the reappearance of buried treasure.
Early in 2021, the Archives desk received a request for information about a name engraved into a very old Wesley College sports trophy. A family in the Hunter Valley NSW were selling their farm and wanted to solve the mystery of the silver cup which had been in their home since 1977. In that year there was a terrible flood, and after the floodwaters receded, some buried treasure was revealed – the 1907 Under 16 Sports Trophy awarded to an 'S. Sutton'. The owner of the cup did some research through the publicly available digitised Chronicles and found some information, but not the student's first name, and so turned to our Archives for help…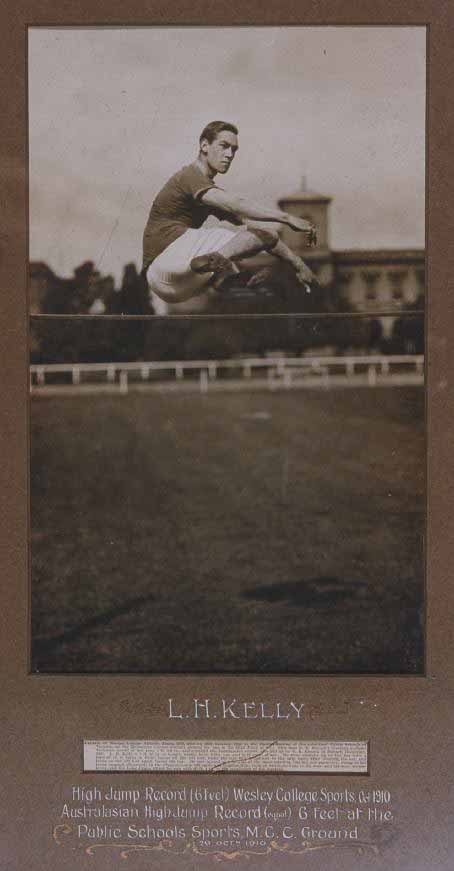 Stanley Sutton came to Wesley in the middle of 1905. From the Entry Book register we know that he was born in 1891, lived in Glen Iris, was a Methodist, was to be an engineer, and did not need to study Latin. At the age of 14 his life seemed mapped out for him. His older brother Alfred Leslie Sutton also came to Wesley, starting at the beginning of 1904. They were very good athletes, both winning trophies. The photo of the 1907 Athletics Champions shows Stanley in good company. Those of us who are familiar with the school's history will recognise some familiar names:
Edward Alexander Cato, son of the famous Fred J. Cato, and later donor of his own collection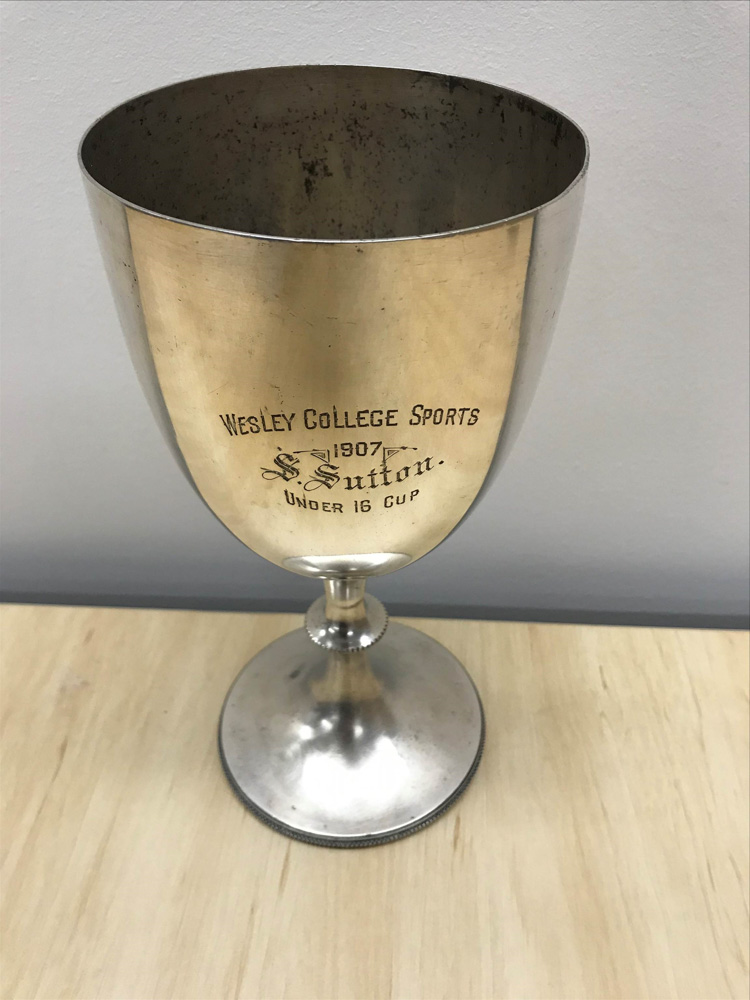 of early Australian landscapes – the Alec Cato Collection. Frank Kerr, older brother to Alan and Eric Kerr whose names are immortalised above the WWI memorial doors on Adamson Hall. H.J. Stewart, Wesley student, Sports Master, Deputy Headmaster and finally Headmaster after Adamson. The Proust brothers, Jimmy and Harry, famous for cricket records and football skills. Harry Carter, who gained distinction during WWI and whose fine portrait in military uniform is in the first History of the School 1865–1919. His brother Duncan C. Carter, known as 'Doc', killed in September 1918 while flying over France. Lester Kelly, high jumper extraordinaire, who also served in WWI, returned to work as a school master at Wesley, but was deeply impacted by his war service. John B. Vasey, killed at Gallipoli. His brother survived the war; both were sons of G.B. Vasey, at one-time President of the OWCA.
(Clockwise from left: Photograph of Stanley's contemporary, Lester Kelly; 'Stanley's Cup': Awarded in 1907 to Stanley Sutton; A Sports Cup awarded to Harry Proust, another of Stanley's contemporaries)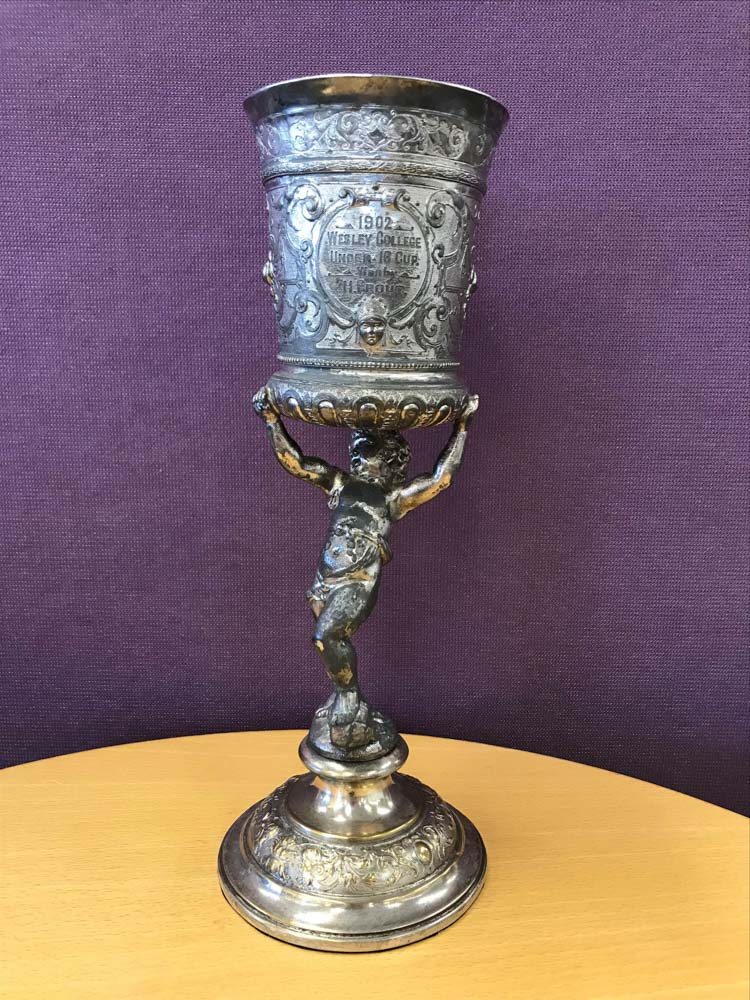 Shirley Ickeringill, the Sutton family archivist, has been researching and recording the events of the family, and provided this information about what happened to Stanley after school. Stanley was the youngest of four children born to Alfred and Eliza Sutton, who founded Sutton's House of Music, with offices in Bendigo, Ballarat, Geelong, Melbourne and Sydney. He did not become an engineer after all, but moved into the family business. He successfully managed these offices during the Great Depression, though it took its toll on him and he retired early due to poor health. His only son was serving in WWII and Stanley and his wife would visit their daughter-in-law in the Newcastle area. It seems he carried his treasured trophy with him, but somehow it was left behind when he returned to Sydney, where he died in 1955. His body was returned to the family plot in Box Hill Cemetery.
It was on the website 'Find a Grave' where Shirley had posted some information that another connection was made. Christine, the owner of the 1907 trophy, connected with Shirley and told the story of the cup washing up on the banks of the Hunter River in 1977, and being admired by her family for the next 44 years. She writes, 'It represented a reference to an educational institution far removed from that of our family. My grandfather was the same age as Stanley Sutton; he left school at 12 to help his father on the farm, and my father left school at 13 to work on his father's farm. It remained with the 'good' dishes, those that my mother rarely used.'
Stanley's cup was treasured by him, was lost, but was then found by another family who also treasured it, and have now generously returned it to Wesley to be treasured again. We are lucky to have in our Archives a number of trophies of this quality – treasures from the past and memorials to lives well lived, but now gone.
Margot Vaughan is the Associate Curator of Collections at Wesley College.