The Wesley College Council is proud to support the Uluru Statement from the Heart and its call to enshrine a First Nation's Voice in our constitution.
At the heart of our Wesley values is a belief in a fair and just society, and the Council endorses the Indigenous Voice to Parliament as a significant step forward in our nation's long journey toward Reconciliation.
We do, however, understand and respect that not everyone will hold the same view. As a College, we thrive on diversity and the exchange of ideas, and we encourage everyone in our Wesley community to participate in the referendum, engage in discussions thoughtfully and respectfully, and come to their own conclusion.
Importantly, the Council's position reflects Wesley's commitment to Reconciliation and the First Nations of Australia. Our partnership with the Bunaba people, which led to the development of the Yiramalay Studio School, formed one aspect of that commitment. More recently, Wesley developed and launched a Reconciliation Action Plan (RAP) – and we will continue to explore ways of engagement with Australia's First Peoples to ensure that this is a vital part of the College and our community.
Professor Rachel Webster AO
President, Wesley College Council
For background information about the Indigenous Voice to Parliament, visit voice.gov.au, anu.edu.au or unimelb.edu.au.
---
The Wesley College Reconciliation Action Plan (RAP)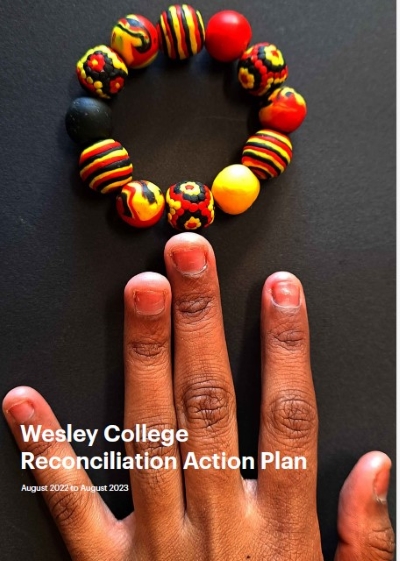 Wesley College's first Reconciliation Action Plan (RAP) is an important document and a formal statement of our ongoing commitment to reconciliation. It builds on many years of meaningful commitment to our First Nations People and education of both Indigenous and non-indigenous Australians through the establishment of the Yiramalay Studio School.
The history of this continent is one of dispossession. The First Peoples of this land arrived at least 60,000 years ago and lived for uncounted generations in harmony with the land and the waters. This harmony was suddenly and brutally interrupted with the arrival of the Europeans in 1788. But it has also a history of survival; survival of people and of culture, in the face of astonishing odds. Wesley College believes that Australia's history must be faced with compassion, with courage, determination and truth telling.
Reconciliation with the First Peoples of Australia is not a destination but a journey Wesley College is committed to. This Action Plan is, therefore, a living document, and represents our 'Respect' Reconciliation Action Plan within Reconciliation Australia's framework. It will evolve over time as we strive to create a reconciled future of mutual respect, understanding and equality. We are indebted to the knowledge and wisdom of cultural consultant, Wiradjuri and Wotjabaluk man AJ Williams-Tchen who guided us in the development of plan and working group of teaching and non-teaching staff, students, and parents and we commend this first iteration of the Wesley College Reconciliation Action Plan to you.
---
Related links