Archives
Wesley Art, Old & New
Stroll through the halls of any of the campuses and you'll see a bold range of artworks, pieces by current students mixing with those from Wesley's considerable collection. As a community, we can be incredibly proud of our art collection, which has been growing ever since the large bequest of the Alec Cato Collection in 1980.
One of our most historically significant works is Sir Arthur Streeton's Honesty and Artichokes, also known as Thistles in a Vase (pictured), painted on cedar draper's panel for the historic '9 x 5' exhibition in 1889. Streeton was one of the early founders of the 'Heidelberg School', a style of painting capturing life in the Australian bush in a way no European-born artist had been able to do. Honesty and Artichokes has been exhibited several times, including a national tour in 1995, and this year it will be on show again at the NGV's Ian Potter Centre at Federation Square in the 'She-Oaks and Sunlight: Australian Impressionism' exhibition, until 22 August.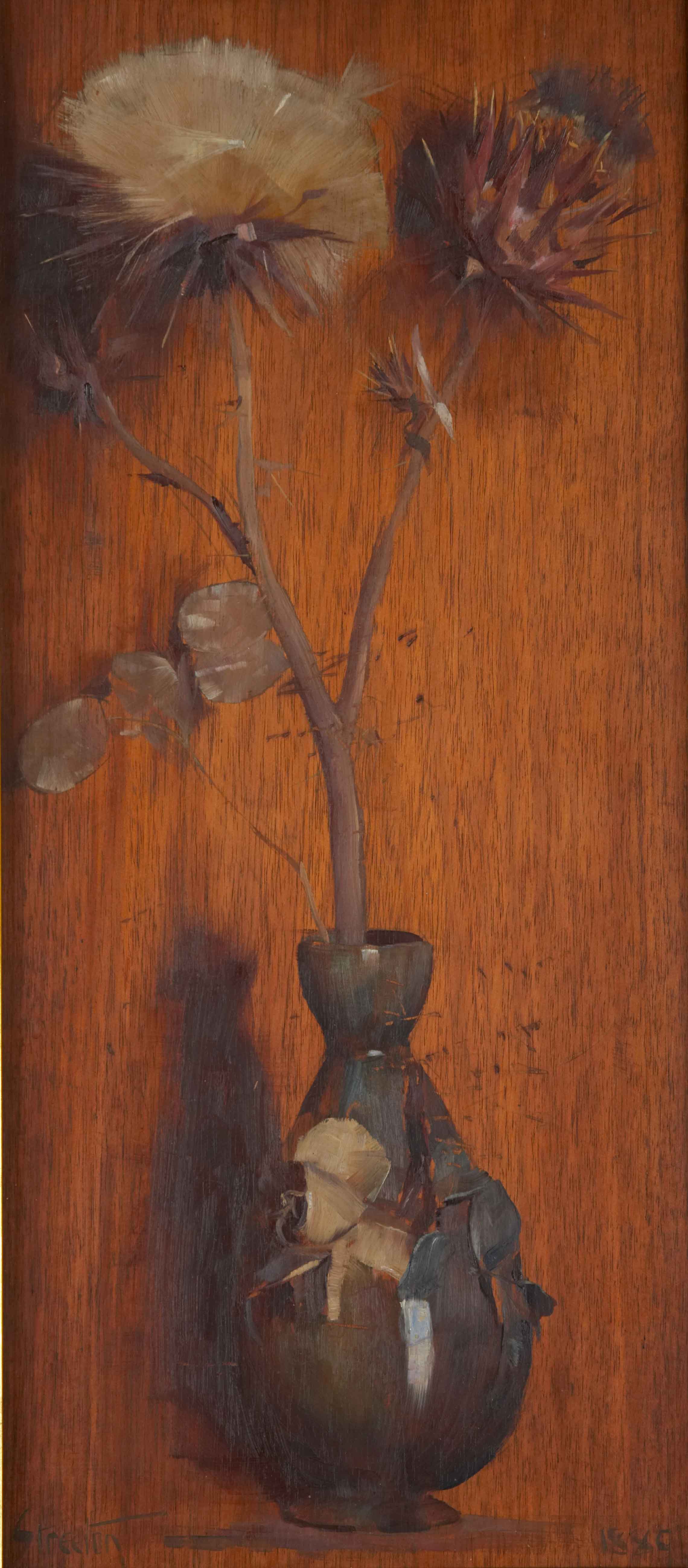 In some ways it has never been far from Wesley. At the exhibition in 1889 Dr Springthorpe (OW1872) bought it and held on to it for some decades. It was sold at auction to Alec Cato (OW1900) in 1934. He too treasured this work for the rest of his life, before bequeathing it as part of his art collection to his old school.
More recently, we purchased a new artwork specifically for the Elsternwick Campus, thanks to the generosity of private Wesley donors and the Mandel Aboriginal Art Gallery. The work, titled My Grandmother's Country, is very fitting for a campus that was girls-only until 1989, when it became part of Wesley College. Elsternwick is very much a grandmothers' place, as the Decades Reunions attendees will tell you.
The artist, Michelle Possum Nungurrayi (b.1970), was taught these stories and symbols by her paternal grandmother, whose ancestral lands are about 250km west of Alice Springs. Michelle's father was a well-known artist (now deceased, so his name will not appear out of respect) and he taught Michelle, her sister Gabriella and brother Lionel to paint. Their works appeared together in a Possum Family exhibition in Brisbane in 1987, when she was just 17-years-old.
The painting is a wonderful reminder of the care and significance of grandparents and all they have lived through, their stories, wisdom and experience, and how they support us.
Information provided by the Gallery explains the imagery in Michelle's piece:
In this painting the artist depicts motifs that gives symbolic form to tribal women engaged in cultural activities in a desert environment known as Yuelamu, which the women inherited from their Ancestral Grandmother, who travelled to this Anmatyerre site in the Tanami Desert during the Dreamtime at Creation. Represented as symbolic U-shapes, the women are shown in different areas, along with digging sticks, searching for bush food. The small and large dots represent berries and bush plums. Carry baskets sit nearby, red oblong shape with rounded ends, to gather the collected berries and plums. Yams are nearby. Waterholes are large discs with concentric circles of dots in shades of pale ochre. Campsites are the same pattern but in warmer reds and yellows. The campsites are where women gather for ceremony and engage in ritual song and dance, while others create body paint and designs in the sand. Broken rocks show other elements in the desert landscape, and star shapes indicate the night sky and stories told about Creation.
Emu footprints can be seen walking through the desert, and past clumps of spinifex shown by a 'starburst' pattern of dark discs with tiny white dots in the middle, and red outer strokes. Feathers trail behind the emus.
Rain is lighter coloured dots, nourishing the earth and creating clay and paint used in rituals.
Margot Vaughan is the Associate Curator of Collections at Wesley College