OWCA
Alan Mitchell Club
Alan Mitchell Rowing Club members are looking forward to being able to get back on the water. While members have been unable to row during lockdown, spirits are high and most members have re-joined for the coming year. With the diaspora of the Wesley alumni, a number of club members have had the worry of relatives working on the front line of the health system in different countries, including the UK. We are pleased to be able to report that those we know about through the Club have all managed to get through the time that they were unvaccinated okay. With vaccines available, they are looking forward to a more normal future.
Congratulations to Matt Ryan, Head of Rowing, for his initiative in launching Rowhaus which has been open to anyone to participate in online rowing-related fitness training and technique development.
Anyone who is not currently a member of the Alan Mitchell Rowing Club who would like to get more active please contact the Club President, Ana McCloskey at ana.mccloskey@gmail.com to organise a row.
Collegians Football Club
Collegians have had a tough year in 2021. Losing players to injuries and having an interrupted preseason meant the players just didn't have the conditioning required, and because of this, our depth - or lack of it - was really tested.
Winning just two games out of 11 played was not good enough, but the sudden end to the season in July with another lockdown prevented us from having a better second half of the season. We were hoping to win maybe three of our last four games (and certainly at least two) which would have avoided relegation.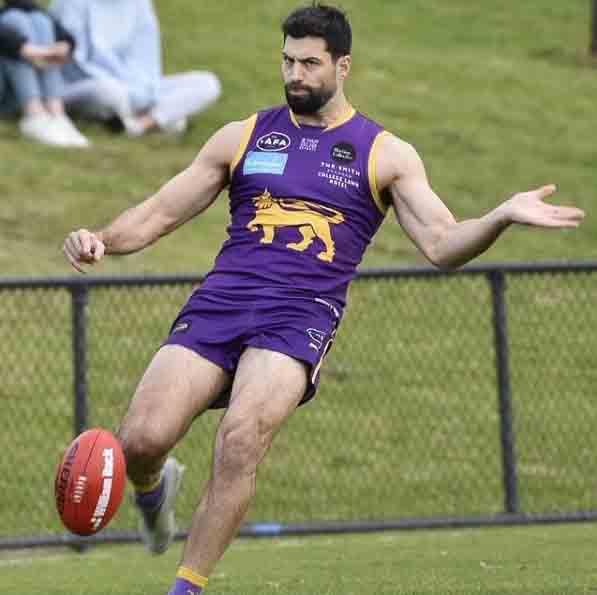 As it turns out, because of the compromised season, the VAFA have decided there will be no relegation or promotion for 2021, which was really the only decision they could come to.
So we front up again in Premier section in 2022 but we will need to recruit well, and have a stronger preseason and be ready to go from Round 1, not taking half a season to get going like this year. Learning the lesson from this year, we'll put in place a better structure to make sure we are not in the same position in 2022. Our Women's Senior teams also only won a couple of games, but again were unlucky in a couple of other games, only losing by very small margins and with a couple of extra players could have been right in the mix for Finals.
The Women's Reserves made the Finals for the first time and lost their Semi-Final by a couple of points and were extremely unlucky late in the game, but all the girls loved the experience of playing in a Final. The Club would like to congratulate David Mirra, staff member at the St Kilda Road Campus, on his outstanding season in 2021. David lost the competition Best and Fairest award by 1 vote and coming from a team who only won two games, this was a sensational effort.
Above: Staff member, David Mirra, missed out on the Woodrow medal by just one vote at the Best and Fairest
Best and Fairest award winners from each team are as follows:
Men's Seniors: David Mirra
Men's Reserves: Tom Hill
Men's Under 23's: Thomas Sargent
Women's Seniors: Holly Wilson
Women's Reserves: Emma Richards
GO LIONS!
Rod Nancarrow, Co-President
OW Cricket
Thanks to the OWCA, the OW Cricket Club has recently had a freshen up in the uniform department. Their stylish new uniforms in traditional cream with purple and gold piping feature the club's sponsor logos.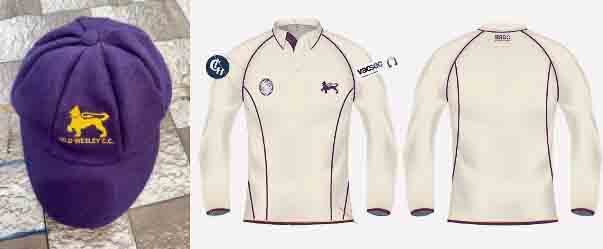 The team plays on Sundays in a 40-over one-day competition on some of the best turf pitches in Melbourne, with games starting at 12.30pm and finishing by 5.30pm. No regular training is required. The standard of cricket is decent, but more importantly you'll enjoy playing with a great bunch of guys.
If you're keen for a game or have any queries, please contact Captain Rick Morris (OW2004) on 0438 081 886.
Above: OW Cricket uniforms proudly supplied by the OWCA
OWCA Bowls
Our opening event for the season was planned for 20 October when we were looking forward to a great day of bowls.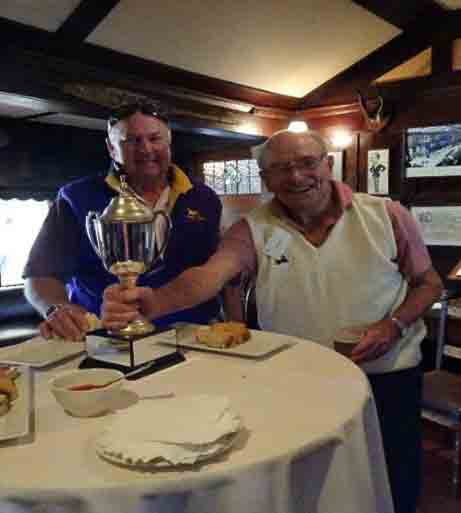 We lost the trophy to West Brighton after winning it for the past three years, so we hope to reclaim it this year. We are working with The West Brighton Club to reschedule the event as they were having a new synthetic green laid. We hope to get onto the new surface sometime this year.
Right: Always a good day, whichever team wins the Bowls trophy!
It is always a wonderful day of bowls and the hospitality from our hosts is always fabulous. With MCC Swinburne, combining with Old Caulfield Grammarians to make five sides against Old Scotch, and MCC Glen Street against Old Scotch hopefully behind us, we can look forward to the following future matches:
Wednesday 8 December 2021: V Old Melburnians at MCC Swinburne
Wednesday 19 January 2022: OW and OCG V Old Scotch at MCC Swinburne
Wednesday 16 February 2022: OW and OM V MCC at MCC Swinburne
If you would like to join this enthusiastic group, please contact convenor Richard Sluggett (OW1972) on 0403 023 288 or rmsluggett21@gmail.com
Women of Wesley (WOW) Olympic edition
A purple and gold winning performance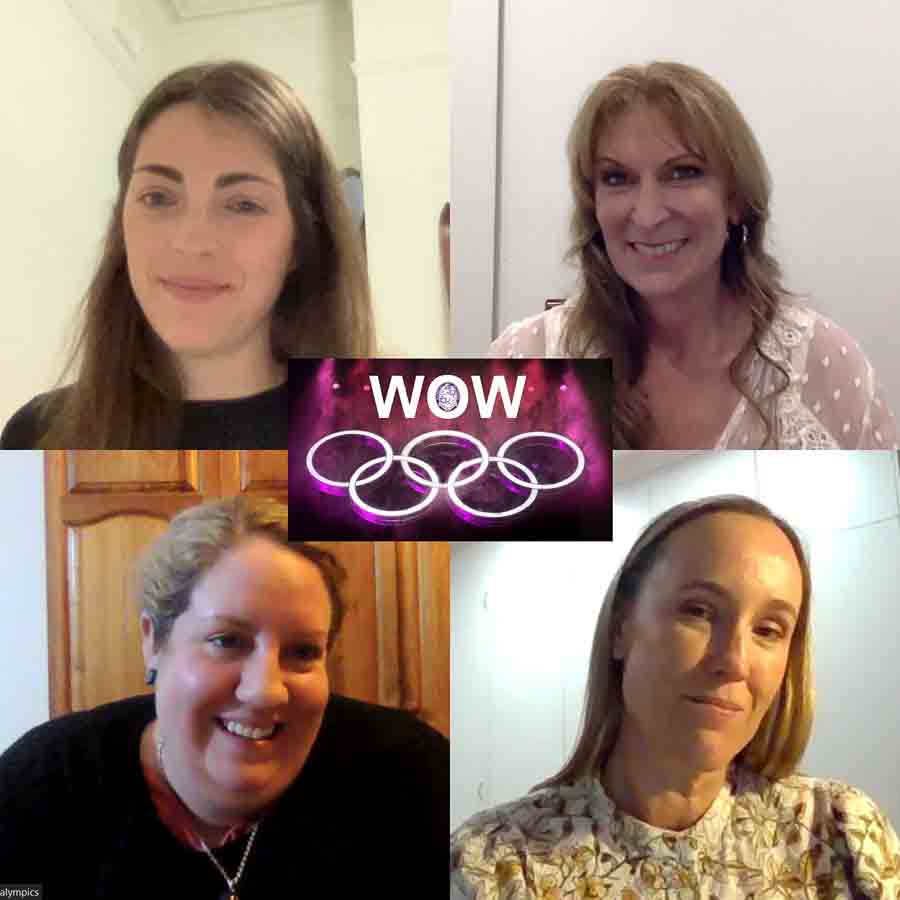 It was a purple and gold winning performance by four OW Olympians in August at our Women of Wesley (WOW) online event - Purple and Golden Girls. This event was well-timed with the Olympics in Tokyo and our panel certainly WOWed all who tuned in to hear their amazing journeys and experiences. The panel included:
Katya Crema (OW2006) – Ski Cross, 2010 and 2014 Winter Olympic Games
Katya spent ten years as a professional athlete on the Australian National Ski Team and represented Australia at the Winter Olympics in Ski Cross in Vancouver in 2010 and Sochi in 2014. A five-time National Champion in both Alpine and Ski Cross, she also skied on the Winter X-Games circuit, making her debut in 2010.
Jodie Dobson (OW1987) – Women's Coxless Four, 1992 Olympic Games
Jodie was always destined for greatness on the water of the biggest of stages, having been a part of the first-ever Wesley all-female Head of the River win in 1987. In 1992 she recognised this dream, representing her country in the final of the Women's Coxless Four at the Games in Barcelona.
Katie Mactier (OW1992) – Women's 3000m Individual Pursuit 2004, 2008 Olympic Games
Katie is regarded as one of Australia's best-ever cyclists, boasting a world record, Olympic silver medal, world title, Commonwealth Games gold, plus four individual pursuit national titles. These remarkable achievements were bookended by two national crowns on the road.
Above: A panel of four Olympians lit up the screen at the WOW online event
Ellie Steele (OW2001) – 400m Freestyle, 2000 Paralympic Games
As a 16-year-old Year 11 student, Ellie swam a 12-second personal best time in the 400m freestyle that automatically qualified her for the 2000 Paralympic Games. Not long after she swam another PB, this time wearing the green and gold in Sydney.
This event was moderated by Australian two-time World Triathlon Champion and Sport Australia Hall of Famer Emma Carney (OW1989), who brought her own sporting experiences to the table and whose easy rapport with our athletes only added to the experience.
Tales of broken bones, ripped costumes and overcome odds captivated a purple and global audience as these truly amazing Women of Wesley gave us a behind-the-scenes look at what it takes to represent your country on the grandest stage of all, as well as a refreshingly honest account of the toll it can take.
Certainly the stuff of WOW!