International Women's Day 2023
Inspiring women inspire the Wesley community
Over the last week, members of the Wesley College community have gathered to celebrate International Women's Day (IWD), a day that recognises the social, economic, cultural and political achievements of women.
The first IWD gathering in 1911 was supported by over a million people. Today, IWD belongs to us all. Gloria Steinem, world-renowned feminist, journalist and activist once said, 'The story of women's struggle for equality belongs to no single feminist nor to any one organisation, but to the collective efforts of all who care about human rights.'
The 2023 UN IWD theme 'Cracking the Code: Innovation for a gender equal future,' highlights the role that bold, transformative ideas, inclusive technologies, and accessible education can play in combatting discrimination and the marginalisation of women.
Find out how each Campus celebrated this special day and consider what you can do to make a positive difference in the lives of women every day.
#IWD2023 #CrackingTheCode
St Kilda Road Campus
At the St Kilda Road Campus, we warmly welcomed members of the Wesley College community – staff, families, alumni, students and friends - to celebrate International Women's Day together.
Following breakfast, guests moved to Adamson Hall to hear from our keynote speaker, Dr Erica Frydenberg, educational, clinical and organisational psychologist with an interest in wellbeing, coping, resilience and fortitude.
Erica has practised extensively in the Australian educational setting, and during COVID challenged herself to translate her years of research into a book for a general (non-academic) audience. The result - Coping in Good Times and Bad: Developing Fortitude, was published last year.
We were privileged to hear Erica share key messages from her book, which included practical tools and strategies for coping and developing fortitude, which she explained was simply 'pushing yourself to go that extra mile'. She said stress occurs when the demands of a situation exceed the resources available to cope, but that 'optimum stress' is where we actually want to be, as it pushes us to perform at our personal best. By building our resource toolkit, we can prepare ourselves to cope with whatever the world throws at us.
Some of Erica's tips for coping include working hard (so you are prepared), accepting that you have done your best and avoid comparing yourself to others, getting physical to release tension or seeking relaxing diversions and keeping a positive outlook and sense of humour. But most important of all was building a strong social support structure.
Building relationships with people you trust and identifying who your support people are, even if you never need to call upon them, often provides the reassurance we need to cope. Erica also stressed the importance of shifting our focus from our shortcomings/failings and instead, reframing these as opportunities to reflect and learn what we can do better.
When you're smiling, the whole world smiles with you. It might sound corny, but positive psychology starts with (and within) each of us. Different ages and stages of life present different challenges. Erica's advice to the audience was to look at your toolkit, assess what's working (and what isn't) and build your capacity to cope. Most importantly, invest the time in choosing, building and managing your most important relationships.
Here are some snapshots of our IWD Breakfast.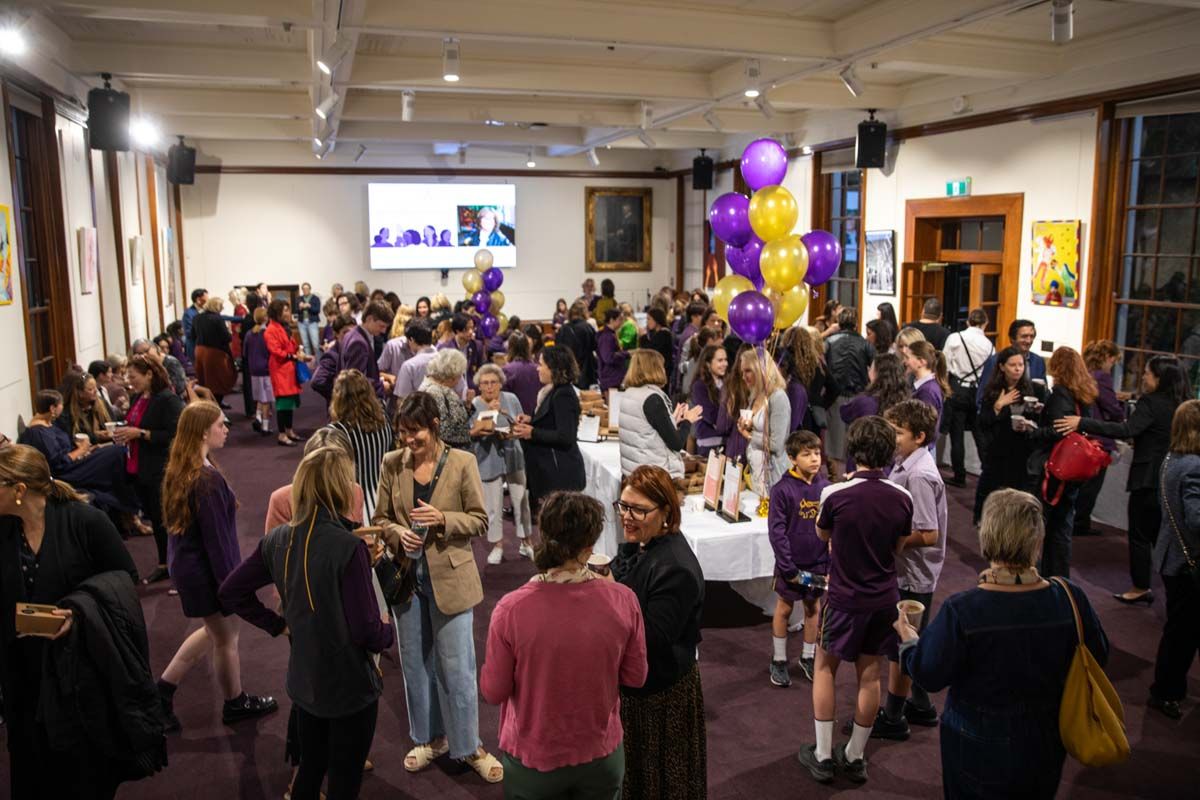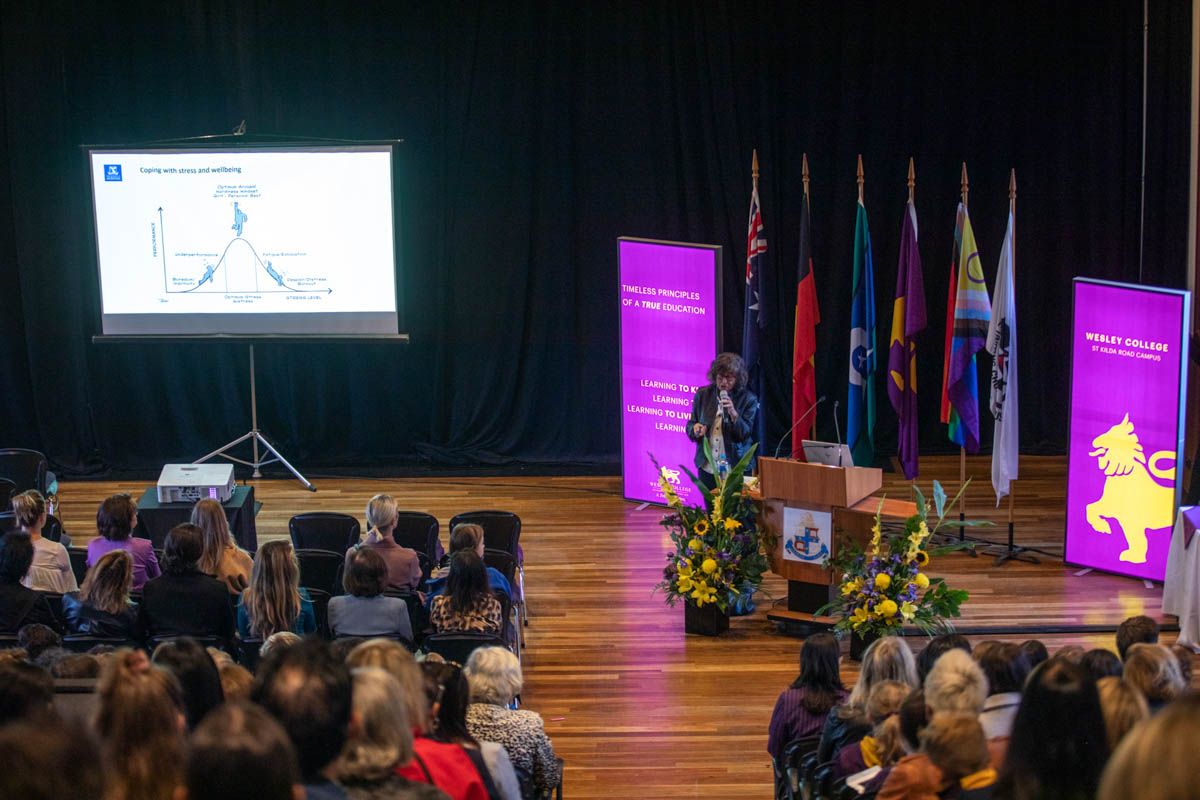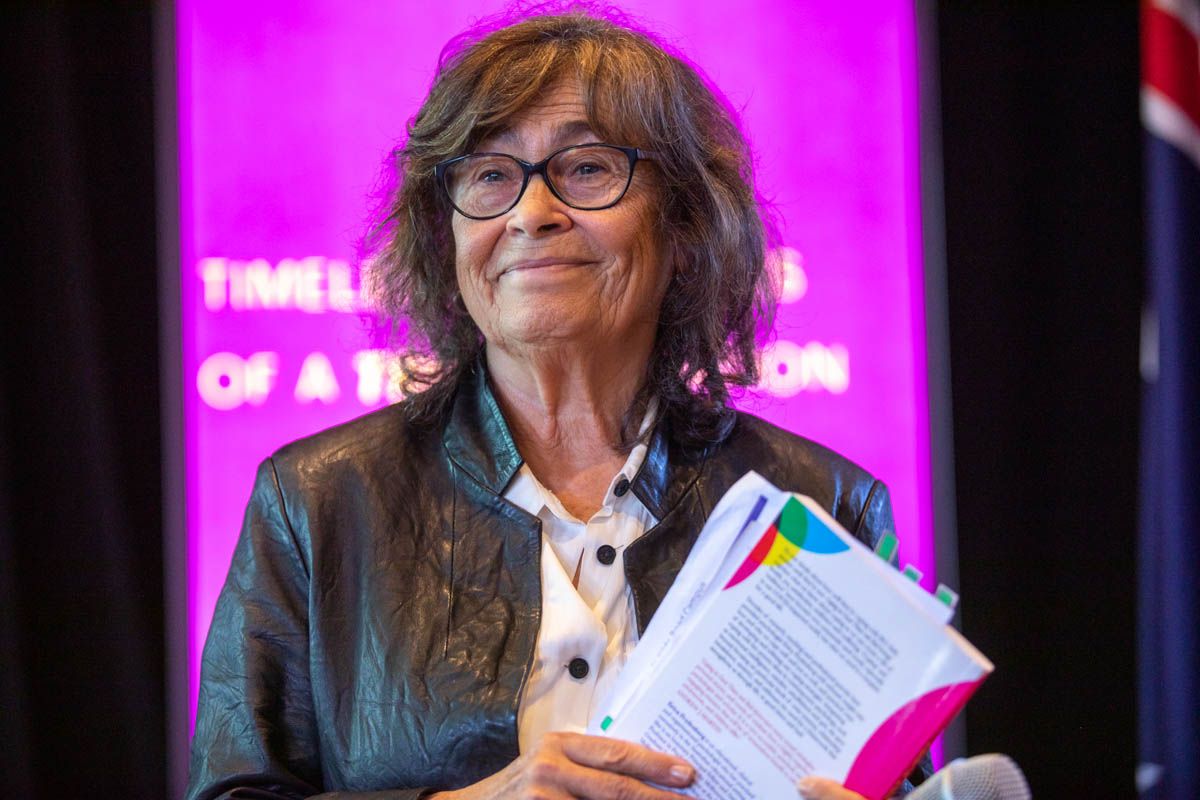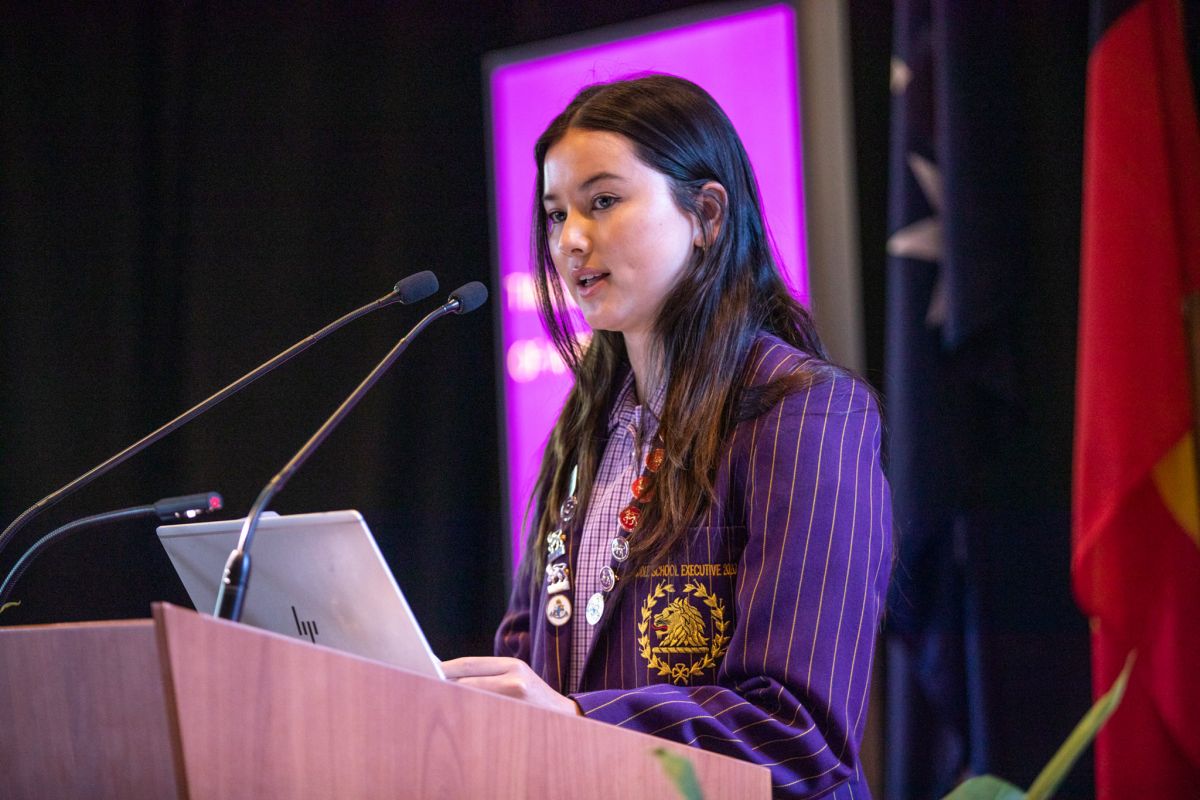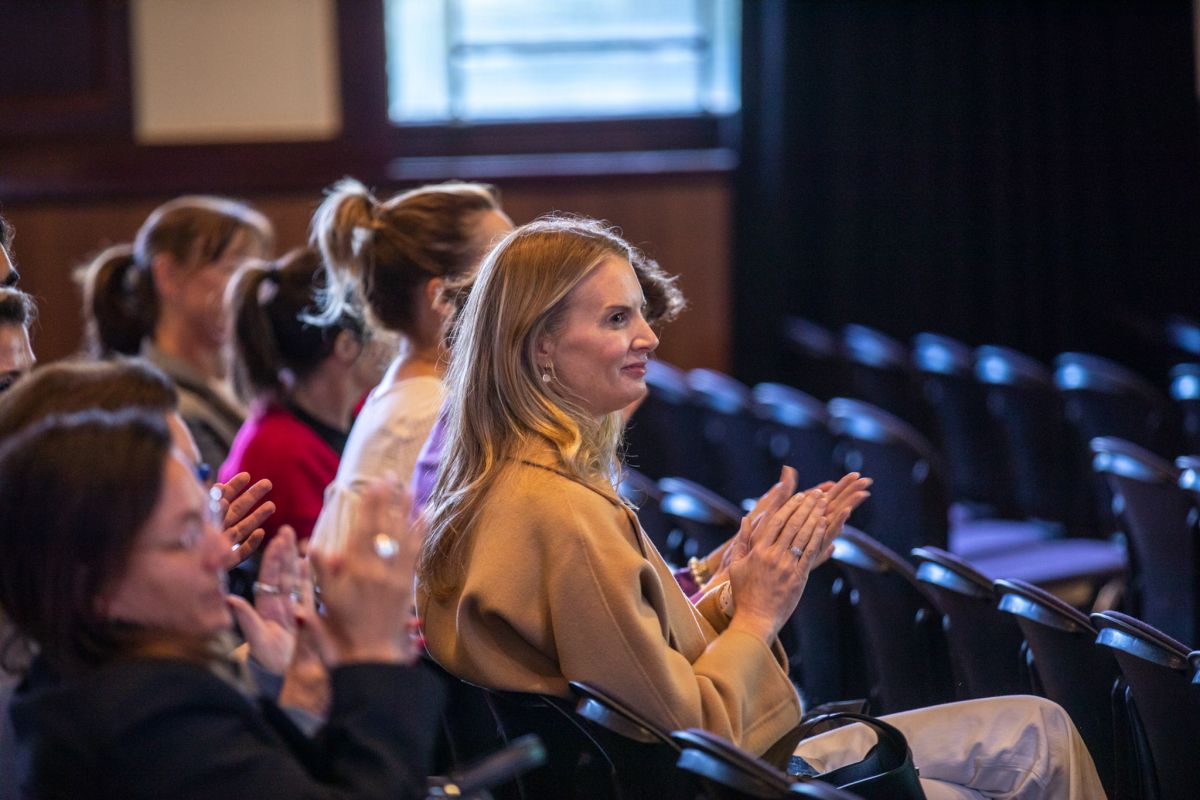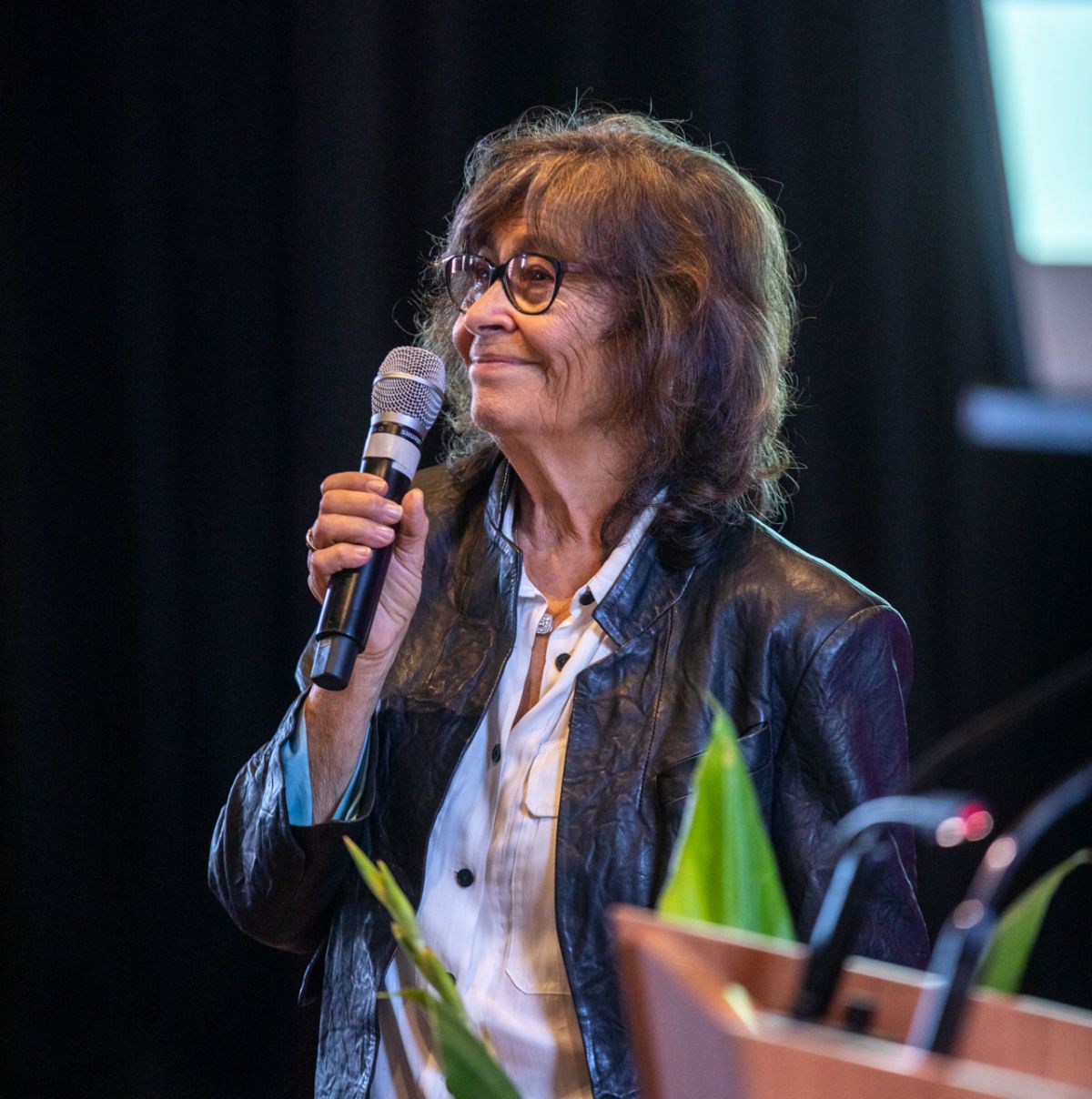 Glen Waverley Campus
The Glen Waverley Campus community was thrilled to welcome Samira (Sam) Richards as guest speaker at the 2023 International Women's Day Breakfast. Sam was most recently the General Manager, People, Culture and Diversity at Benetas. She shared a deeply personal account of her life beyond her successful career in human resources, and it was clear to see that her story moved and inspired everyone in the room, reminding us all of the power of the human spirit.
Sam arrived in the UK in 1985 as a refugee, escaping the war in Iran via Pakistan. Adjusting to life in the UK was particularly difficult for her father, who had already experienced religious persecution in Iran. His mental health deteriorated, and he took his own life around the time of the Iranian New Year in 1995.
Sam was close to her brother, who had journeyed alongside her from Iran to the UK and they often talked of a new life together in Australia. Sadly, he passed away from a heart disorder when he was just 30 years old. For the next few years, she battled significant anxiety and panic disorder, stating, 'I share this with you because it matters…because I want those struggling today to remain optimistic. It takes hard work, but the resources are there.'
Sam later migrated to Australia with her mum, pursuing her career in earnest and establishing herself in Australia. She gave birth to a daughter, Holly, who was born prematurely and was later diagnosed with cerebral palsy. Sam spoke warmly about what she has learned from Holly about resilience, kindness and what it truly means to be inclusive.
An advocate for better support for mental health, an optimist and someone who stands with women around the world, Sam tries to live by the advice given to her by her mother: 'Engage in acts of kindness and service, build a strong network and seek professional support for your mental health.'
'Throughout my life, there have been common themes and threads. I don't want you to remember the sadness, although it exists. I want you to remember the power of women and how we triumph over adversity. There is innate strength in all of us.'
As Sam said, 'You need to take the time to listen to someone's story… to embrace their individuality.' We are all more fortunate for the opportunity to hear her story.
Here are some snapshots of our IWD Breakfast.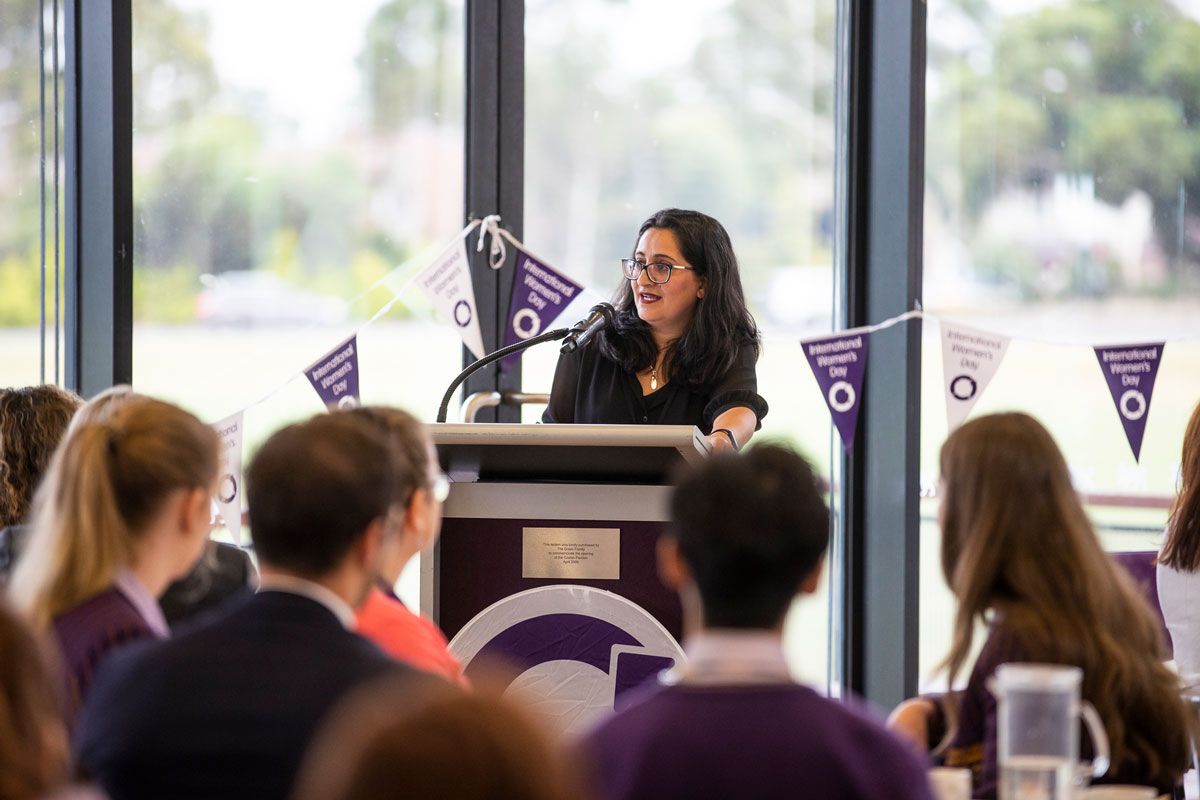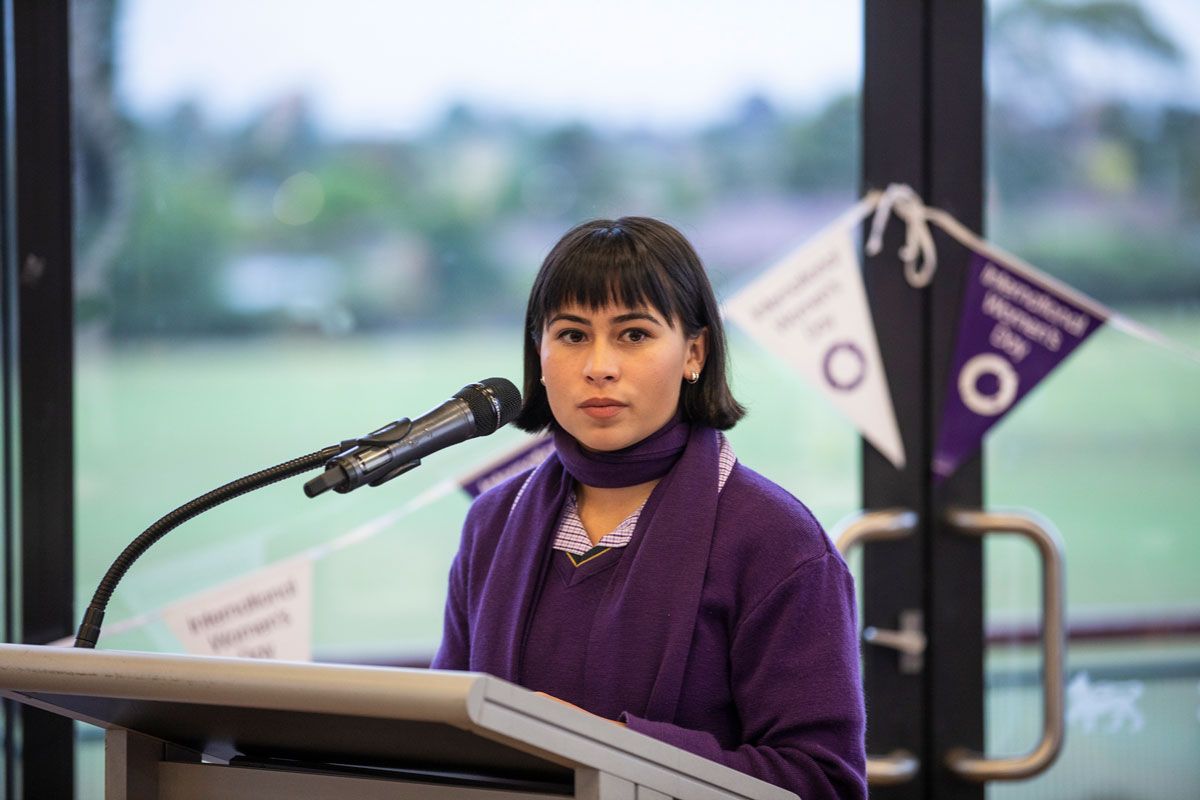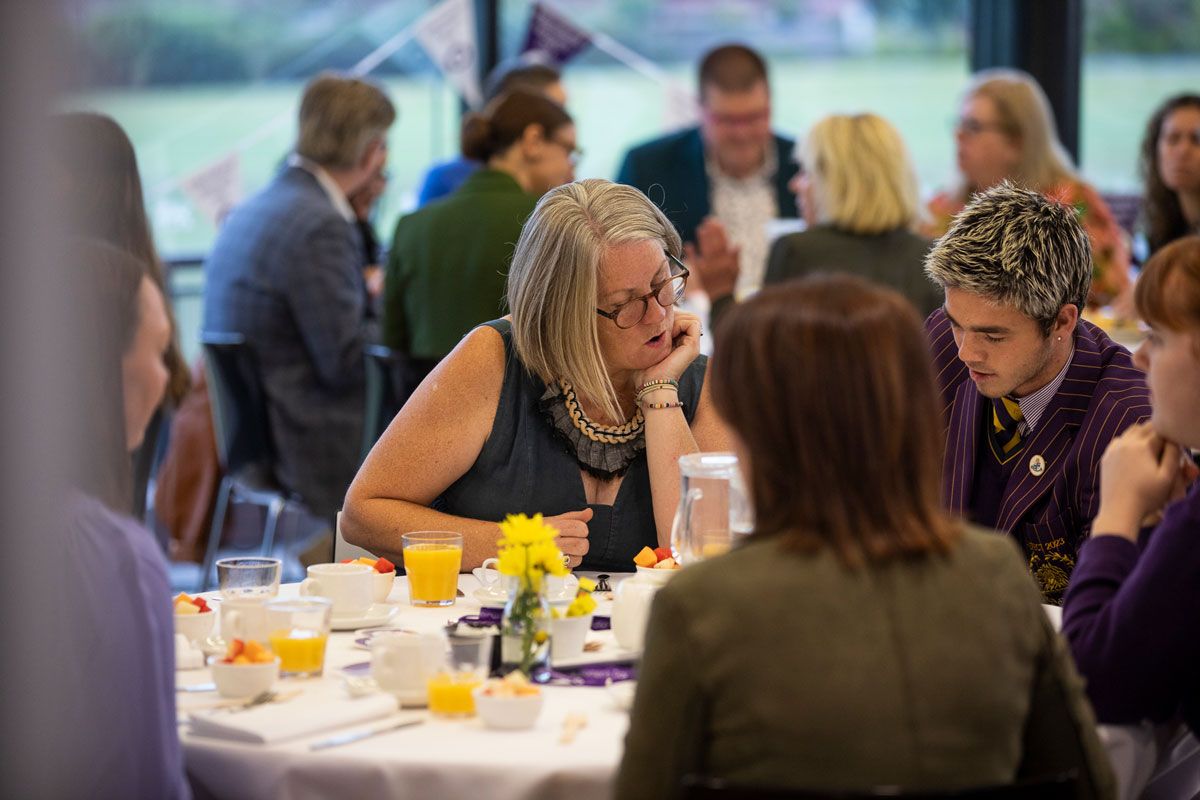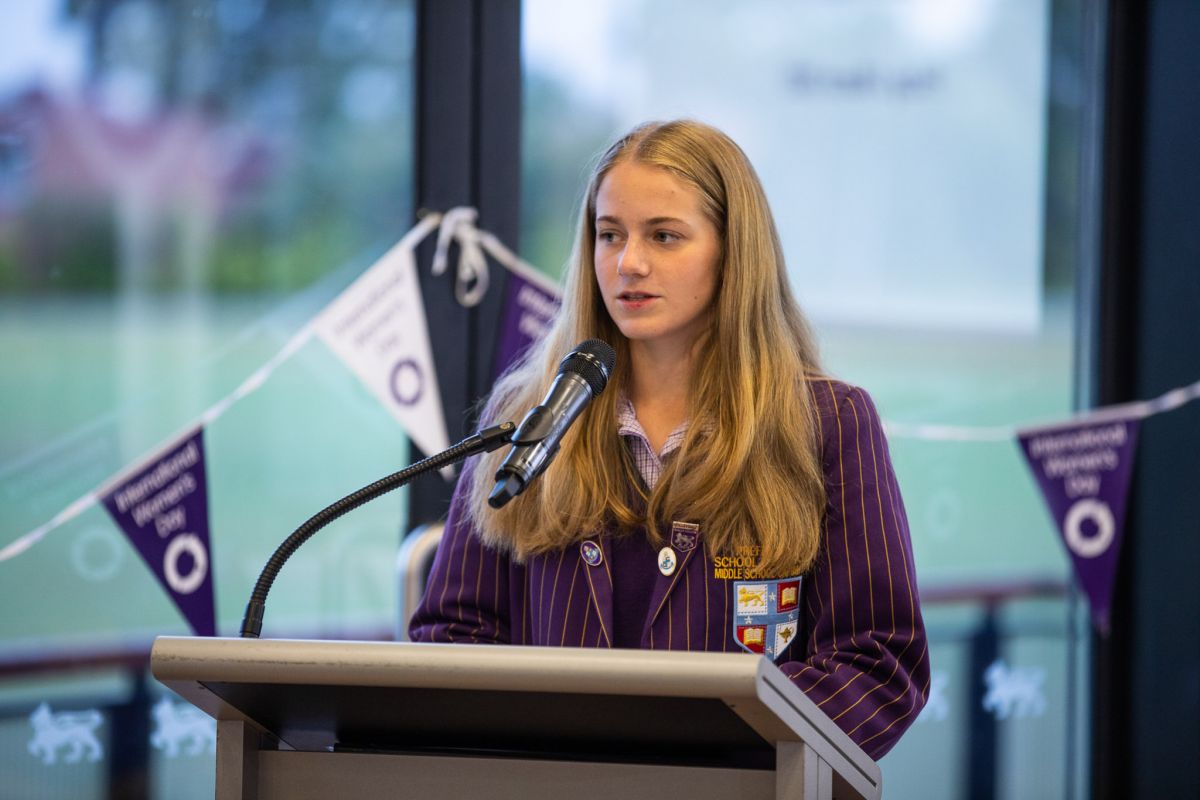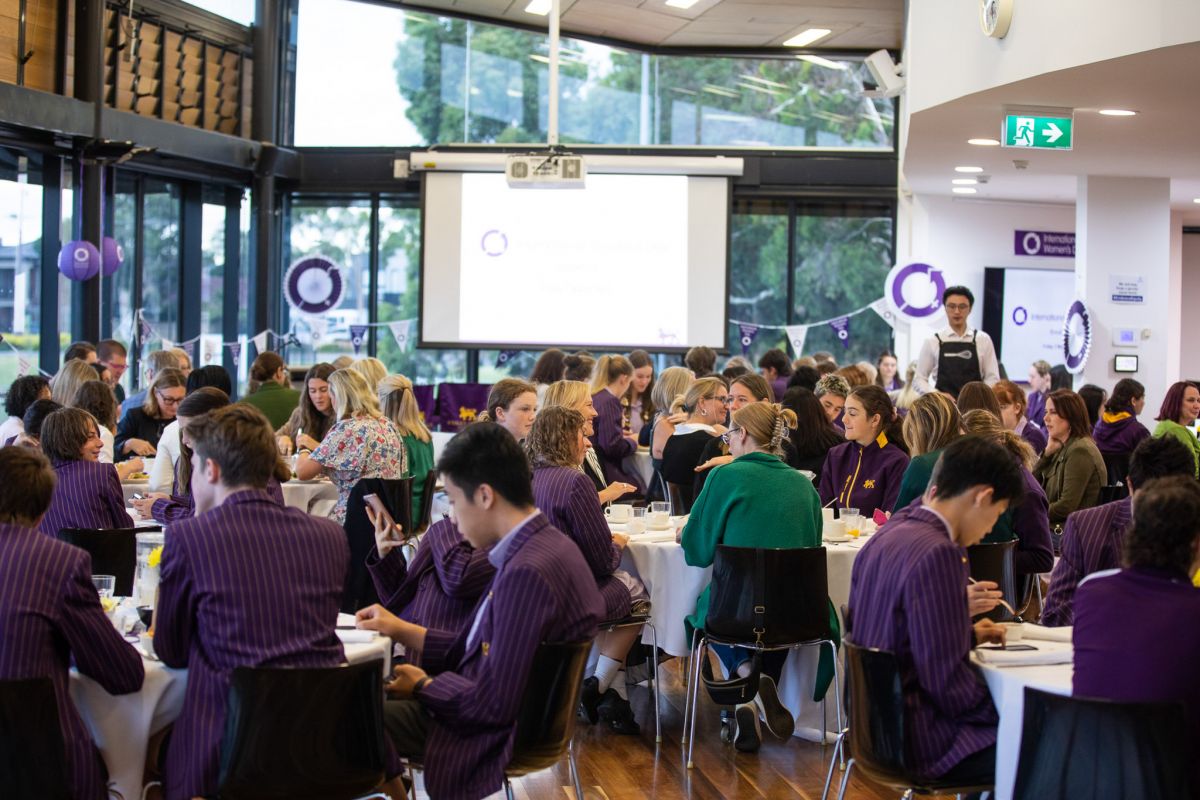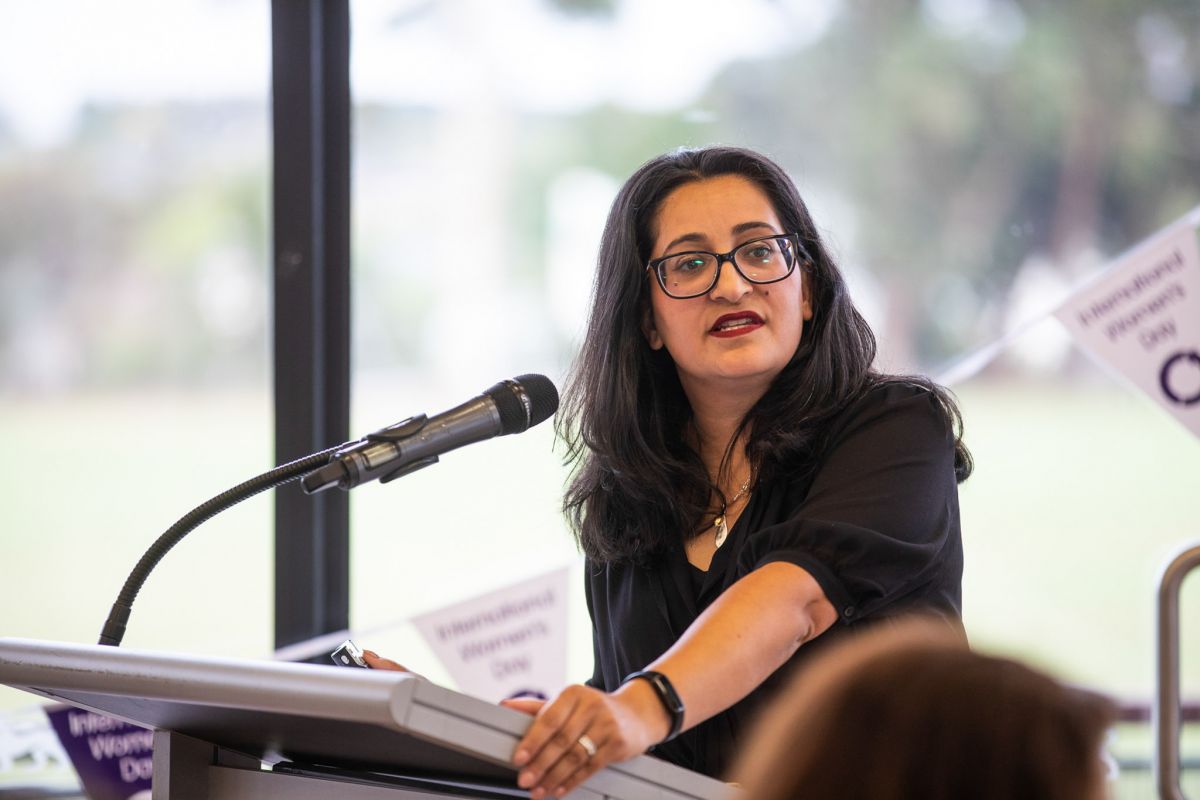 Elsternwick Campus
In celebration of International Women's Day, close to 90 parents, staff and students from our close-knit Elsternwick community came together in the Ding Family Courtyard supported by Year 7 musicians, Cally Cheng, Anna Li and Lydia Gao.
The event was wonderfully hosted by Olivia Hodges (Year 8), Joseph Greenfield (Year 7) and Lucy Pearce (Year 5), as we listened to guest speaker Ashani Dante, CEO and Founder of Flourish Girl.
Flourish Girl is a preventative mental health and emotional intelligence charity that delivers rites of passage programs for teenage girls and gender diverse teens and supports the building of self-awareness, self-confidence and social connectedness.
Ashani was the first senior female facilitator at the Rites of Passage Institute and paved the way for their school programs for teenage girls across Victoria, Queensland and South Australia. Her passion originated from being a speech pathologist, where she empowered children with range of communication disorders to find their voice.
Ashani spoke about some of the challenges facing young people today and shared an honest reflection of her own journey, including the challenges she faced in relation to her own identity and development and how she found her voice as a female and a leader. Her final message to our community was simple, 'You are the author of your own empowerment.'
As part of our wellbeing program, the Year 7, 8 and 9 students of Wesley Elsternwick have experienced the benefit of working with Flourish Girl and their counterpart Man Cave throughout 2022. We look forward to building this connection further as we continue to support our adolescents with proactive mental health strategies and sustainable wellbeing.
Here are some snapshots of our IWD event.