Wesley Boys Athletics secure historic win
A huge congratulations to our boys for their gritty performance at the 115th APS Sport Combined Athletics at Lakeside Stadium, Albert Park, securing the Premiership for the first time since 1947. We also congratulate our Girls' team who achieved an admirable third place overall.
---
75 years is a long time between victories and in 1947, only three points separated first and second place, with Wesley edging out Geelong Grammar and Melbourne Grammar to claim the APS Athletics Championship.
Fast forward to 2022 and the margin was slightly more comfortable, with Wesley securing the Premiership by 59 points with a score of 552.5 in a program that has expanded significantly in recent years. Our peer schools were formidable, and we congratulate the strong performances of all teams, in particular the runners up, Melbourne Grammar, who placed second on 493.5 points and Scotch College who finished third on 447 points.
Head Coach of Athletics, Tim O'Shaughnessy, was ecstatic, 'I'm immensely proud of what both teams have achieved, and the boys' Premiership win was truly a day to remember. Well done to all and a special congratulations to our Captains, Hugo Hanak and Lachie Falconer-Boag, who have been involved in athletics since Year 7.'
'What stands out for me is how hard the coaches and athletes have worked - not just this year, but over the last few years and remotely during COVID which was a time of great uncertainty,' said Tim. 'This consistency and commitment really helped set us up for the successes we witnessed at this event.'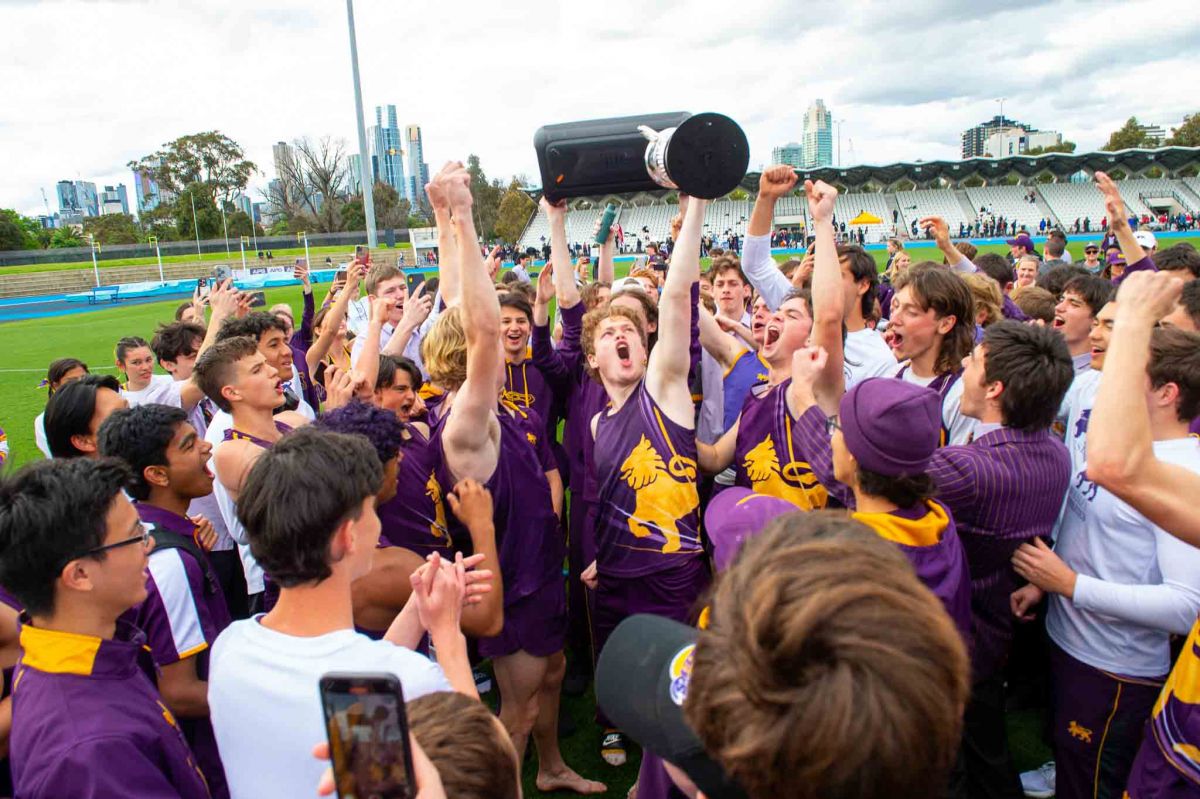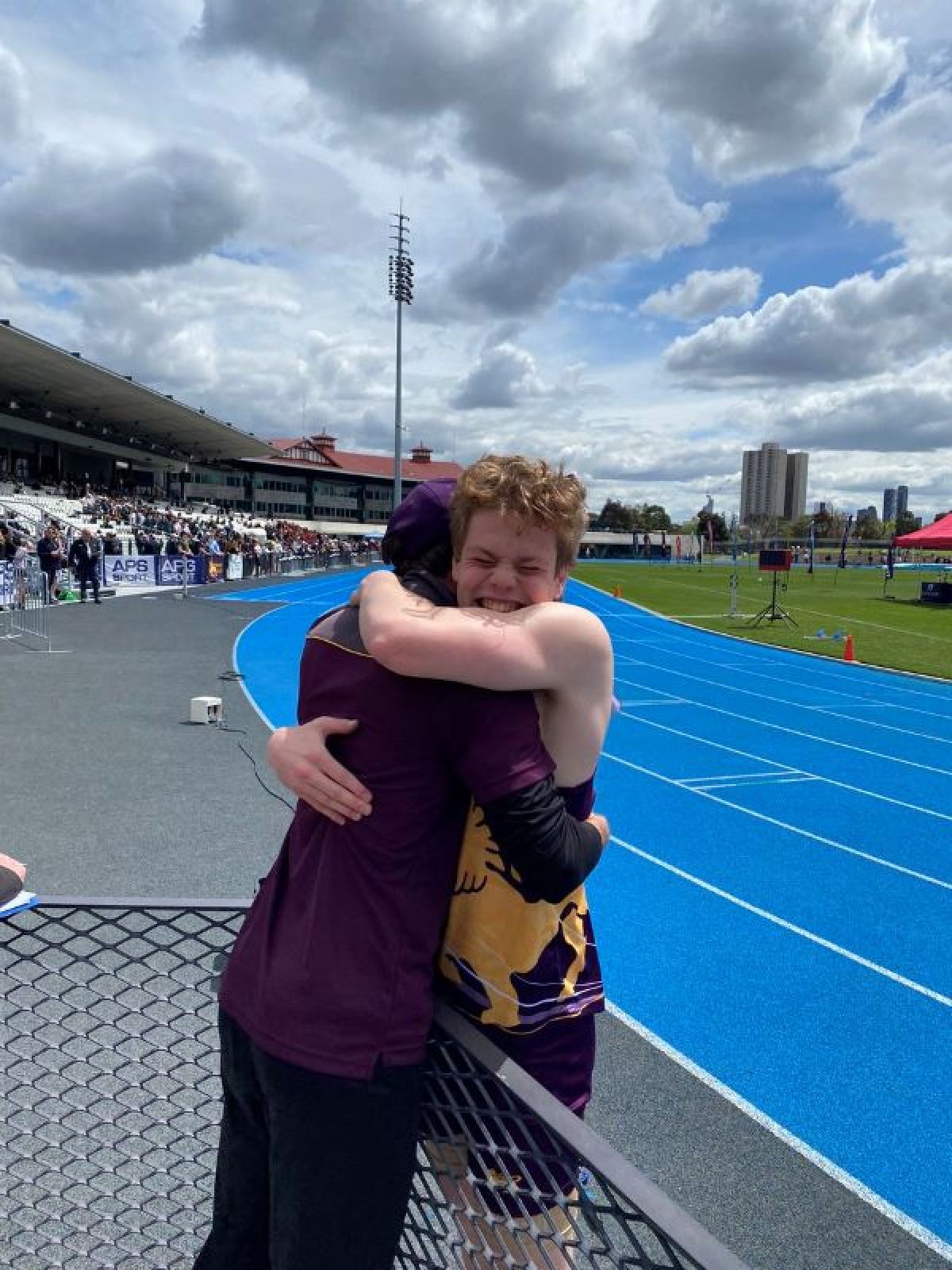 Wesley Athletics Captains, Hugo Hanak and Lachie Falconer-Boag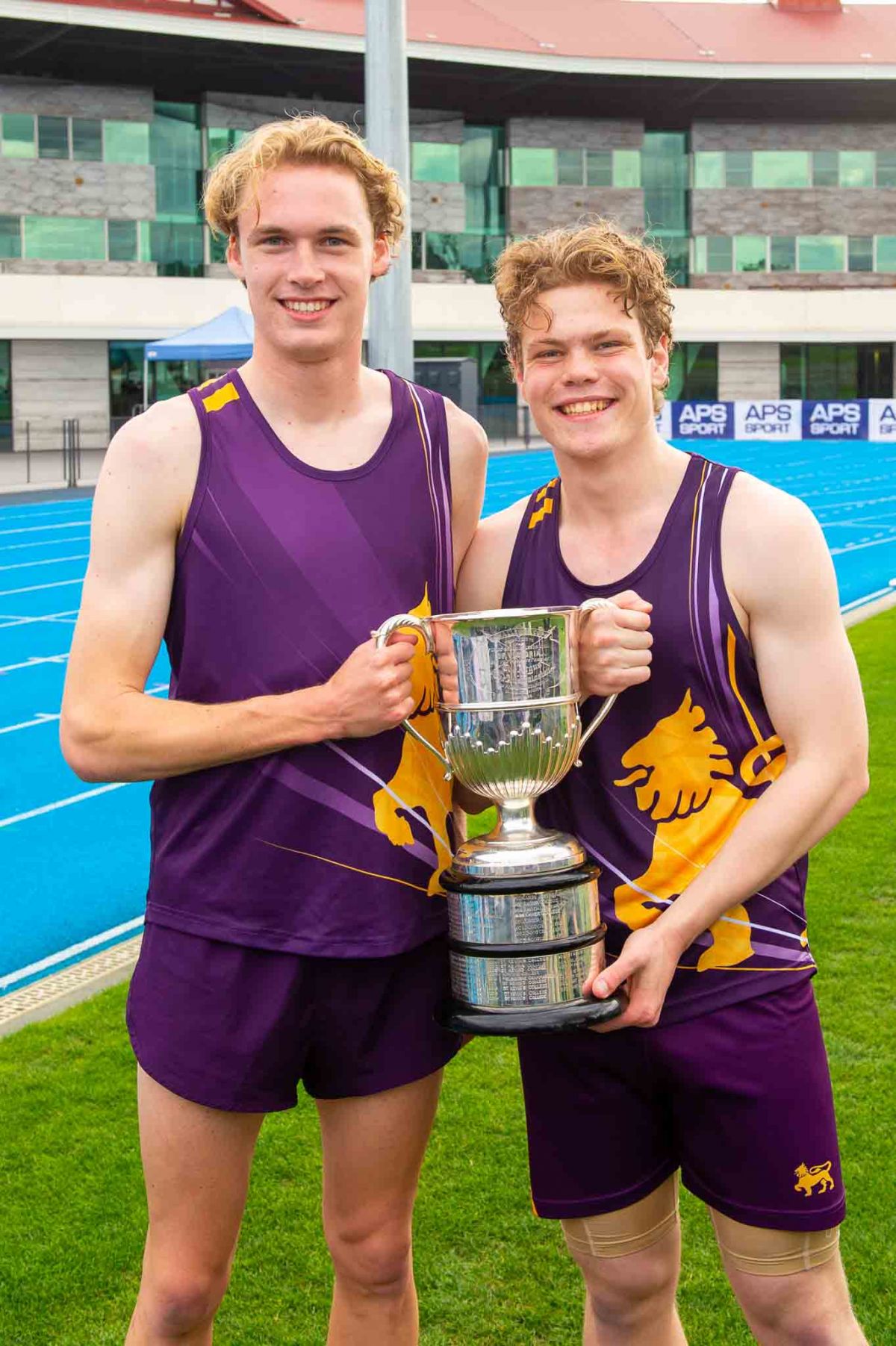 The Cup returns to Wesley!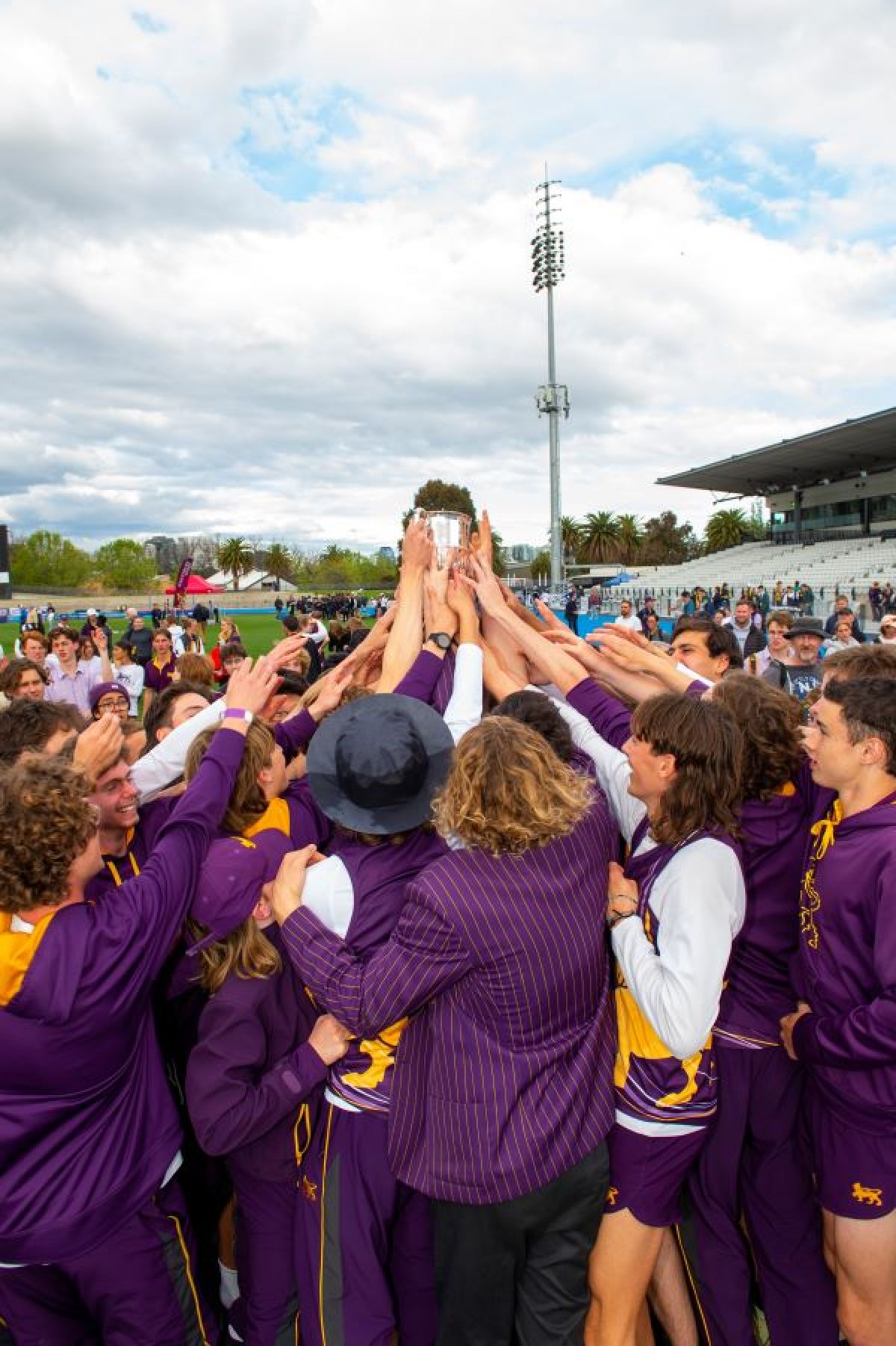 A day of record-breaking performances
There were a number of stand-out performances on the day, including Year 12 student Logan Janetzki's record-breaking win in the Open 3000m, taking an incredible three seconds off the time set by a young Xavier College student named Robert de Castella in 1974, with a time of 8 minutes, 18.4 seconds.
Logan Janetzki smashed the 48-year-old Open 3000m record set by Robert De Castella in 1974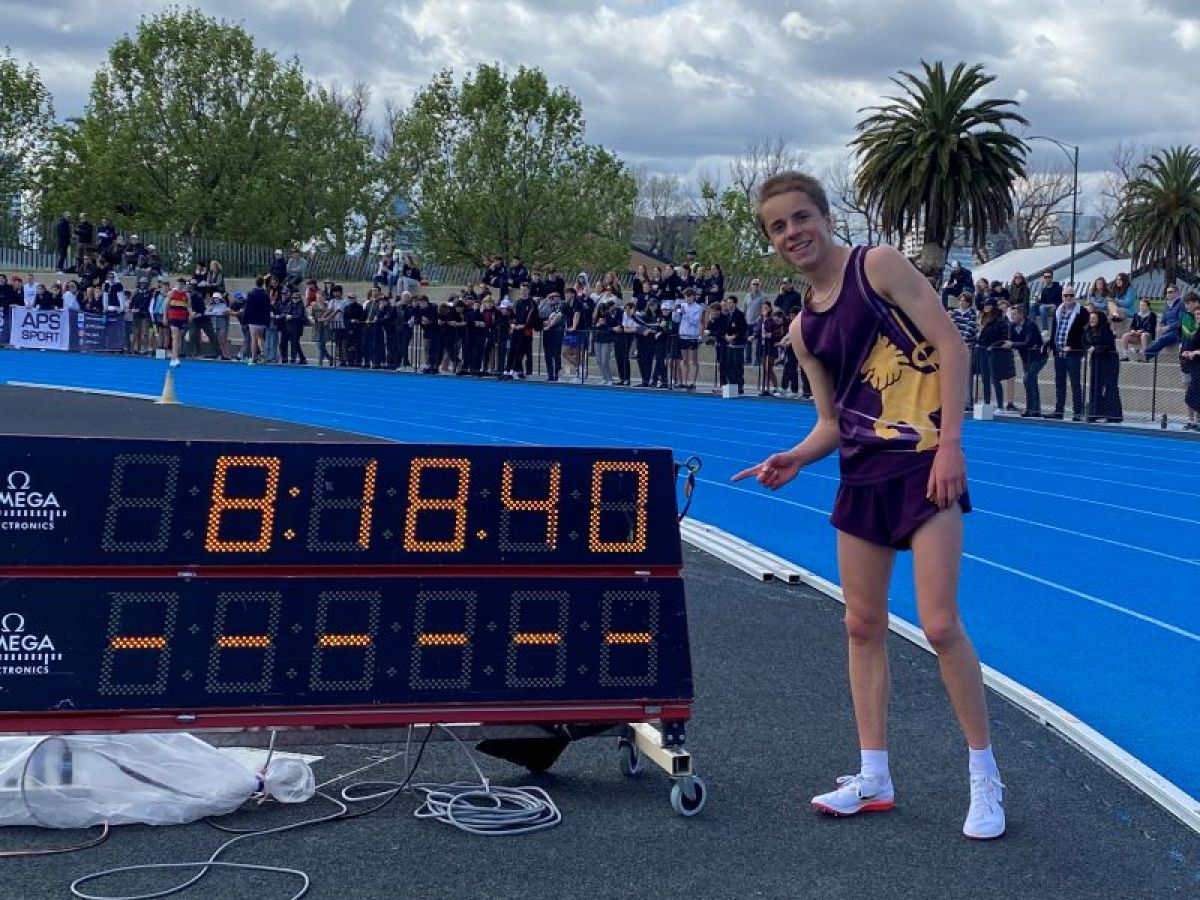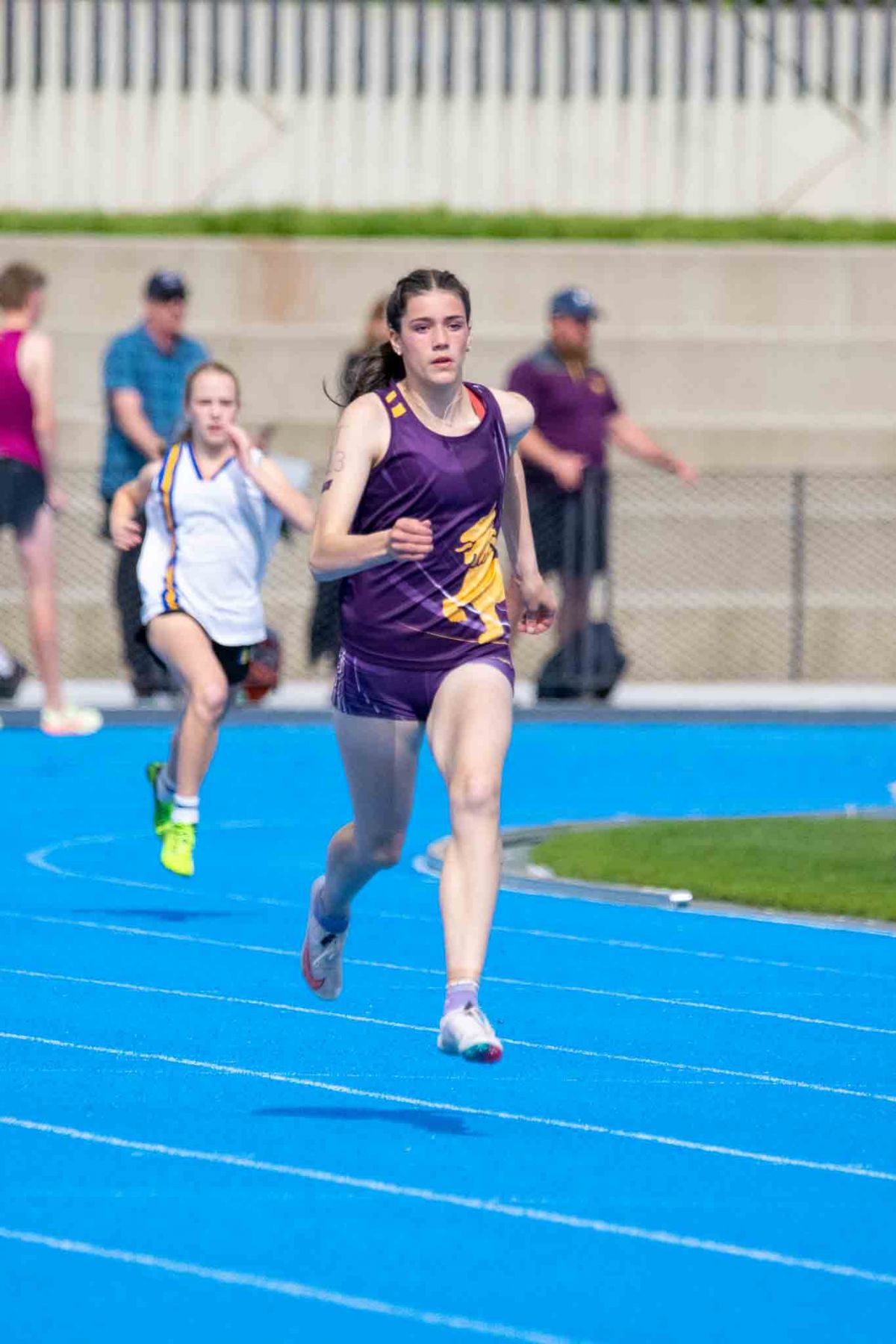 'Setting the APS 3000m record has definitely been a goal of mine this year however, I wasn't sure it would be possible!' exclaimed Logan. 'Given the number of years Robert has held this record, I was thrilled to break it.'
Logan plans to pursue athletics on a professional level after completing his studies at Wesley. 'I would love to represent Australia in the marathon at the 2032 Olympics. Until then, I will continue to race and train in Australia and overseas where the opportunity presents.'
Other athletes who set new records on the day include: Zulq Haider (U14 90m Hurdles, U14 100m and 200m), Johannes Thokchom (U15 Discus), Tom Tsatas (U16 Discus), Trent Marotta (Open Shot Put), Hugo Hanak (Open 400m) and the Open 4 x 800m relay team of Mitchel Langborne, Bailley Morrell, Jhye Hadfield, Wolfgang Cotra Nemesi.
Year 8 student, Daisy Nousis, was named the Most Outstanding Athlete in the Girls team, scoring the most points for Wesley across the day. Daisy competed in seven individual events, taking out first place in the U15 Girls 100m, 200m and 400m races, and placing in a number of field events. An incredible effort for such a young athlete.
It's been a long wait for the boys!
Athletics has evolved over the decades in both size and scale. Our 1947 boys' athletics team comprised of just ten boys who competed in 16 events, measured in yards and miles, with the results of the relay events not counted in the overall team score! In 2022, the boys team comprised 61 athletes taking part in some 63 track and field events.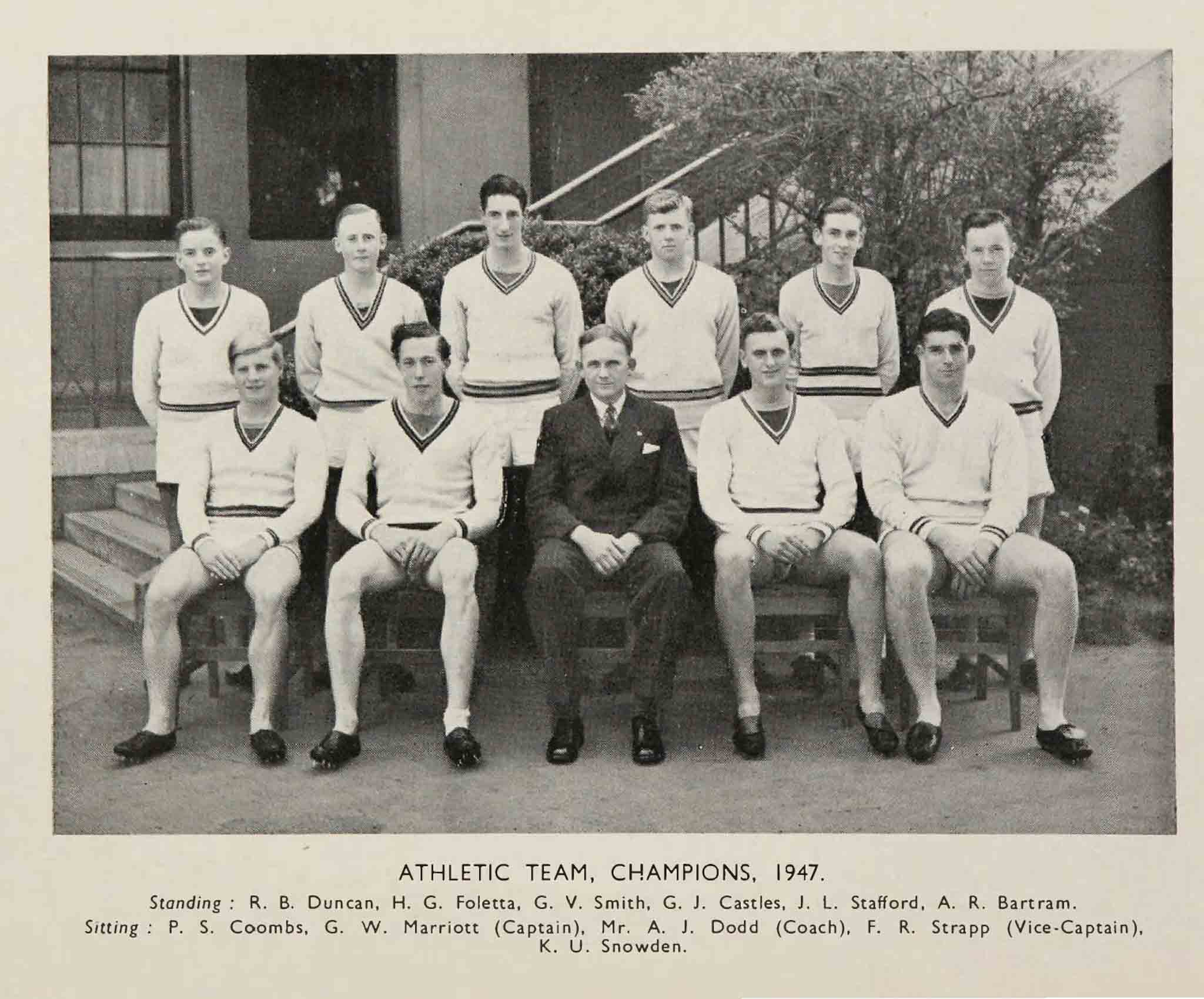 Wesley's 1947 Athletics Team - then and now
Peter Le Get (OW1951) was a Year 9 student in the crowd that day in 1947 and having been interested in athletics all his life, returned to the track to see the boys break their 75-year drought. 'I think I'm the only person to witness both victories,' he said, 'It's been a long wait!'
The 1940s was a golden age for Wesley Athletics, with the team winning the APS Championship in 1942, 1944 and 1945. But in 1947, as reported in the Chronicle, it was a fight to the end:
'Everything came down to the last event – the Open 440 yards. Frank Strapp came to the starting line looking very fit, and on him rested the hopes of Wesley. But he did not allow this heavy responsibility to warp his judgement and when some other runners were struggling for the lead around the grandstand turn, he was content to let them tire themselves. Coming up the straight on the railway line side…as soon as he came to the turn, taking advantage of the inside track, he unleashed a paralysing burst which the runners in front could not equal and went on to win, clipping half a second off his previous best time. Startled officials hurried forward as Wesley boys streamed onto the ground as there was still a relay event to be run! Strapp was chaired off the field by a mass of cheering, purple-clad youths. Wesley had won the Combined Sports.'
John Gellie (OW1951) was at Scotch College that day too, winning a medal in the boys U14 High Jump. Now 88 years old, memories of that day still bring him 'goosebumps.'
'Wesley was just one of the schools to have the lead during the competition, and we were in second place before the last event,' said John. 'The win by Frank Strapp in the Open 440 yards was inspiring, and memorable in Wesley's history. In that team of ten, there were four members who won their event, with Geoff Marriott winning two, the Open 100 yards and Open 120 yards Hurdles. Four years later in 1951, when I was in the Wesley Athletics Team of twelve, we almost pulled off another win but came in second, just three points behind Geelong Grammar School and 1.5 points ahead of Scotch and Melbourne Grammar who shared third place.'
'Having to wait 75 years to win another Boys APS Championship demonstrates just how hard it is,' he said. 'We took great pride in the Wesley Girls APS Athletics winning streak from 2013-2018 – an incredible achievement over consecutive years, and what some of those girls have achieved internationally, like Emma Carney, is just fabulous to see. So, a warm and hearty congratulations to the Wesley Boys team, now 2022 APS Athletics Champions.'
Well done and congratulations to all of those involved – athletes, coaches, staff and parents.