Wesley's partnerships and tours program is an immersive and experiential learning opportunity for our students. It supports them in learning to know, learning to do, learning to live with and learning to be.
---
Unfortunately, due to bans on international travel due to COVID-19 restrictions, the program has been curtailed throughout 2020 and 2021. But with Wesley's 'never oh never a lack of endeavour' approach, our wonderful Language staff came up with creative and engaging opportunities for our students, such as the virtual 'language buddy' exchanges. Highly successful, we are investigating the possibilities of extending them to all campuses in 2022, despite the challenges of time zones, levels of proficiency, and term dates.
The first of these virtual exchanges to run was the Spanish program, set up in May 2020 with 20 Year 11 IBDP students partnering with IBDP students from the Buitrago and Loz Rozas campuses of the Gredos San Diego schools in Spain. Sharing the commonality of their IB program, and in many cases shared subjects, it helped the students establish their friendships and practice their Spanish. The program concluded in April, with the hopes of another program in Term 4.
In June this year, 28 students from GW and SKR were buddied with our partnership school in Lyon France, the Lycée Assomption-Bellevue, resulting in students forging significant friendships, improving their French, and gaining an insight into the lives of French teenagers. As Nellie Tokatlidis, Year 11, says, she has 'loved the Program because I've made a friend in France. We learn and share our different experiences and help one another learn our respective languages. We talk about music, film, and daily life.' Adds Scarlett Hobbs, also Year 11, 'we are eager to create our own exchange when the world settles down. C'est une expérience très enrichissante !' Hugh Berry, Year 11, reflects, 'the chance to speak to someone who speaks French is also very helpful for my understanding of different parts of the language, and I hope I've been able to do the same for her.'
For our younger learners in Years 6, 7, 8 and 9, a similar program has been developed with Collège Dumbéa sur Mer in New Caledonia. With seventy students enrolled in the program, it is proving to be a highlight for our young French learners. Nikita Williamson, Year 8, says, 'the program has definitely motivated me in terms of learning more French so I can fluently speak to my buddy' and George Teague, Year 9, adds, 'I have not only learnt about my buddy and New Caledonian culture but have also learnt more French and I cannot wait to continue growing this relationship.'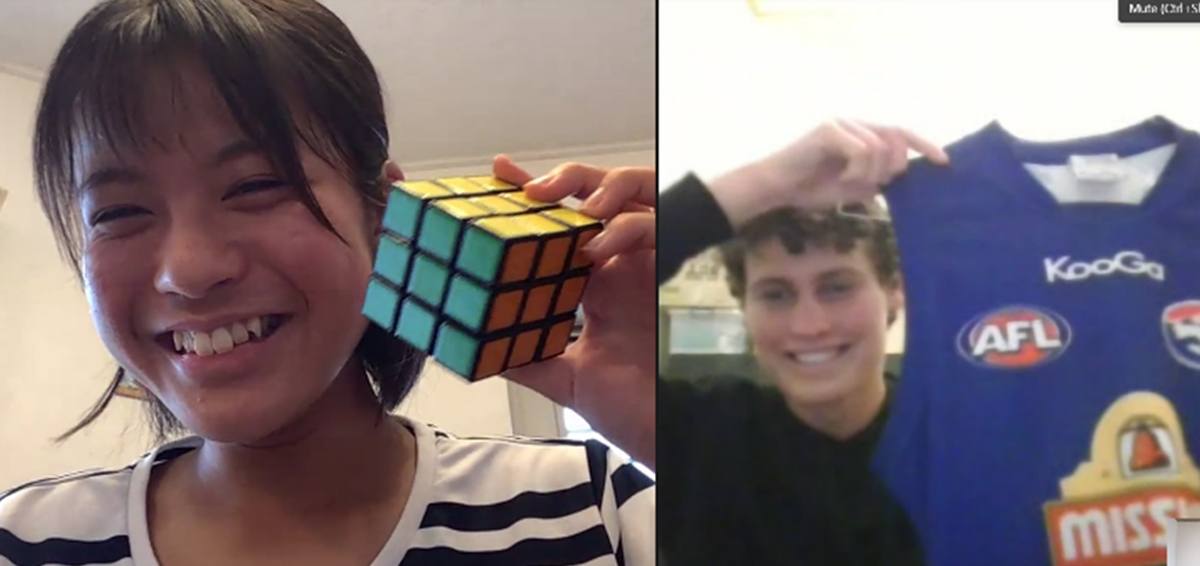 A group of 26 students, 13 each from Wesley's St Kilda Road Campus and our long-standing partner, Doshisha School in Japan, participated in our most recent virtual exchange which concluded last week. Marking 100 per cent attendance, students learnt about the city of Kyoto, Doshisha school, student life in Japan, the Tokyo Olympics, as well as new Japanese words and expressions by getting to know the Japanese students on a more personal level. The feedback was really positive from students, parents and Doshisha teachers alike. Lily Schroder, Year 11, shares, 'although it was disappointing that we were not able to do exchange in person this year, I found doing it online was really fun and valuable. I was able to introduce my family, school, city, home, and interests to my buddy, and she was able to show me hers. Although sometimes it was awkward and difficult to communicate, I felt that it was a really good experience to practice everything I had learnt in class.'
We look forward to a time in the near future when our partnerships and tours can recommence as they were originally conceived.
Morag Howard is the Associate to the Principal