Enjoy every moment at school: Scholars Address
Balance, hard work and finding something to motivate you are some of the strategies our Class of 2020 top achievers employed in their final years at Wesley. As three of our duces explained to students, enjoying your time at school is one of the most important measures of success.
---
Duces Kean Tan, Mia Roux and Grace Danielson each returned to Wesley – Grace returning virtually from ANU in Canberra – to speak to students at the Glen Waverley and St Kilda Road Campuses about their own understanding of 'success' after achieving perfect score ATARs of 99.95.
These are edited versions of their addresses.
Mia Roux
Balance is something I was sort of forced into. My plan for year 12 consisted of a lot more socialising and going out and a lot less studying than what eventuated. I can safely say that I would not be here if that pesky virus from Wuhan wasn't.
I did my daily exercise to get out of the house, I went on lots of runs, I rode my bike over almost every square foot of my 5km radius, I went on sunset walks. I socialised as much as I possibly could, going for walks with friends, runs with friends, FaceTiming, Netflix parting, Housepartying, I spent recess and lunch on Microsoft teams. I perfected recipes by making three course lunches from home. I played guitar and piano whenever I wanted with the click of a mute button. I turned the dramas we studied in literature class into musicals. I cried, a lot. And of course, I studied; sometimes I cried and studied, I studied outside, I studied inside, I rewatched classes in the bath, I recited IOCs in the shower, I listened to podcasts on runs, I woke up early, I stayed up late.
There's no denying that I studied a lot. But I didn't do it all the time, and I didn't socialise all the time either. This imposed balance meant that when I did study, I studied better. Now, I'm hoping that you wont be forced into this balance because there are notable disadvantages to an uncontrolled outbreak of coronavirus. But you can still implement balance willingly. Timetable time away from study, and then fill in the blanks.
But feel free to ignore everything I've said. Everyone is different, everyone's brains are different. There is never going to be a universal technique that will ensure academic success.
And even then, doing well this year is not the be all and end all. I'm telling you how I think I did well, but that does in no way mean that doing well academically is the sole definition of success.
My results made me super happy, for about 15 minutes.
I genuinely enjoyed school and learning so I don't have any regrets about working hard, but if I had made myself miserable for those grades, it just wouldn't have been worth it. This school has so much to offer, incredible people, interesting teachers, insane arts and sports programs, unforgettable camps and school trips, there are clubs, and house activities, and dress-up days, and games. Make the most of those things, ditch the textbook occasionally, because, retrospectively, those experiences are so much more valuable and memorable than a mere 15 minutes of happiness.
So, if you want to do well, don't let the past influence your view of your potential, find something that motivates you, and have balance, but for your own sakes, just make sure you're still having fun.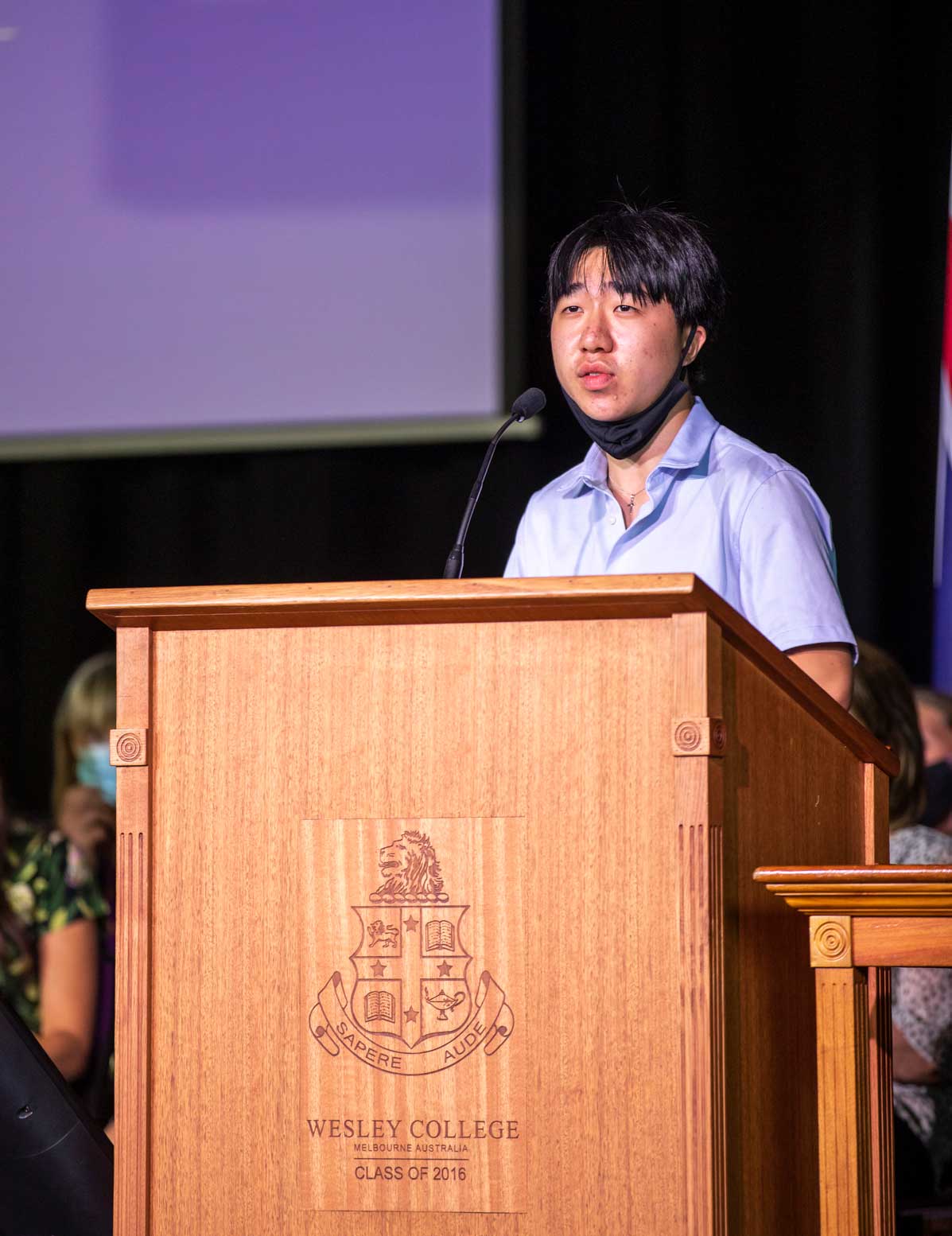 Kean Tan
First of all, I think that ultimately, the most important element of doing well in your end-of-year exams is your work ethic, and how much effort you put into achieving your goals. You can't control the questions or assessments you get, and you can't control how naturally a certain subject comes to you, but the one thing you can control is the amount of time you put into genuinely improving at something.
My main point is that hard work is the most important factor in doing well in school. It's what maximises your results and allows you to do the very best you can do, which at the end of the day is all you can really ask for.
Now, having said that, I think this revelation that working hard is important is pretty clear to everyone, but the obvious difficulty is in finding the motivation to actually try and put effort into studying. What motivates us will be different for all, but ultimately, I don't believe that the specifics matters. Just taking a moment to think about and find your own reason for motivation, whatever it may be, is something that can be helpful for all of us, because it's the thing that's going to encourage you to work hard and do your best at times where you may lack the desire to do so.
In addition, I think another small strategy for pushing yourself to work harder is to set lots of personal goals for yourself to work towards, and to constantly remind yourself of what you want to achieve. Specifically, I think it can be helpful to consider your overall goal in school, and from there set lots of small goals to help you achieve this big one.
But to finish off, I think the single most valuable piece of advice that I can give today, is to just enjoy your time at school, and to make the most of the opportunities you have while you still can. Your time at school is finite, so don't waste it. Take lots of photos and videos with your friends. Play school sports. Join a musical group.
When I reflect back upon my time at Wesley, I don't think to myself, 'wow, remember when I studied really hard in class that one time?' Instead, I think back to the bubble tea runs before every Wilkie Orchestra rehersal. I think back to all of the gags our Geo class had with Ms Hill every lesson. I think back to playing 10A's soccer and failing to win a single game the entire season.
I'm not saying that the academic aspect of school is not important, but as literally every single teacher is going to tell you right before you sit your exams, your ATAR does not define you, and there are millions of ways to go about achieving what you want to achieve in life, regardless of how well you do in your exams. So still work hard in school and try your best to do well, but don't forget to enjoy and cherish it while you can.