Why do our families choose Wesley College?
The reasons a family will choose a school are many and varied, but common themes do arise. Jacinta Janssens, Head of the Elsternwick Campus, shares some of those reasons Wesley is a top school of choice.
---
Every family considering joining us at Wesley College first meets with our Head of Campus at either our Elsternwick, Glen Waverley or St Kilda Road Campuses. This is an opportunity both for families to meet the school leaders and for us as school leaders to get to know families. It's the beginning of an exciting partnership.
Why Wesley College?
As we meet prospective families, they often tell us their reasons for choosing Wesley College. Many will cite coeducation, the IB experience and the culture of a school that values and celebrates individuality and diversity.
Independent Schools Victoria, through their parent research on why parents choose a particular school, discovered that the top six reasons, in order, are:
The school's emphasis on developing sound morals, values, beliefs and attitudes
A belief the school best suited their child's needs
The school's reputation
The quality of its education programs
Its educational philosophy
Its academic results
Wesley College is unique. Whilst excellent academic results are a priority, our coeducational programs are also rich and comprehensive, with a concentrated focus on the Arts, Sport, Outdoor Education and Community involvement. There is a valuing of the talents and worth of all individuals, a focus on whole person development. Our culture emphasises achieving personal best. Whilst tradition and history are a strong part of our school, we are also known for our progressive approach to education as we continually reflect on best practice and how we can do things better. This culture means staff at Wesley work exceptionally hard because we do not stand still. There is never a dull moment in a day at Wesley! Open entry, achievement of personal best in all areas, a varied and balanced curriculum, diversity, and spirituality in relation to Christianity and all other faiths are who we are and what we value.
There are so many advantages to a campus that includes early childhood, primary and the early to middle years of secondary education. Due to the philosophy of Reggio Emilia, our youngest children experience the pedagogical practice that is a part of our Junior and Middle Schools with the IB's Primary and Middle Years Programmes. Not only are they expert inquirers but they are familiar with and begin to understand the language of the IB from their earliest years. For our youngest children, there is a sense of connection with what lays ahead and their place within a larger community, they are excited and interested in the future years. Confidence is developed through relationships with older peers, and there are so many benefits connected to access to specialist teachers and specialised spaces.
What do our current families say about our Elsternwick Campus?
Although many parents will vary in their view about why they choose Wesley and the Elsternwick Campus, it is the culture and size that are often cited. Whilst class size does alter the demands on a teacher, research will also highlight that the progress and learning that occurs is not about the numbers in a class but the effectiveness of the teacher and quality of the teaching. At Elsternwick we often highlight the fact that we have many of the benefits and resources of a large independent school, with the support and connections of a smaller community.
Reflection from Year 8 parents
Srikant and Sindhu Kadambi, parents of Ashna, a Year 8 student, say, 'While at Wesley College, Elsternwick Campus, as Ashna's parents, we saw her blossom. Ashna had always been a very diligent child academically, but at Elsternwick campus she rapidly started evolving as a complete package. Ashna's love for music, drama, sports, her confidence to participate in a Victoria state-wide Chinese oratory competition brought to fore the very many other talents & strengths that Ashna possessed. These different facets of Ashna were unlocked by the Wesley, Elsternwick teaching staff. As we relocate from Australia, the Wesley College, Elsternwick Campus stint is something that Ashna will cherish, and as her parents – we will remember it as a time period where Ashna blossomed as a well-rounded, multi-faceted child, ready to face the world.'
What does Tahj Megna, Year 6, think?
'Why Wesley? Well, there are plenty reasons why. Wesley is an amazing school that provides many opportunities to every student. When I came to Wesley, I couldn't believe it. From the very first day, I got the chance to participate in many different activities.
Playing an instrument has been great and I remember when I first started playing, I didn't think it would be my thing but now I enjoy it and have improved significantly,' Tahj says.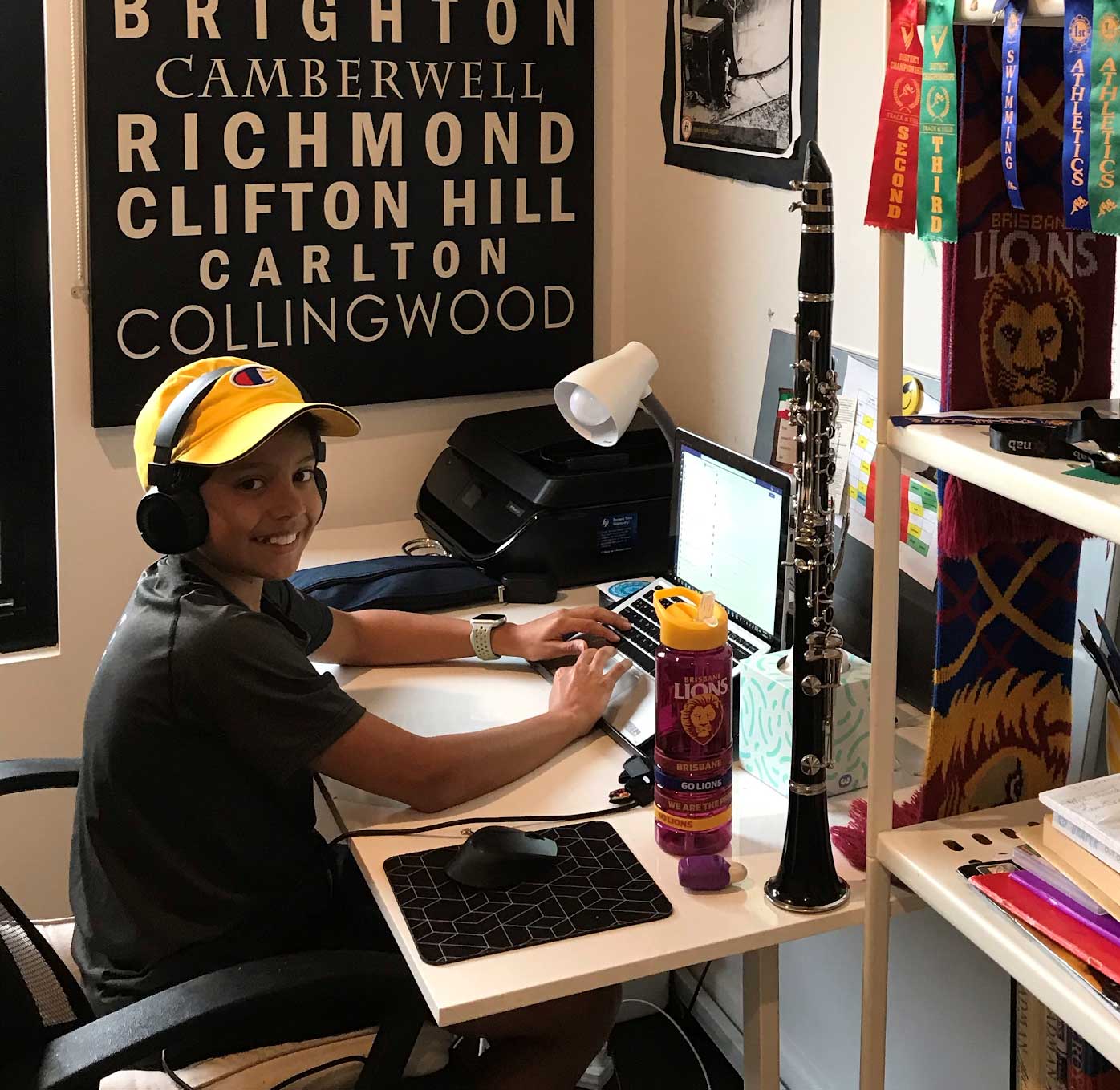 'Another thing that I was worried about was learning Chinese as I had never learnt another language. However, I was able to learn it in a flash and Chinese is now one of my favourite subjects. This is all because of the amazing support I had on the way from our great school.
The thing I most enjoy about Wesley is its sport program. Sport means everything to me and at Wesley, sport and fitness is taken very seriously and that is great for me! I've competed in multiple CIPPSA and SYDSA events and it has been good fun to perform against others. Choosing to attend those early morning trainings for Cross Country, Athletics and Swimming were some of the best decisions I made since starting Wesley. These training sessions have helped improve my skills and fitness which has had a positive impact on how I play sports outside of school.
The highlight of my experience at Wesley has definitely been becoming a Middle School leader. I was the Year 5 Kittani House Captain. I have always wanted to be a leader, and this was the perfect time to learn plenty of new leadership skills.
These are just some of the examples on how Wesley has opened up opportunities for me.
Wesley means a lot to me because it is where I have learned new skills and where I have been encouraged to be a socially responsible citizen and peer. What's really exciting is that I've still got plenty to experience and learn ahead of me,' Tahj says.