Service century: how students learn from service learning
While learning from home in Term 2, our Service Century campaign is supporting students to do good and learn from the good that they do, as Annie Johnstone, Jillian Berchtenbreiter and Michael Nash explain.
---
Back in Term 1 2020 BC (before COVID-19), Wesley students from Years 7 to 10 were learning in the classroom and in their community. And they were involved in service learning, taking their learning from the classroom into the community. You might have found them using their skills and talents to help the Preps during reading time or running a juice stall to fundraise for a worthy organisation. In the current environment, where pandemic containment measures include social distancing and learning from home in virtual classrooms, the idea of taking learning from the classroom to the community has been a bit more complicated, but by no means impossible.
Service learning in the virtual classroom
To maintain the momentum of our service learning program in the virtual classroom, we've developed the Service Century campaign. Students are encouraged to complete service activities to earn points across direct, indirect, research and advocacy types of service, with the aim of reaching 100 points before the end of Term 2.
We've been really pleased at how our students have taken to service learning in the current situation. They've used their research skills to identify good health and wellbeing practices during isolation and discover what a remote learning school day looks like in a school in another country. They've produced quizzes and other 'brain break' resource to share with their peers and created age-appropriate instructional videos and other resources to share with younger students.
They've also gone back to the real olden days, reading actual books (no battery required) to younger siblings, writing and mailing a letter (on actual paper) to grandparents and using coloured chalk to decorate local pathways with positive community messages and doing good in many other ways.
Identifying real needs
While service learning is about doing good, it's also about identifying real needs and understanding how best to help others. To answer the question, 'Am I helping?' it's worth getting students to describe a time when they helped someone and a time when someone helped them. The question, 'Am I helping?' might seem simple, but consider helping orphanages in, say, South Asia by fundraising. According to UNICEF, many children in orphanages aren't actually orphans; they've been separated from their families to attract well-meaning donations, so supporting an orphanage might actually help create rather than solve a problem. The service learning cycle of investigation, preparation and planning, action, reflection and demonstration gives our students a framework so they can identify good and learn from the good that they do: that's why it's not called service, it's called service learning.
Our students are following the Service as Action Inquiry Cycle to guide them through each of the Service Century experiences. This not only assist them in seeing success, but also builds reflection into the process. We asked students to complete a reflection on WiSE in weeks 5 and 10, particularly to help them to recognise and adapt to challenging situations.
What do students say?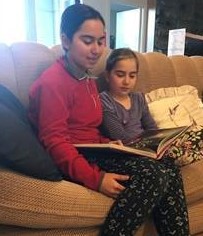 The Service Century campaign has prompted Year 9 St Kilda Road student Joanna Ostaff to read to her younger sister, Year 3 student Sammi Ostaff, each night
Year 9 St Kilda Road student Joanna Ostaff is reading a chapter of Harry Potter and the Philosopher's Stone to her younger sister, Year 3 student Sammi Ostaff, each night. 'While the containment measures during the pandemic have made it hard to maintain connections with friends and extended family members, it has been an opportunity to connect with my immediate family, and made me realise that relationships are really important. Reading to my sister, Sammi, has also improved my communication skills, not just clarity of speaking but also voicing the characters. I can't say I've made a difference in the global community, but it has impacted another community – my family.'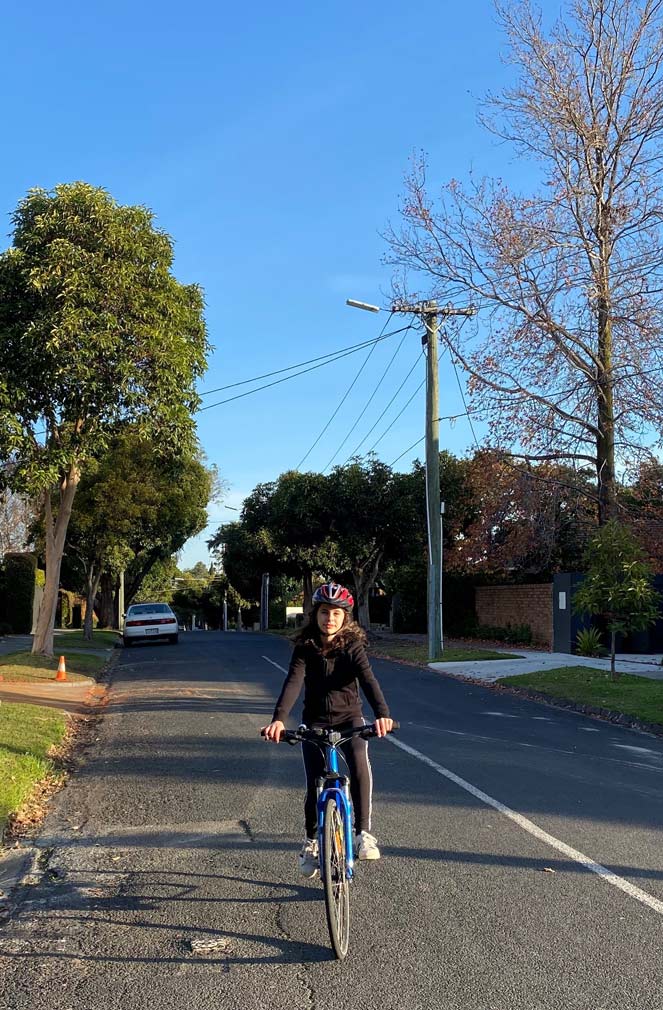 For Year 9 Elsternwick student Laura Nayman, social distancing doesn't rule out community-mindedness and service, and the Service Century campaign has encouraged her and her peers to think about the myriad ways we all can serve. 'The Service Century campaign is a practical way to find opportunities to contribute to the community while maintaining social distancing,' Laura says. 'Instead of using our car, for example, I ride my bike to reduce my carbon footprint.'
Year 8 Glen Waverley student Rhiannon Alexandar says the Service Century campaign is a lot of fun. 'You get to choose the task you want to complete from a wide range of activities ranging from simple small tasks to larger tasks, and you're rewarded for your actions with points,' Rhiannon says. 'Completing a task gives you a feeling of accomplishment because you can set your own goal to complete a certain number of tasks and gain points – and do good.'
Annie Johnstone, Jillian Berchtenbreiter and Michael Nash are the MYP Service as Action Coordinators at Wesley's Elsternwick, Glen Waverley and St Kilda Road Campuses, respectively.