A productive pre-season for Wesley Rowing that began back in July 2019 has our crews well prepared for the major racing period ahead.
---
Early results in Term 1, particularly from our girls squad, indicate the hard work in pre-season training is translating into some outstanding early form. Wesley's girls coxed four crew beat out all challengers at the 2020 Wendouree Ballarat JG King Homes Regatta in a time of 8:08.03 in early February, a great warm-up to the 2020 New South Wales Rowing Championships, where the crew claimed silver in the under 19 event in a time of 7:34.81, just behind Queenwood and edging out Loreto Kirribilli.
The NSW regatta in Penrith at the Sydney Olympic course attracts some of the top schools from across Australia – which makes the result there all the more pleasing, and a just reward for the work of the crew and their coach.
Congratulations to Ruby Pewtress, Evelyn Dow, Zara Lavery, Christina Kamenev, cox Nicola Dimitropoulos and coach Hannah Every-Hall. It's great to get an early measure of the quality of this crew, compared to the rest of the country.
All members of our Wesley Rowing boys and girls squads have together identified key goals for the season in this ultimate team sport and some have their sights set on longer term goals like national representation. Last year saw record numbers of Wesley rowers represent Australia on the world stage. In training and competition, they are proving to be great role models for our school squad.
National team members Nick Lavery (OW2016) and Rohan Lavery (OW2018) competed at the 2019 World Rowing Under 23 Championships in Florida in the United States in the men's four, finishing third in the B final in a time of 6:12.36.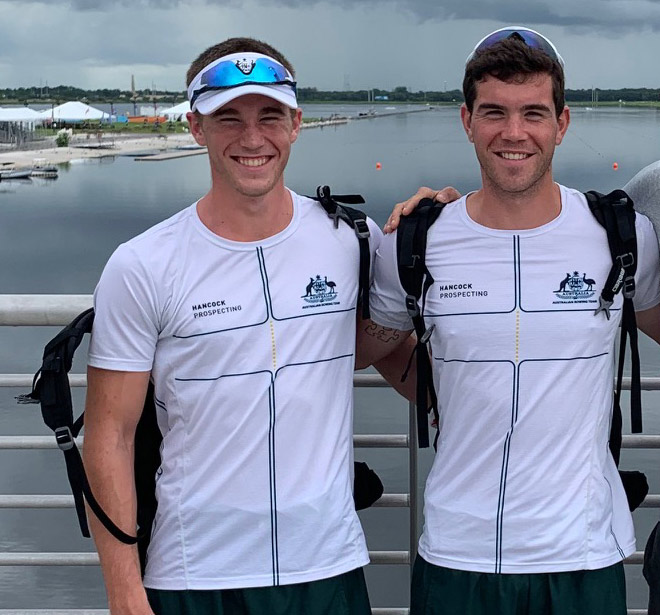 At the senior level, Alice Arch (OW2013) represented Australia at the 2019 World Championships in Linz, Austria, in the lightweight single scull, finishing first in the B final with a massive finishing 500m, for a time of 7:52.59 that would have placed her fourth in the A final.