Sport at Wesley offers something for everyone, and ensuring the program is engaging and beneficial for everyone has been a key aim of students.
---
Wesley offers an amazing sporting program with wonderful coaches and facilities – and that makes sport and physical and health education enjoyable for everyone.
'As Middle School Sports Leaders at the St Kilda Road Campus we wanted to make sure we maintained an encouraging and inclusive atmosphere throughout the Middle School community,' says Iris Bass, one of the two Middle School Sport Leaders at the St Kilda Road Campus in 2019.
'Working with the St Kilda Road Campus Sport Manager, Anthony Bruhn, we were able to explore the upper limits of our position, coming up with new ideas from which the Middle School could benefit.'
As fellow 2019 Middle School Sport Leader, Henry Holmes, explains, those ideas included bringing out sports equipment at lunch time once a week for students to use, inviting students to donate unused sports equipment to the Yiramalay/Wesley Studio School and a photo competition, inviting students to take photos of their team, coach or other activities during Saturday sport, with the winning photo being shown at the Middle School Sports Assembly.
'Working together and with our peers, we've been able to create a supportive sporting environment in the Middle School community. Working with all year levels has been a privilege and we hope the enthusiasm for sport is continued in the coming years,' Henry says.
Sport isn't just about competition, winners and losers, or even competition to achieve a personal best, or with similar athletes; it's also a way to provide all students with opportunities not only to succeed, but also to learn, as Elsternwick Campus Sports Manager, Clint Perrett, has explained in 'Big lessons from sport.' Sport and the regular physical activity that goes with it also contributes to students' personal health and wellbeing, not just in terms of physical health and wellbeing but mental and social health as well.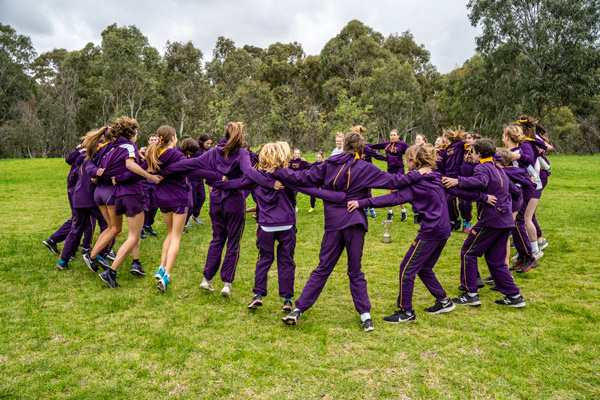 Everyone's a winner: our Girls' and Boys' Cross Country teams celebrated Premierships in 2019 – and physical, mental and social health and wellbeing
That's one reason Year 7 students at Wesley's Glen Waverley Campus in 2019 led mindful relaxation activities as part of the JOY Program. The JOY – or Journey of You – Program offers students a broad range of curricular and cocurricular activities, guided by the service as action component of the International Baccalaureate Middle Years Program, making strong connections between physical, mental and social health. Students are involved in everything from investigating the effect of daylight saving on sleep patterns to service as action projects like the SolarBuddy charity that gifts solar lights to children living in energy poverty, and activities ranging from the beep test to yoga.
'The JOY Program brings together Year 7 students and Junior School students with the Year 7s leading a mindful relaxation activity,' explains Zoe Freemantle, who was in Year 7 at Glen Waverley in 2019. 'We choreographed a dance to a song and recorded it so the Junior School students could copy the dance. After the students had danced, we explained why dancing makes you laugh and smile, releasing endorphins in your brain, which makes you happy. I had a blast working with Junior School students to teach them about mindfulness.'
Middle School students at the St Kilda Road Campus kicked off 2019 with a Summer Sports Day in February with swimming, planking, beep testing and yoga, even utthita trikonasana –­ the triangle pose – and having fun.
With so many to opportunities to embrace challenges and learn from experience, the Wesley sports program is a clear example of a True Education that supports our students physical, mental and social health and wellbeing.