Wesley and the Melbourne Writers Festival
An inspiring group of writers and commentators arrived at Wesley College for the Melbourne Writers Festival in September. This diverse group provided ample opportunity for students to be informed, challenged and to learn what drives creative and social endeavour, as Andrew Blair writes.
Benjamin Law and Public Questions Society prefect, Jay Foster
Benjamin Law Australian author and journalist. His book, Gaysia: Adventures in the Queer East explores the cultural differences growing up gay has had on Asians, and The Family Law, which was turned into an SBS TV show, takes a light-hearted look at his family and his immigrant parents.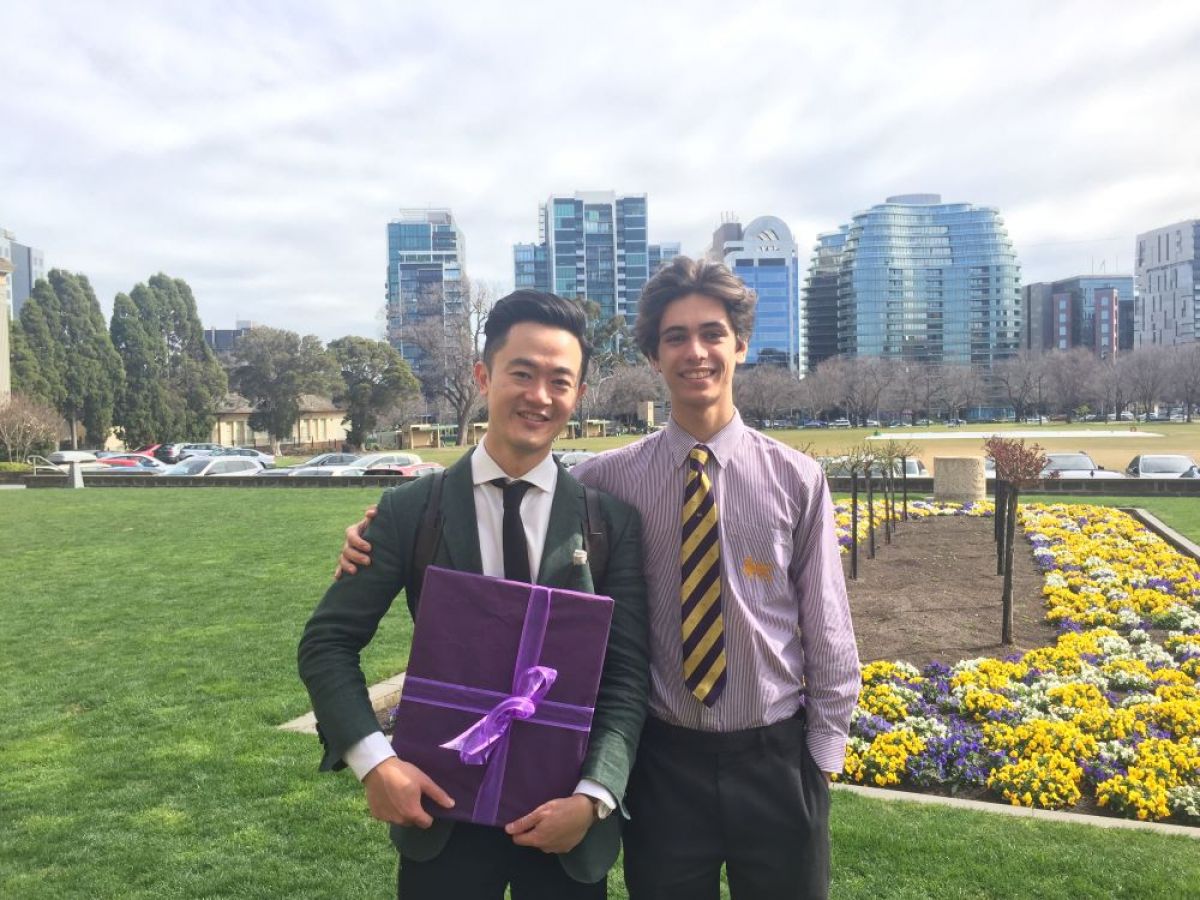 David Ritter
David Ritter - CEO of Greenpeace Australia Pacific. Environmental activist with a passion for identifying global environmental problems and finding a greener solution. His most recent book is The Coal Truth: the fight to stop Adani, defeat the big polluters and reclaim our democracy.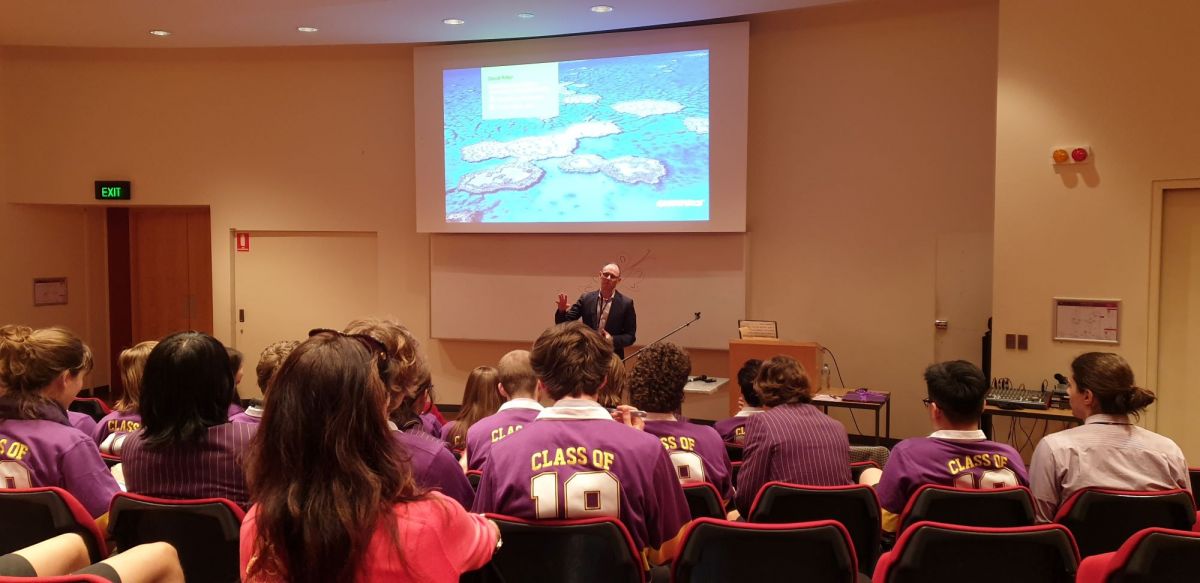 Felice Arena
Award winning author Felice Arena is one of Australia's' most loved Children's authors. His books have topped best-seller lists and have been included in the Premiers' Reading Challenge.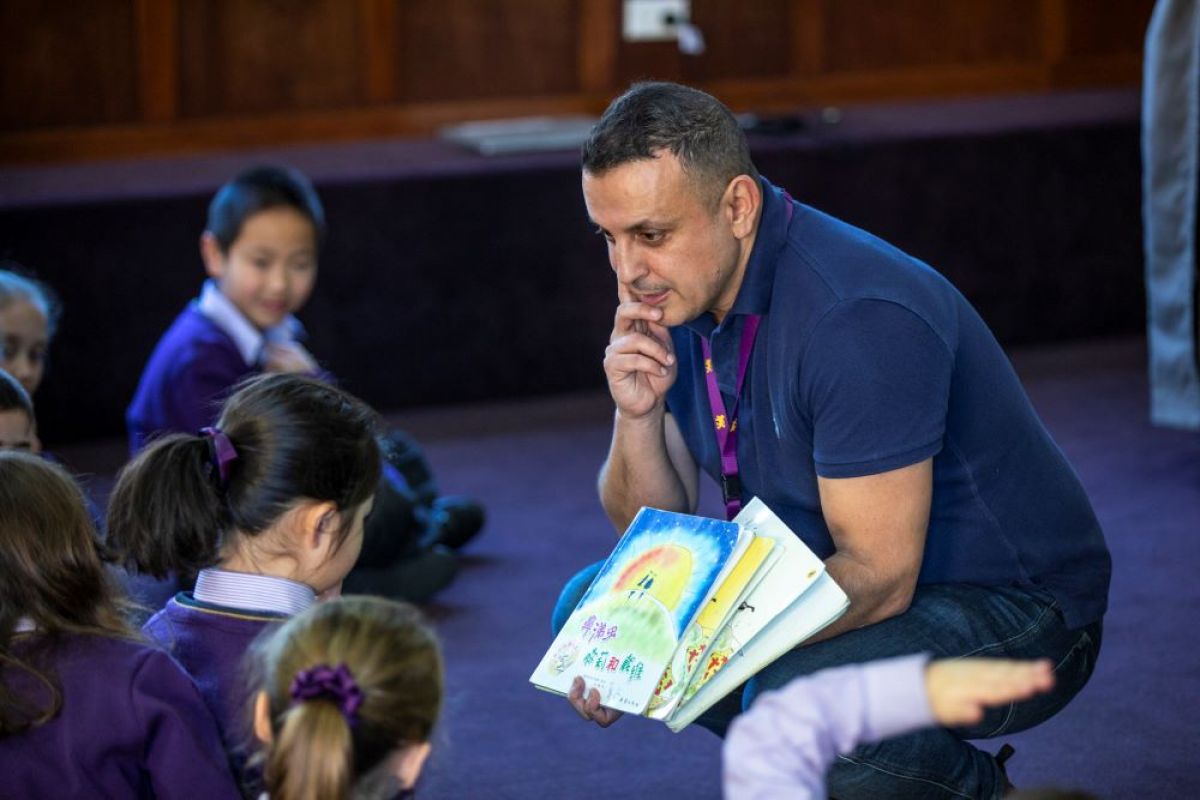 John Marsden
The Library also organise a parallel Readers and Writers Festival across our campuses with a range of presentations from poets, graphic novelists, comedy writers and illustrators. John Marsden featured this year – his 'Tomorrow, when the War Began' series is one of the most borrowed series from the Library.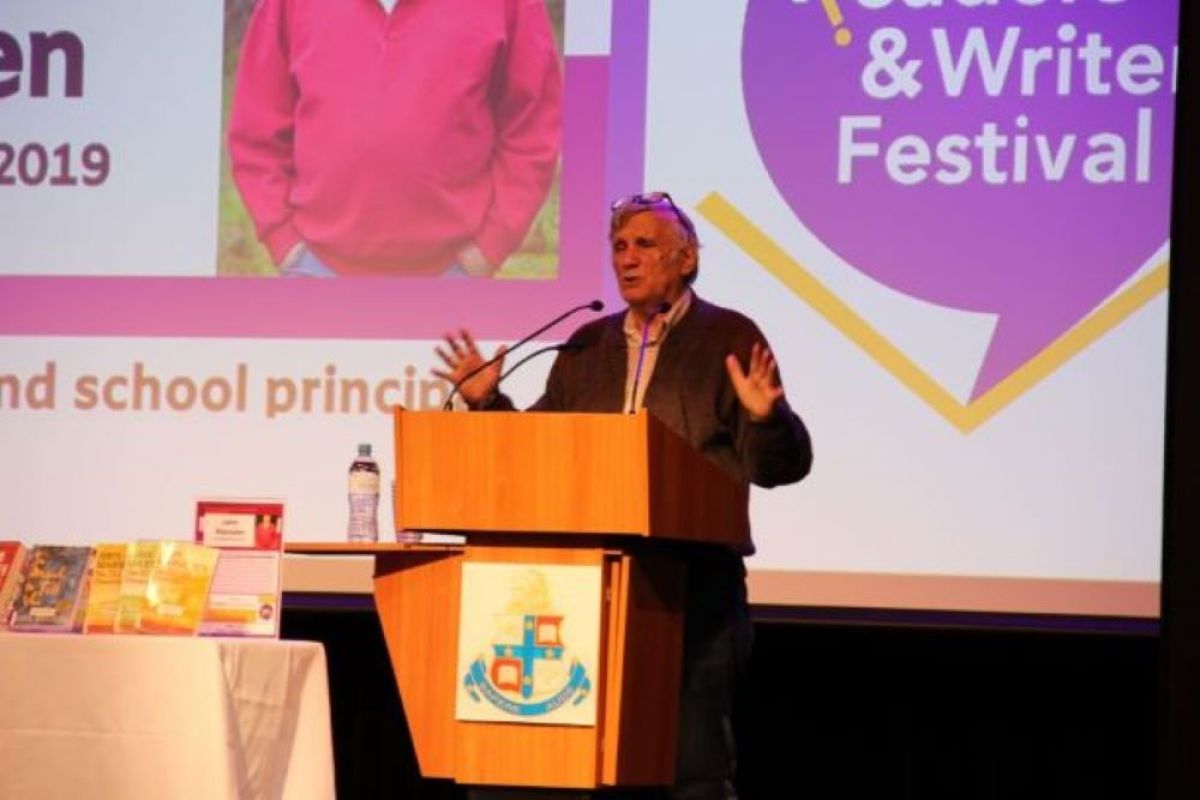 ---
Throughout its history, Wesley has formed partnerships and networks whose purpose has been extending opportunities for students and staff across the College. This year's College theme of 'Change and Continuity' reflects this intent explicitly.
One of our recent partnerships, since 2013, has been as the only school education partner of the annual Melbourne Writers Festival (MWF). Each year we provide opportunities for our students to hear from and interact with notable writers, bloggers, artists and social commentators.
Under the artistic leadership of Marieke Hardy, the Festival this year included collaborations between artists, writers, musicians, social advocates and comedians around the organising theme of 'When we talk about love'. This broad 'canvas' is reflected in this year's range of presenters for Wesley.
Our first year, 2013, saw us host Tavi Gevinson – one of the world's most influential young women. A writer, blogger, editor of Rookie Magazine and actress, Tavi held a girls-only session of 'Style Rookie' and 'Tea Time with Tavi'.
In 2014 Commander Chris Hadfield discussed reaching his lifelong dream of becoming an astronaut to a packed College-wide Middle School assembly, held at Glen Waverley.
In 2015, we welcomed Jack Andraka. Andraka was just a fifteen-year-old Maryland high school student when he invented an inexpensive early detection test for pancreatic, ovarian, and lung cancers. Andraka spoke at both the St Kilda Road and Glen Waverley campuses and had lunch with senior science students.
Yassmin Abdel-Magied, a mechanical engineer, social advocate, writer and Formula One enthusiast joined us as guest speaker in 2016. We extended the MWF experience by inviting a speaker, Molly Crabapple, to our Senior students' Public Question Society. Crabapple is an artist, journalist, and author of the memoir, Drawing Blood. She has illustrated and reported from Guantanamo Bay, Abu Dhabi's migrant labor camps, Syria, Lebanon, Gaza, the West Bank and Iraqi Kurdistan.
By 2017, we expanded into a mini festival with a spread of visitors at each campus providing workshops and talks for a mix of year levels. Guest speakers included Sami Shah, Pakistani author of I, Migrant, YA author Amie Kaufman speaking on fan fiction and sci-fi, and Brodie Lancaster, author of pop culture memoir No Way! Okay, Fine.
In 2018, presenters across the campuses included social commentator and Archibald Prize-winning painter Ben Quilty, journalist George Megalogenis, author Alice Pung, comedian and television presenter Ben Jenkins, molecular biologist Upulie Divisekera, and gender non-binary activist Nevo Zisin.
This year, during the latter half of the Melbourne Writers' Festival, the following writers and artists worked with our students: David Ritter, Benjamin Law, Felice Arena, Will Kostakis and Aambelin Kwaymullina.
During this week's Book Week, our celebration of literacy included author visits and writing workshops from science fiction and fantasy author Michael Pryor and comedy writer and entertainer, the inspiring Declan Fay.
Why is our partnership with MWF important? The week-long celebration is an opportunity for our students to be informed, challenged and to learn what drives creative and social endeavour. It often de-mystifies the inner workings of the literary world, and perhaps most importantly, connects our students through the power of the written and spoken word.
The impact of this partnership is likely very personal for our students and staff, and who knows what interest or endeavour it sparks.
Andrew Blair AM FACE is the Executive Director of the Wesley College Institute
Read more about the Wesley College Institute's education research