From the ashes of the 2016 fire, a new Chapel rises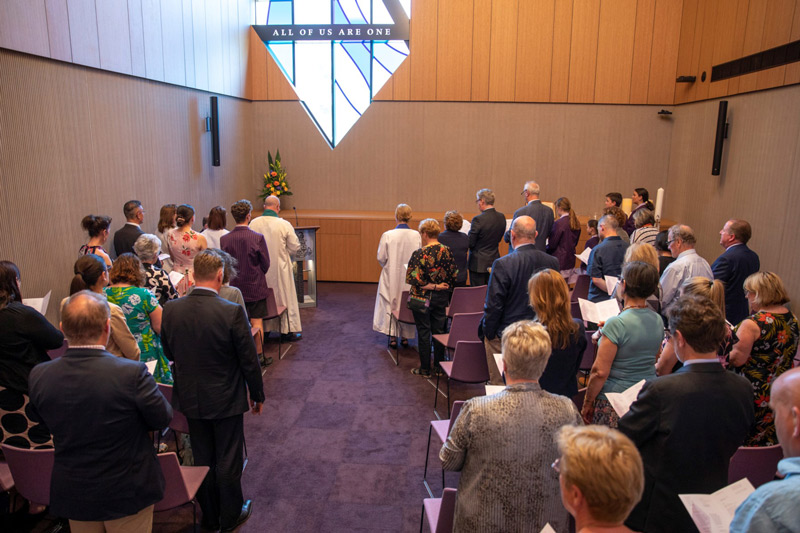 From the ashes of the 2016 fire, a new spiritual meeting place has been dedicated at the Glen Waverley Campus. The new Chapel is a place for people from all religious backgrounds to meet.
The new Chapel at Wesley College's Glen Waverley Campus was dedicated in a service on Thursday 24 October 2019, and is already being used by students and staff from many religious backgrounds as a spiritual meeting place.
The magnificent Chapel, sitting at the centre of the school, forms part of The Drennen Centre redevelopment, a state-of-the-art learning space for students that was constructed to replace classrooms and school spaces lost to a fire in 2016.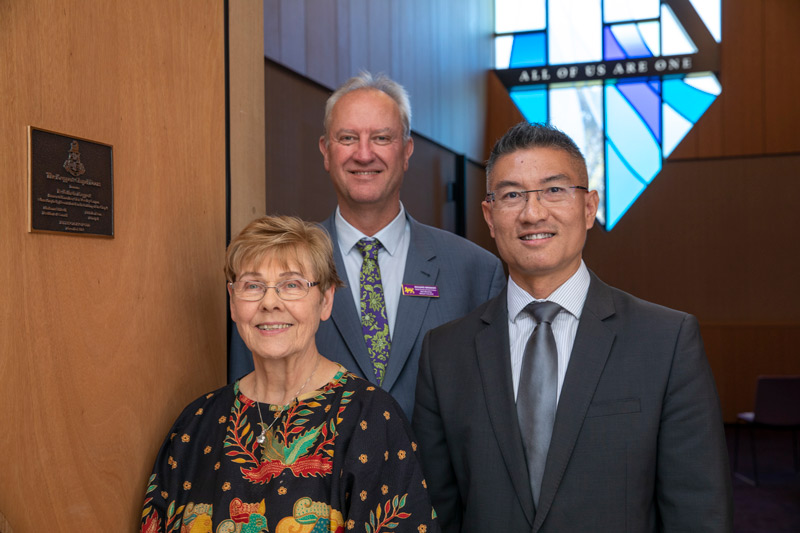 For many of the guests in attendance, the Dedication of the Chapel was a historic moment in the life of the Glen Waverley Campus. For Ev Kreppert, the Dedication was a significant moment in her own history. In 2008, at the end of her career at Wesley as a long-serving Languages teacher, Ev made a donation towards a future Chapel.
'I told Helen Drennen, the Principal at the time, that the campus would not be complete without a chapel and so I made an initial donation to assist the future funding of the chapel,' she said.
Her generous gift all those years ago is acknowledged at the entrance of the Chapel, with the doors named in her honour.
Above (L-R): Ev Kreppert with Richard Brenker, Head of Campus, Glen Waverley, and Sunny Chen, Vice President of College Council
Four features of the new Chapel
ONE
The entrance doors are named in honour of Ev Kreppert, who advocated for a dedicated Chapel at the Glen Waverley Campus. The door handles, created by Simon Campbell, from the Wesley Visual Arts faculty, are modelled on the dove symbol of the Uniting Church and also make reference to the fire in the use of a firebranding technique.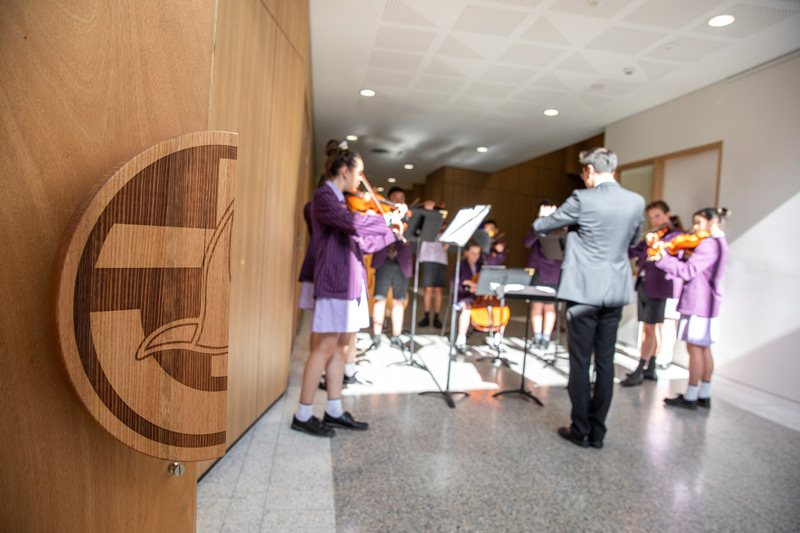 Above: A music ensemble plays outside the entrance to the Chapel, which features door handles created by Simon Campbell
TWO
The spectacular window of the Chapel features a range of colours, with the blue at the base reflecting the role of water in spiritual thinking, and the twisting colours of orange, green, red, yellow, purple and gold reflecting our School and House colours and the fire which led to the Chapel's creation.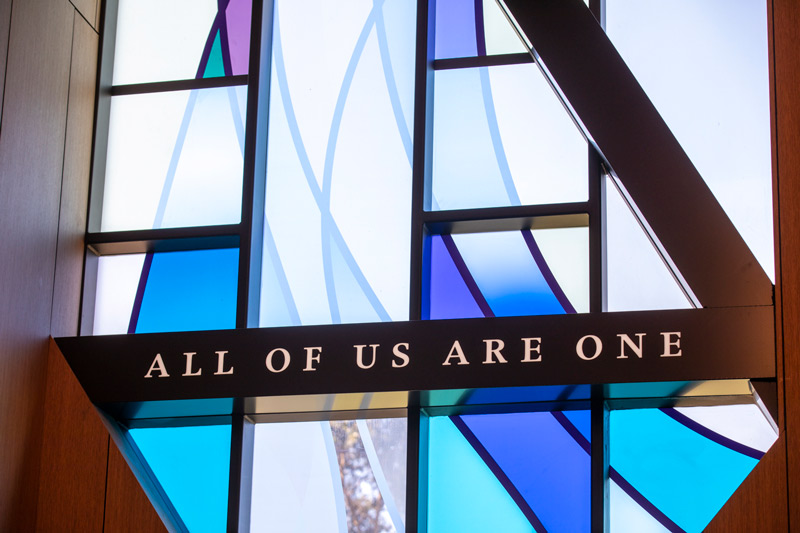 Above: The window of the chapel.
THREE
A white cross is visible on the window from inside the Chapel, along with the words 'ALL OF US ARE ONE'. This draws on the title of the School Hymn, written by former teacher Lindsay Newnham.
FOUR
The lectern was designed especially for the Chapel and features an unusual section of charred timber from the original building lost to the 2016 fire.