Making the world a better place in after-school care
Students in the outside-school-hours-care programs at Elsternwick, Glen Waverley and St Kilda Road have been busy saving the planet.
Courtney Harley, Kai Tay and Mary Corbisiero explain how.
---
At our before- and after-school-care program at the Elsternwick Campus, our Extend team is helping students to develop the skills and values necessary to lead a sustainable lifestyle. Our team understands the importance of educational programs that support students to understand the importance of interacting mindfully with environmental systems in order to ensure a sustainable future.
To that end, we've been focusing on practical strategies, including teaching students the valuable skills of recycling as well as repurposing boxes and packaging to unleash their imaginations and create fantastic arts and crafts. We have also established a kitchen garden to teach children how to care for and harvest plants.
Throughout our program at the St Kilda Road Campus, we promote and practise sustainability. Children in our before- and after-school care program are involved in sustainable practices such as water conservation, minimisation of food waste and recycling. Children are also involved in implementing alternative strategies for recycling everyday materials such as a recycling corner to store arts and craft materials to be repurposed as well as exploring innovative gardening practices such as a vertical hanging garden wall.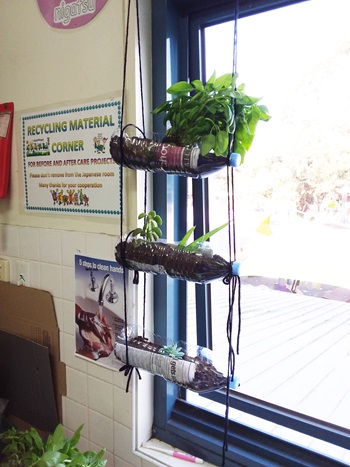 At the Glen Waverley Campus our program is fostering a greater awareness of sustainable practices in order to create behaviours so that caring for the environment becomes routine. Our Extend team is working collaboratively with the College community to encourage students to be conscious of their environmental impact as global citizens. Some of these simple but effective initiatives include recycling waste photocopy paper to make paper airplanes and creating a unique craft box of recycled materials for the children to explore every day. Children select as many items from the box as they wish, but also have to explain their intended use. This results in a dramatic reduction of waste and encouraged the children to visualise, plan and communicate their ideas.
We are also promoting healthy eating with tasty fruit and veggie snacks for afternoon tea. This has also inspired the creation of our potted vegetable garden, which teaches children in the before- and after-school-care program about urban environments, nutrition and teamwork.
Courtney Harley, Mary Corbisiero and Kai Tay are Extend Outside School Hours Care staff who manage before and after-school care at the Elsternwick, Glen Waverley and St Kilda Road campuses respectively.