Elf Junior The Musical
Dates
Venue
Adamson Hall, St Kilda Road Campus
577 St Kilda Road
Melbourne, VIC 3004
Price
Book now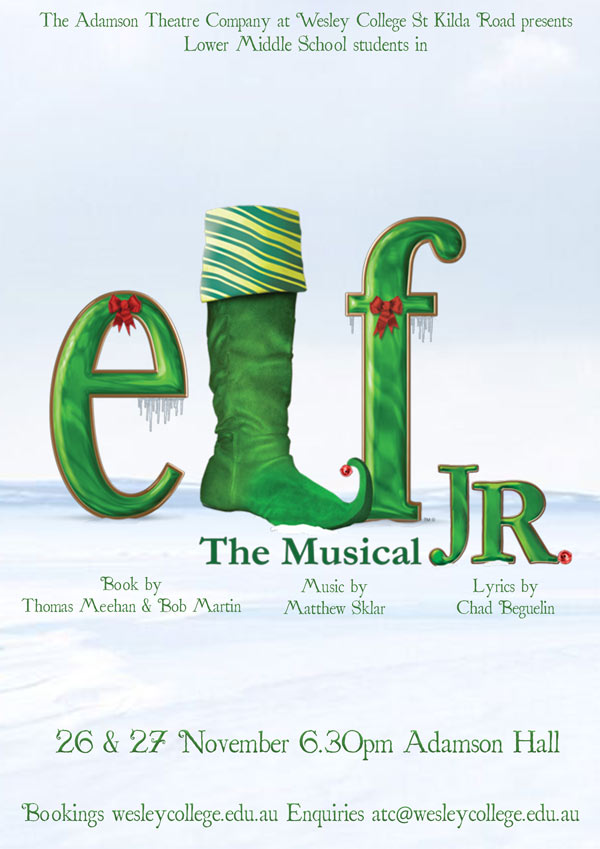 Years 5 and 6 Musical
Book by Thomas Meehan and Bob Martin | Music by Matthew Skiar | Lyrics by Chad Beguelin
6:30pm, Tuesday November 26 & Wednesday November 27 2019
Could there be a better way to begin the holiday season than an hour or so in the company of Santa and his elves, an orphaned boy in search of his past, and a variety of New Yorkers drifting around lending choral support? Elf Junior is based on the cherished film that has inspired a generation of youngsters, and this stage version is beautifully tailored to suit their performance needs and skills. And we all need to be reminded now and then of the goodwill that Christmas represents. Elf Junior delivers the message with musical joy.
The orphan in question is Buddy, who long ago crawled into Santa's sack and was raised at the North Pole as an elf. But time eventually reveals another story. Buddy's size and his ineptitude at making toys raise questions about his elf-authenticity and compel him, with a somewhat grumpy Santa's blessing, to search for his origins in New York. Here he will discover that his birth father has forsaken the Christmas spirit and his brother doesn't even – shock, horror! – believe in Santa at all. So there is much to be resolved, and where else but at Macy's at Christmas and the Empire State building? And it is all accomplished with an intriguing range of characters and some captivating musical numbers that will have our spirits soaring, in keeping with the season.
Elf Junior is a perfect vehicle for the most junior members of the Adamson Theatre Company to display their talents and to remind us that they will be the stars, not just in the Christmas skies this year, but in those to come in our theatrical future.
Dates
Venue
Adamson Hall, St Kilda Road Campus
577 St Kilda Road
Melbourne, VIC 3004
Price
Book now