Private Kenneth Roy Brown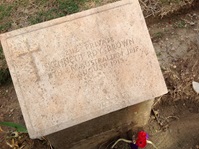 Private Kenneth R Brown (OW1895) of the 11th Battalion was killed on 6 August, the day the offensive was to commence. He is buried at Shell Green Cemetery, but the version of his death given in the May 1916 Chronicle is unlikely to be accurate.
It states the following:
Roy enlisted in West Australia, and without any training left for Egypt. There he received seventeen days training, and was dispatched to Suvla Bay and immediately was engaged for three days storming five lines of Turkish trenches. They had just captured a shallow trench, and were engaged throwing the earth from one side to the other as a defence against the enemy when the order was given by an English officer to charge. The enemy's trench was not thirty yards away, bristling with maxims. Of the 600 men in the trench scarcely ten reached the other side. Roy fell shot through the head.
| | |
| --- | --- |
| First year at Wesley | 1895 |
| Personal information | Left with Goldstraw; returned Jan 1898 |
| Date enlisted | 13 April 1915 |
| Unit enlisted | 11th Battalion, 6th Reinforcements - Service Number 2112 |
| Service details | Joined in WA. Arrived on 4/8/15 |
| Date of death | 06/08/1915 - 30 years of age |
| Unit details | 11th Battalion |
| Cemetery/Memorial place | Shell Green Cemetery - Plot 2 Row I Grave 17 |
Other references and additional information
To provide more information related to this person, please email wesley@wesleycollege.net