Private Arthur Albert Douglas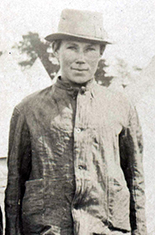 Private AA Douglas (OW1904), of the 6th Field Ambulance received a gunshot wound on the left shoulder. Pneumonia intervened, and he died in December 1915.
Writing to his parents from Cottonera Hospital, Malta, on 30 November, he stated that he had reached Malta on the previous day:
I am lying on my back with a lung pierced at the top, a hardly noticeable wound on my back, aud a wound on the top of the left shoulder, where the bullet made its exit, after fracturing the scapula. The bullet and a few bits of bone were extracted. The extraordinary part of the wound was that so nearly was the force of the bullet spent that the texture of the shirt and coat sent it back again into the wound. . . . I was wounded on 23rd November, 1915, and arrived in Malta on 29th November, a quick time! The bullet that hit me was a chance one, as I was not in a suitable position. I was near our hospital getting some tea from the cooks for our patients, and while bending down was bowled over — the chaps standing near said that the bullet made a loud sound when it hit me. It felt like a hard hit from the right end of an axe.
| | |
| --- | --- |
| First year at Wesley | 1904 |
| Personal information | |
| Date enlisted | 22/02/1915 |
| Unit enlisted | 6th Field Ambulance - Service Number 3145 |
| Service details | Wounded at Dawkins Point on 23/11/1915, Gallipoli; died of pneumonia. |
| Date of death | 25/12/1915 - 22 years of age |
| Unit details | 6th Field Ambulance |
| Cemetery/Memorial place | Pieta Cemetery, Malta - Plot C Row 4 Grave 4 (35.890294, 14.495718) |
Other references and additional information
To provide more information related to this person, please email wesley@wesleycollege.net