Signaller Angus Mackay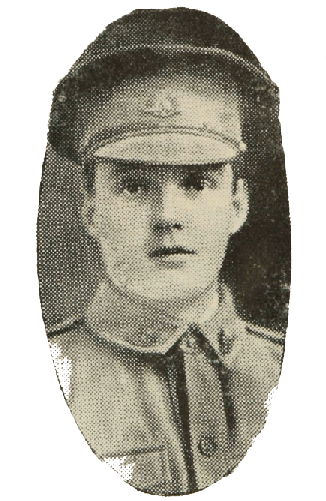 Signaller Angus Mackay (OW1911) was killed in action in France on the night of 21 August 1916 at the age of 19 years. On leaving Wesley he joined the Bendigo Advertiser staff, and showed great promise of a literary career.
In July 1915 he went to the front with the reinforcements of the 5th Battalion. He served in Gallipolli and took part in the evacuation. In Egypt he was transferred to the Headquarters Signalling Staff of the 57th Battalion, and arrived in France early in June.
Mackay was a promising cricketer, and in a brigade match he took 5 wickets for 10 runs, and 6 for 14 in the second innings.
When leaving Bendigo for the front he sent the following letter to his mother:
Dear Mother, I am sorry to go away from you, but it is a duty that must not be shirked — a job that it is absolutely necessary to do. I hope I will come back to you with my share of the honour and glory. If not — well, it is the fortune of war. A grave on the Empire's battlefield is the finest resting place to have. It even outrivals the Abbey. Do not grieve for me while I am away; but I know you will not, for you are brave and realise your duty. I pray that God may protect me, and return me to you.
In a letter received from the son of George H Freeman (OW1880), it appears that Angus had volunteered to take the place of another (who was indisposed) in a particularly dangerous task. He was wounded in the leg and head and became unconscious. While his wounds were being dressed a second shell burst, and killed him instantaneously.
| | |
| --- | --- |
| First year at Wesley | 1911 |
| Personal information | A writer on "The Lion" |
| Date enlisted | 22/04/1915 |
| Unit enlisted | 5th Battalion - Service Number 2486 |
| Service details | In a raid on German trenches at Fleurbaix. Wounded and then killed by a shell burst. Samed action as the death of Cliff Pinnock (OM); brother of James Pinnock (OW and OM) |
| Date of death | 19/08/1916 - 19 years of age |
| Unit details | 57th Battalion |
| Cemetery/Memorial place | Rue du Bois Mil Cemetery - Plot 1 Row G Grave 17 |
Other references and additional information
To provide more information related to this person, please email wesley@wesleycollege.net