Congratulations to the Class of 2021
Our Year 12 IB students have received their outstanding results and we congratulate them and the entire Year 12 cohort on their remarkable achievements.
In 2021 62% of Year 12 students completed the VCE and 38% completed the IB Diploma Program.
Through two turbulent years of challenge and change marked by lockdowns and significant periods of remote learning, our Year 12 students have embodied adaptability and resilience, and shown compassion and commitment.
2021 results highlights:
Nine students gained the highest possible ATAR of 99.95, the most in Wesley College history
The IB DP median ATAR is 96.25
The combined median ATAR for VCE and IB DP is 86.85
43.5% of Year 12 students achieved an ATAR of 90 and above, placing them in the top 10% in Australia
99% of VCE and IB DP students received a first round tertiary offer.
Special congratulations go to our IB Duces who all achieved 99.95, the highest possible ATAR score:
Olivia Khouw, Glen Waverley Campus
Junbao (Stephen) Zhang, Glen Waverley Campus
Zidian (Johnson) Zheng, Glen Waverley Campus
Harper Elliott, St Kilda Road Campus
Jasper Meckel, St Kilda Road Campus
Mia Moshinsky, St Kilda Road Campus
Thien Pham, St Kilda Road Campus
Sara Pisacane, St Kilda Road Campus
Special congratulations go to our two VCE Duces on their outstanding achievements:
Cindy Hua, St Kilda Road Campus Dux who achieved the highest possible ATAR of 99.95
Ray Noor Aly, Glen Waverley Campus Dux who achieved an ATAR of 98.60
Our Class of 2021 faced and met many challenges over the past two years, and we could not be more proud of them. They have continued Wesley's tradition of academic success and achievement of excellence in all areas of learning. They have shown significant personal development and growth, and their academic performance reaffirms our position as a leading coeducational, open-entry school, where our young people can achieve to the highest level.
They embody our commitment to developing the whole person, by providing a true education through the principles of learning — to know, to do, to live with and to be.
Tertiary Education
Many of our Year 12 students received first preference offers from Melbourne's top universities. 55% of students accepted offers from the University of Melbourne and Monash University, reflecting the
high academic standards of teaching and learning at the College.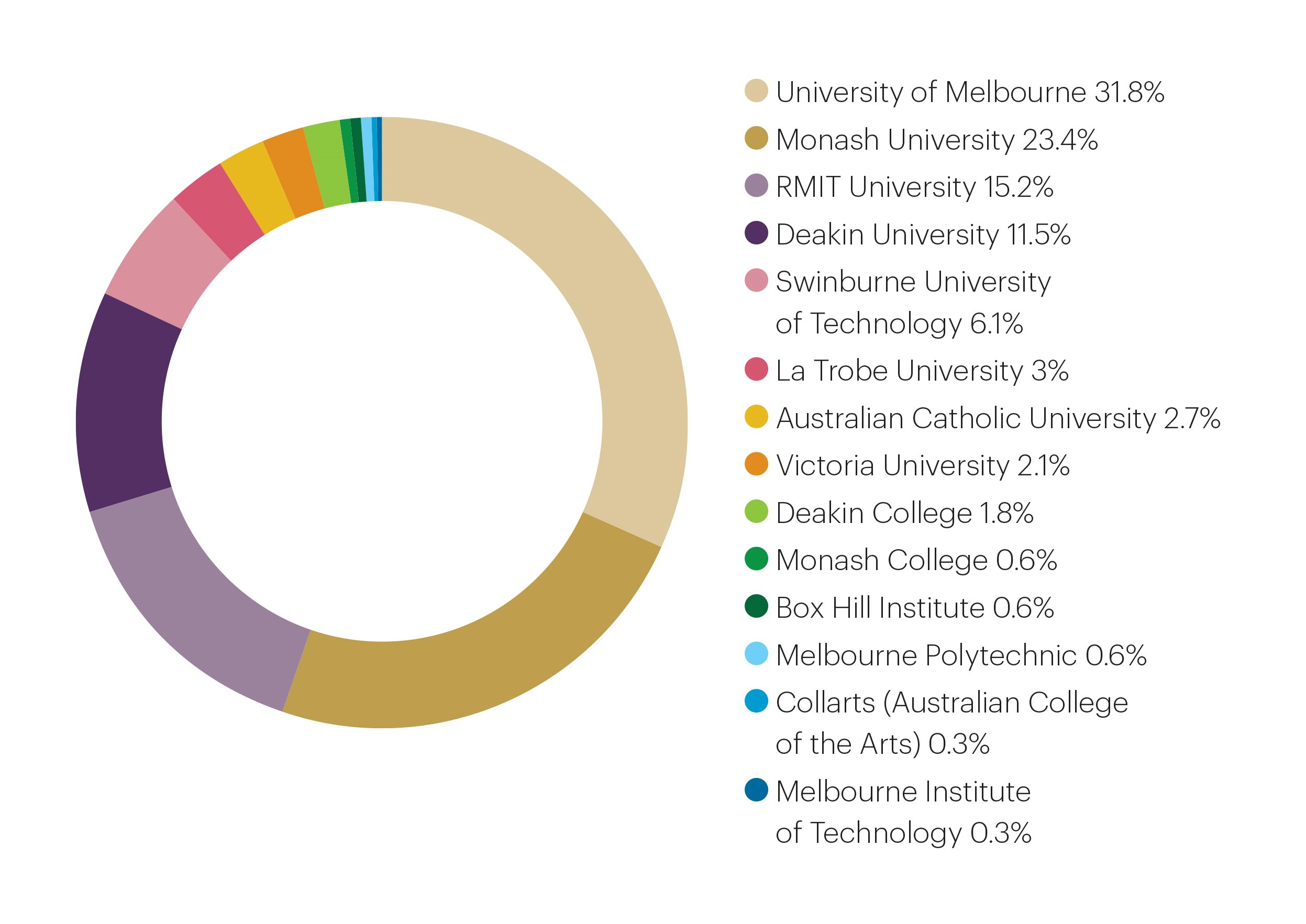 Field of Study
The Class of 2021 graduates are pursuing further study in a diverse range of fields, reflecting their unique talents, interests and capabilities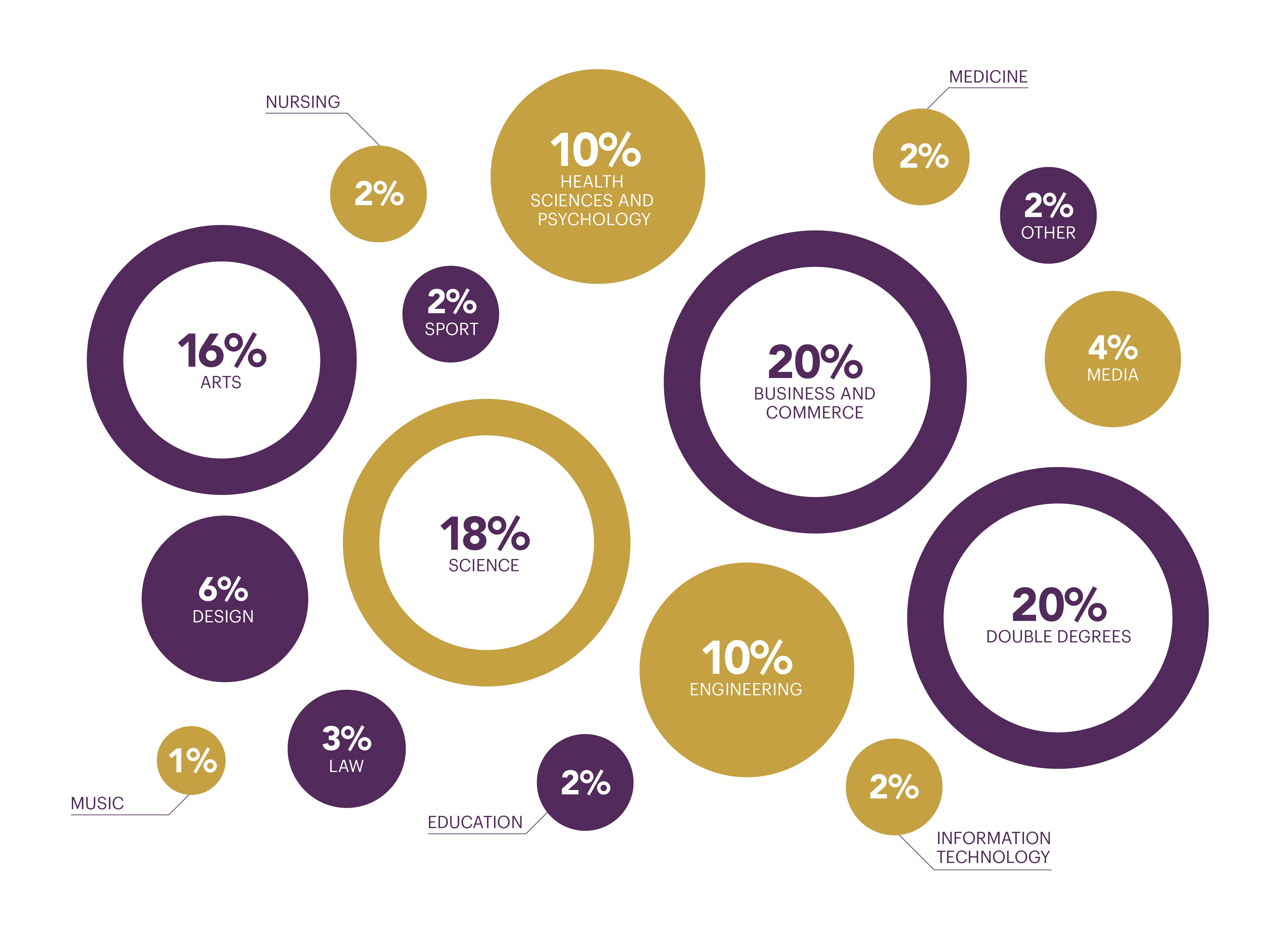 Olivia Khouw
IB DP Glen Waverley Dux 99.95

'Time and time again, the Class of 2021 showed courage in the face of adversity, wisdom under pressure, and empathy despite isolation. These qualities, I believe, define my cohort more so than our academic successes. I urge my peers to take comfort and have pride in their own character regardless of what ATAR they received. Finally, to the parents and teachers who tirelessly offered their support over the years, thank you for being beacons of hope in a time often filled with cynicism and uncertainty. I hope we have made you proud.'

Harper Elliott
IB DP St Kilda Road Dux 99.95

'Staying connected to my friends, studying in groups and meeting up for bikes rides kept me sane during tumultuous times. I relied heavily on my teachers' expertise and support. I plan to complete a Bachelor of Science at Melbourne University and I'm considering a concurrent diploma in Spanish. Many people are focused on chasing careers that are socially associated with success. I want to pursue what makes me feel inspired.'

Sara Pisacane
IB DP St Kilda Road Dux 99.95

'My family comes from humble beginnings and I'm first generation Australian. Hard work and effort have been instilled in me from a young age. I've seen how hard my grandparents and parents have worked to achieve all that we have and for me, these results are a reflection that determination and drive to succeed really do pay off. No matter the difficult circumstances and struggles over the past two years, I've never lost sight of my goals. I have immense gratitude for my teachers, the Wesley community and family and friends who have supported me throughout this journey.'

Thien Pham
IB DP St Kilda Road Dux 99.95

'Maintaining my cocurricular endeavours was paramount in staying engaged and motivated in my academic pursuits. I believe I made the most of every opportunity and profited from the breadth of offerings Wesley College provided. I was surprised by the news of my result, and I am happy to be one of a very successful group of students. Congratulations to everyone for their valiant efforts, despite the trying times.'

Cindy Hua
VCE St Kilda Road Dux 99.95

'Even though we were physically apart during much of Year 12, my relationships with my friends and peers became even stronger. We stayed connected, sharing stories, and supporting each other. My time at Wesley has taught me about diversity and inclusivity, and that the most important thing is to be yourself. I am very pleased with my results and plan to study biomedical science at Monash University. I will continue to offer support to other students interested in STEM'

Ray Noor Aly
VCE Glen Waverley Dux 98.60

'Thank you to my parents, teachers, friends and everyone who believed in me and nurtured my potential. The situation over the past two years caused a lot of despair and anxiety so receiving the VCE Dux award represents a huge phase of growth thanks to Wesley's supportive and understanding environment. To all my mates who went through this with me, WE DID IT!'
---