Congratulations to the Class of 2020!
We extend our congratulations to our Class of 2020 students on their VCE and International Baccalaureate (IB) results. In 2020, 374 students completed their Year 12 studies; 56% of our Year 12 students studied the VCE, and 44% studied the IB DP.
At a glance:
The IB DP median ATAR was 94.05.
The Wesley combined median ATAR for VCE and IB DP was 86.40.
Four Wesley students achieved the highest possible ATAR of 99.95.
46% of Wesley students attained an ATAR of 90.00 and above, placing them in the top 10% of the equivalent Year 12 cohort in Australia.
Almost two thirds of Wesley students (64%) achieved an ATAR of 80.00 and above, placing them in the top 20% of the equivalent Year 12 cohort in Australia.
Our 2020 College VCE Dux, Junxi (Kevin) Zhang, achieved an ATAR of 99.35. Our 2020 College joint IB DP Duces Grace Danielson, Kean Tan, Matthew Hobbs and Mia Roux each achieved an ATAR of 99.95.
The success of our students, with the support and encouragement of their peers, families and teachers, has enabled 99% of our students to receive their first preference offer in the first round of university offers.
Many of our Year 12 students receive first preference offers from Melbourne's top universities. 54% of students accepted offers from the University of Melbourne and Monash University, reflecting the high academic standards of teaching and learning at the College.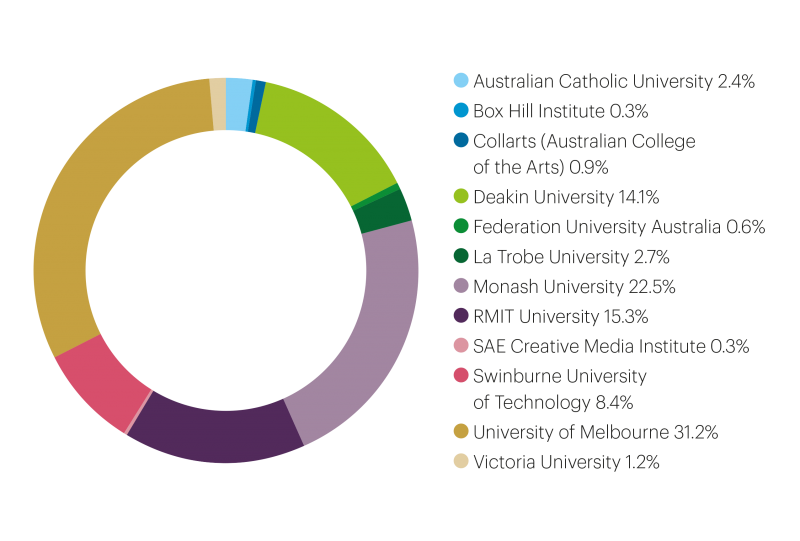 The Class of 2020 graduates are pursuing further study in a diverse range of fields, reflecting their unique talents, interests and capabilities.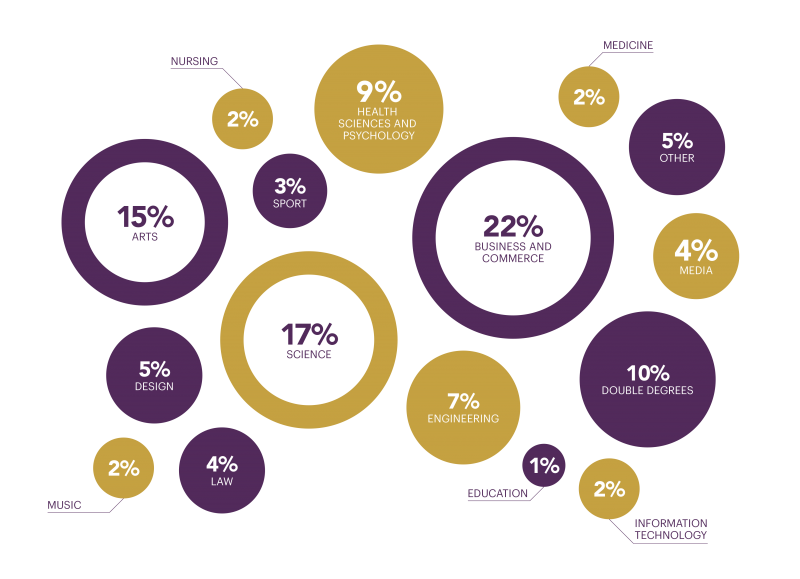 Our Class of 2020 faced and met many, many challenges this year, and we could not be more proud of them. They have continued Wesley's tradition of academic success and achievement of excellence in all areas of learning. They have shown significant personal development and growth, in addition to successful pursuits in sport, music, the performing and visual arts, outdoor education and community service. Their academic performance reaffirms our position as a leading coeducational, open-entry school, where girls and boys can achieve to the highest level.
They embody our commitment to developing the whole person, by providing a true education through the principles of learning —to know, to do, to live with and to be.
What do our students say?
Sarah Gordon, VCE

Remote learning brought home to me the fact that the diversity we experience in our learning environment gives us many opportunities to learn together. My future is one where I will need to work with many different people, understand and communicate with them, and recognise what unites us rather than divides us

Chet Mims, VCE

Wesley is a school where you are accepted and encouraged to realise your talents, a school that encourages and recognises academic curiosity. I've loved the opportunity to share my journey with an amazing group of boys and girls, and develop so many strong friendships

Madi Goldsmith, IB DP

I've enjoyed the coeducational environment of Wesley College: it's a real community. I've learned I can persevere even when I'm not in my optimal learning environment, which will undoubtedly be a useful skill as I progress into my tertiary studies. I'm not sure where this will take me, but I'm pretty sure I'm ready for whatever the future holds.

Kirby Wraith, IB DP

It's easy to think of Year 12 as a one-year course, but it's really the culmination of many years of learning. I've been lucky enough to have some of the best teachers, and benefited from Wesley's coeducational environment, which gives us all a deeper perspective on the experience of an entire other half of humanity, and I think that's prepared me well for university, and beyond
---