Obituaries
John Steward (Sam) Wheller (OW1966)
05/10/1948 – 15/10/2020
---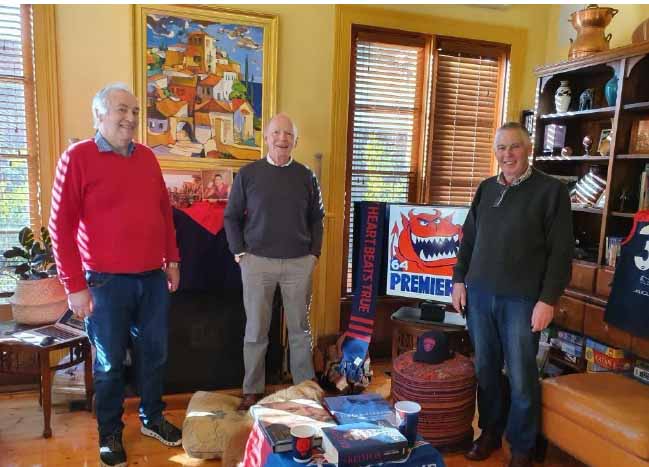 Father of Rochelle Cardell (Wheller) (OW1999) and Simon (OW2000), and a passionate Essendon supporter, seen here not long ago with friends Peter Mitchell (OW1966) and Ian Marshman (OW1966), Sam Wheller would meet regularly with his mates from school as part of a lunch group, and often met for enjoyable dinners with friends and their partners. We have combined the memories of his close friends here as a fitting tribute to a good friend and a kind man.
Sam had a tough upbringing. His father, a marine captain, was believed to have drowned when Sam was just a child. Naturally his mother was very protective of her only child. Sixty years after his first day at Wesley in Grade 6, Sam is fondly remembered as a large, roly poly guy rolling on the asphalt playground being tickled and harassed by another boy.
This was the essence of Sam and how he was his whole life, full of fun and laughter. A gentle giant at school, Sam is remembered as a humble man with not a mean streak to be had. A very friendly man and a good bloke.
Beyond Wesley, Sam went to ANU and thereafter qualified as an accountant.
He became a partner in the firm TWB Chartered Accountants – the 'W' standing for Wheller – and helped build up a successful accounting practice in Murrumbeena. He was a good citizen through his work with Rotary and his contribution to several community-based not-for-profit organisations. His work ethic and business rigour were exceptional. He had a strong group of loyal OW friends as clients. He was caring, helpful and always provided sound, practical advice. Even in retirement, Sam continued to be associated with the firm right up until the end, with clients still wanting him to do their work.
Sam was a sports nut and a walking encyclopedia on anything cricket and football. He was a stalwart fullback in one of the lower open age teams. Once they left school, they had memorable annual cricket matches at Blairgowrie and East Brighton homes, usually accompanied by a barbecue, made even more memorable by the persistent way Sam managed each year to burn the sausages.
Field Rickards (OW1966) spent his teenage years with Sam at the Blairgowrie Yacht Squadron, crewing on a three-man yacht under the guidance of a wise helmsman called Ken Ross. He was like a second father to both of them in terms of life wisdom. Indeed, he introduced them to dirty jokes, some
of which may even have made their way back to Wesley. They were formative years with great memories.
Peter Mitchell's (OW1966) days with Sam at the MCG, at football and cricket matches, over a 60-year span are too many to count. One game that they always remembered and spoke of as being the best final they saw was the 1970 Grand Final. Peter's parents thought the world of Sam and he was a frequent visitor, playing cricket in the driveway or in the backyard, or taking the footy down to the nearby park for kick-to-kick. During University days, Ian Marshman (OW1966) fondly recalls playing 'very ordinary' club cricket in Dandenong and Malvern.
Sam was also a 'music nut', and apart from his music collection he and his partner Trish went to all manner of concerts here and overseas. He even went to see the Messiah and AC/DC on the one day! Peter Mitchell and his wife joined Sam and Trish for many an evening at the Continental Café in Greville Street before sadly it closed its doors. More recently they went to see Fleetwood Mac together.
Roger Mendelson (OW1967) wrote, 'When I think of Sam, the Wesley "Leaving Song" sounds in my ear but with different words:
'No more Tax Returns for me, for me,
In Heaven I'm free, I'm free,
And yet somehow, I don't feel very glad,
In fact, I feel a little sad, a little sad.'
His will and spirit were astonishing right to the end. Two days before he died, Peter Mitchell went to see him at his home. He was drifting in and out of consciousness. 'We had a bit of a chat and at one point he looked at Trish and said, "I'm happy."' Peter goes on to say, 'I have no particular religious inclination, but I do believe that there is something inside each of us, what we might call the spirit. Wherever it might be that the most good and the most decent on Earth enter afterwards, Sam will be there.'
Vale Sam. A gentleman.
The combined memories of Peter Mitchell (OW1966), Ian Marshman (OW1966), Field Rickards (OW1966), Roger Mendelson (OW1967) and other close friends.