Obituaries
Robert Edward Loder (OW1944)
13/11/1926 – 01/01/2021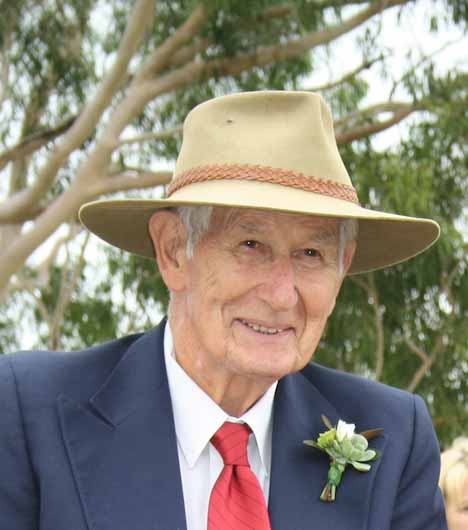 Bob was the second son of Jean and Louis Loder (OW1915). School days began for young Bob aged six at Carey Grammar, which was within walking distance of his home in The Ridge. When he was 11, he started at Wesley College. He loved Wesley, where he made many precious and lifelong friends, including Ian Duncan (OW1945), David Chancellor (OW1945), George Bickford (OW1944), Lex Stubbs (OW1944), the Hibbins brothers, Geoff (OW1948) and Ian (OW1945) and many more. He loved English at school but described himself as quite poor in other subjects. His English teacher, VK Brown, had the boys hand in a composition each Friday. The first one for the year, Bob was given 9/10. Then, every week thereafter he got 10/10 until the final week, when VK marked his paper with 11/10 so his average for the year would be a perfect 10! Bob excelled at sports and in his final year at school was Captain of Athletics. That year, at the APS Sports, he won the 880 and also in a very memorable race he won the prestigious 'Mile' event. On the following Monday the heading in the Argus read 'Loder's Mile Wins PS Sports for Wesley'.
It was during his school years when she was 16, and he was 17, that he met the love of his life, Ruth Archer. Ruth's father George (OW1916) was at school with Bob's father Louis, and her brother, Jim (OW1944), was in the same year as Bob.
Bob left school at the end of 1944 and joined the Navy in January 1945. He was sent to Officer school, but by the time his training had finished the war was over. However, Bob remained with HMAS Shropshire and sailed to England for the victory celebrations. He left the Navy at the end of 1946 and entered the Agricultural Science faculty at the University of Melbourne.
Bob married Ruth at the Wesley College Chapel on 21 December 1949, at the end of his third year at University. It was the beginning of a very happy marriage lasting 70 years. Bob played football for Collegians, as his father and father-in-law had done before him, and his two sons, Rick (OW1973) and Tim (OW1976) after him. His daughter, Susie Rodgers-Wilson (OWCA Honorary Life Member) spent many years on the committee, and is a Life Member of the Club. Bob and Ruth enjoyed attending the home games for lunch until 2019.
Bob always enjoyed his association with Wesley, and in later years, gained a lot of pleasure playing with the OWCA Bowls team, perhaps because they referred to him as 'Young Bob'. He was always keen to attend Sapere Aude functions, even though he wasn't particularly mobile!
Bob Loder was a very special person. Through his unwavering positive attitude to life, his kindness, generosity, tolerance and compassion, he has provided everyone he met with a shining example of how we should live our lives. He never got angry. The clear-minded way he dealt with problems ensured
that he would always find a rational and sensible solution. He was always there to offer sage advice to those who needed it. He was the voice of reason.
After Ruth died in June 2020, Bob was determined not to be glum or to burden others with his grief, although life wasn't quite the same without her. He believed if everyone could give a smile the world would be a happier place.
Bob was a passionate family man and will be missed by his four children, 12 grandchildren, and ten great- grandchildren.