Obituaries
John Sugden Woodhouse (OW1946)
02/04/1928 – 13/03/2020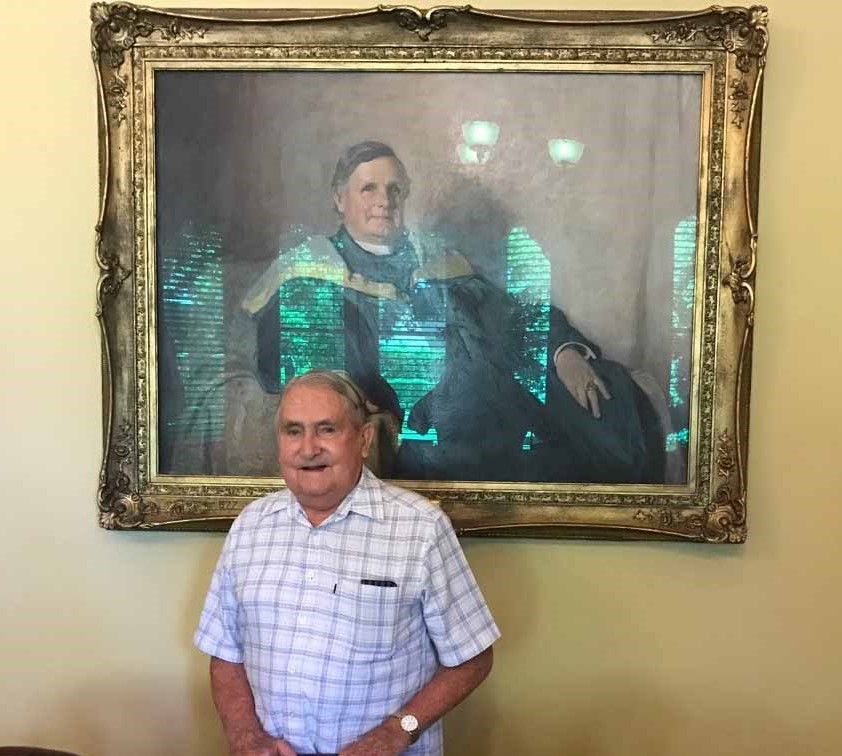 The Woodhouse family moved to Melbourne from Albury in 1942 in time for John (OW1946) and David (OW1950) to start at Wesley at the beginning of second term. John began in the afternoons at Scotch College, as the army had taken over Wesley at St Kilda Road, while David attended at Mayfield Avenue, Toorak. Family tradition at Wesley continued with his son Geoffrey (OW1974) and nephew Colin (OW1978).
John became involved in music, playing in the cadet band and taking up the French horn, which later became a very important part of his life. He loved woodwork, and assisted backstage at school plays, and David followed.
In David's final year, the Chronicle recognised the Woodhouse brothers' 10 years' backstage service! John loved rowing, despite lacking the weight to reach First Crew.
John commenced Medicine at Melbourne University in 1947, one of the large number of ex-service men and school leavers who were sent to the Mildura Branch, set up in the old RAAF base. He obtained his degrees of Bachelor of Medicine and Bachelor of Surgery (MBBS) in 1957. John's connection with the University did not end there. In the photo, John stands proudly before a portrait of his grandfather, Wesleyan clergyman and educationist Rev E H Sugden, the founder of Queen's College.
John worked as resident Medical Officer at Bendigo Base Hospital, then as an assistant in an Albury private practice. He then moved to the Mount Beauty Medical Centre, working with the Tawonga and District Hospital. This appointment included regular visits to Bogong Village and Mackay Creek Power Station, and he attended to many fractured legs from Falls Creek.
His first wife Betty's ill health necessitated being closer to Melbourne and he joined the Traralgon Medical Group. Eventually needing to be closer still, he joined a practice at Boronia. Betty died in 1973, and it became necessary for a further career change, leading to him marrying Enid – widowed with five children – in December 1974. They built an extension to her home in East Malvern, John joining the East Ringwood Medical Group where he remained for four years.
John approached the Health Department seeking an opening into psychiatry, sensing a need. He was offered the position of a Medical Officer at the Malvern Clinic, where he received valuable experience with psychiatrists, occupational therapists, physiotherapists, teachers and social workers. He later moved to the Mental Health Department at St Nicholas Hospital. Many changes were taking place and he found himself caring for 105 of the most seriously mentally and physically affected children in the state.
John once said, 'The most important thing I have contributed to the medical profession has been the establishment of the Customised Seating Service.' From 1978 until retirement, he worked with the Health Department, and continued in a voluntary capacity until 2005. A manual and CD for the customised seats were prepared, which included working with terry towelling covers, pioneered by Enid. When St Nicholas closed in 1993, about 700 individual customised seats had been provided.
John loved his music, and he played the French horn throughout his career. He began with the bugle in the Albury Boys School Band, trombone in the Albury Town Band, and then played in the Wesley Cadet Corps Band. With two school friends, John began lessons on French horn and the three boys began training as the Horn section of The Melbourne Junior Symphony Orchestra. He was able to join in local orchestras in each of the country towns in which he worked, deriving great pleasure. He fondly remembered playing with the Zelman Memorial Orchestra, the Australian Doctors' Orchestra, and the U3A Chamber Orchestra. Towards the end of his life, he and Enid – playing flute – became regular members of the Ewing Memorial Church Ensemble, providing church music for a number of years.